New York – After meandering on for two posts about the inadequacies of Spice Market I felt obligated to offer at minimum, one alternative where you could experience what I'm talking about in terms of quality, balance, and the use of spices in a way that makes sense. At least to my palate. Hopefully, by the time I leave in a few days, I can offer more than one, but when my friend Tom suggested meeting for lunch at the Bread Bar at Tabla, 11 Madison, in the Flatiron district, I jumped at the chance. [Closed]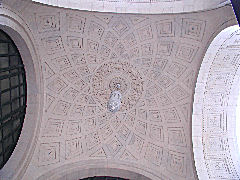 I've never eaten in the upstairs, main dining room of Tabla, which I believe at dinner offers a choice of different prix fixe and tasting menus, and at lunch offers somewhat pricey fare (though if the Bread Bar is any indication, it's worth it). I've eaten a few times in the Bread Bar, the casual downstairs section, and enjoyed it thoroughly, and now they've added (could have been awhile ago for all I know) an outdoor seating area, underneath this magnificient dome, looking out onto Madison Square, the original site of Madison Square Garden. In fact, from here, you can watch the inexhaustable lines of folk trying to get a burger at the Shake Shack… but, you'll have a far more interesting meal.
Executive chef Floyd Cardoz presents some of the most interesting fusion food I've encountered in New York – what he terms "New Indian". In essence, it's a mix of updated, new style versions of classic Indian dishes, along with classic "western" dishes infused with spices from India. This is a man who understands what it takes to balance a variety of spices, as he takes our five senses of taste on a rollercoaster ride of flavors that, for me, has never failed to be absolutely delightful.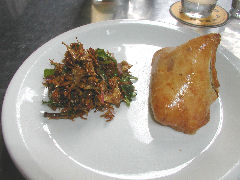 This is quite possibly the best samosa I've ever had – I know I said that about the one I had at Spice Market, but I also pointed out that it wasn't really much like a samosa at all, just more of a really good snack. This is different, this is really a samosa. Now, for those from my new home of BsAs, a samosa is basically an empanada from India. They're invariably triangular, I suppose by tradition. This one was filled with a delicious lentil based mixture that was sizzling with different hot spices – not crazy hot, but enough to catch my attention. It was balanced by a small salad of deep-fried slices of baby artichokes and watercress and mint that gave a nice cooling contrast. I could have just sat there snacking on a big bowl of that salad, along with a cocktail, and enjoyed my entire afternoon.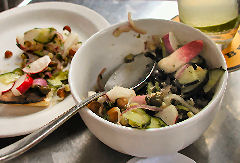 This salad is called the Radish and Bean Chaat, chaat generally meaning a small, savory snack. In this case, a radish and bean based salad, that includes radishes, sprouted beans, limes, cucumbers, a whole array of spices, and jaggery, a type of unrefined sugar often used in Indian savory cooking. Again, the spices, the balance of ingredients like cucumber and radish, the lime versus the sugar, all make for fascinating play on your tastebuds. I also happen to love radishes, and a good salad based on them is a thing of beauty.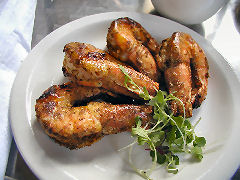 In comparison to the tablespoon sized shrimp and pineapple cubes coated in a blackened peppery caramel I had, and more or less trashed, the other night, these are what black pepper shrimp ought to be. Marinated in coriander, black pepper, and olive oil, these huge, head-on shrimp, came four to a plate, and were big enough to make a full main course out of. The spicing was dead-on perfect, and balanced by the sweetness of a bowl of steamed basmati rice. I have to admit, too, that I'm one of those people who eat the whole head-on shrimp, shell and all, and love it when they're presented that way. Chalk it up to dating someone from provincial China many years ago who taught me to eat them that way. You get more flavor, especially when shell is coated with spices, and I like the contrasting crunch. It annoys some folk, but I've learned to live with that.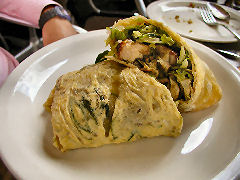 This is the chicken tikka frankie, a more or less "wrap" made from classically spiced chicken tikka, mint, cucumbers, lettuce, and chilies for the filling, and although that looks like an omelette holding it altogether it's not. It's a roti, which is an Indian flatbread, that's been soaked in egg so that it's coated like an omelette when cooked. It also adds a whole additional textural and flavor dimension to the dish. And, of course, a roti holds together around a wrap a whole lot better than an omelette. We never found out who "frankie" was,but congratulations to him on a dish well done.
Obviously, I enjoyed Tabla Bread Bar thoroughly. I recommend it highly, and one of these days I have to get back there and try out the dishes in the main dining room.