Buenos Aires – Just in case you thought I've been spending too much time out at restaurants recently and not enough time honing my cooking skills – after all, Casa SaltShaker opens this week – I thought I'd present a couple of things I've cooked recently. Not stuff that's destined for the dinners in particular, just things whipped up at home for the two of us to eat.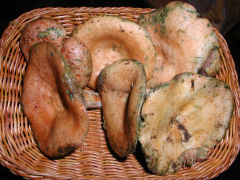 Way back when I first moved to Buenos Aires I talked about finding a source of inexpensive pine mushrooms, which at the time I thought were matsutakes, but later turned out to be some other type of fungus. I've returned many times to chinatown here and always grab a bag, because they're truly delightful mushrooms. This last week they had them in two sizes, the big ones pictured here from way back, and then a whole basket of smaller ones, about the size of a half dollar. I decided to make a nice, stewed, earthy sauce for some chicken breasts with them.
Chicken Breasts with Pine Mushroom Sauce

2 full chicken breasts, split, skin-on
salt and pepper
1 pound of pine mushrooms (or other dark, earthy mushroom), washed
3 cloves of garlic, peeled and thinly sliced
1 scallion, chopped
1 tablespoon of thyme leaves
1 cup of white wine
1 tablespoon of butter
1 tablespoon of flour
salt and pepper

Heat a deep saute pan over a medium flame. Season the chicken breasts with the salt and pepper, and saute, skin side down, until the skin has lightly browned and rendered out any fat (if you use skinless breasts, cook them in one tablespoon of butter instead). Turn the breasts over, and add the garlic, scallion, mushrooms, thyme, and wine to the pan. If the mushrooms are big, cut them into closer to bite sized pieces, remember they'll shrink somewhat during cooking. Bring the liquid just to a boil, cover the pan, and put it in a 350°F oven for half an hour, until the chicken is cooked through. Remove the breasts from the pan, and then put the pan and sauce on a high flame. Make a paste of the butter and flour (in cooking parlance, this is called a beurre manié). When the sauce is boiling, add the beurre manié to it and stir rapidly to incorporate it. This will give the sauce that nice glossy shine from the butter, and the flour will thicken it. The reason for mixing the butter and flour together first is to prevent the flour from making lumps – the butter coats the particles of flour and prevents them from sticking together. Adjust the seasoning with salt and pepper if needed. Remove the skin from the breasts, slice and array on the plate, accompanied by the sauce. Serves 4.
—————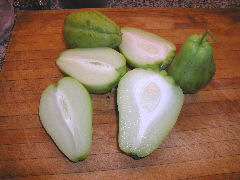 If you're not familiar with this fruit, it's called a chayote, or christophene, or any of a variety of names – here the most common one being papas al aire, or potatoes of the air. Although technically a fruit, it's generally used as a vegetable, as it's not sweet. The skin is edible, and relatively thin, though I generally like peeling them anyway; they can be eaten raw or cooked. In truth, even the large seed inside is edible, and in younger chayote like these, it's quite soft, though, just because of the dish I was making, I removed it. I have two personal favorite dishes made with these, one is simply slicing them and boiling them in water with a little salt, then topping them with butter to serve. The other, a rich mix of chayote and potatoes – a Potatoes of the Earth & Air, if you will.
I served them up with some fillets of tuna that I picked up at the fish market – note that the tuna fillets are relatively white, not red. I'm fairly certain that the just plain atún that we can get here is bonito, which is common to the waters near Argentina. Red tuna is specifically called just that, atún rojo, and is, I believe, all imported. I marinated these fillets for a few hours in ¼ cup shiro miso (white miso made from soybeans and rice), ¼ cup olive oil, 1 teaspoon crushed green peppercorns, and ¼ teaspoon aji-no-moto (MSG). Then, I simply grilled them, still coated in the marinade, and served them with lemon wedges.
Papas al Tierra y Aire/Potatoes of Earth & Air

2 good sized chayote, peeled, seeded, and diced
2 good sized potatoes, peeled and diced
1 green onion, chopped fine
1 teaspoon of oil
2 tablespoons of flour
1½ cups of milk
salt and white pepper to taste

Put the potatoes and chayote cubes (between ¼" and ½" in diameter) in a saucepan with water to cover by about an inch, add a little salt to the water. Bring to a boil, reduce heat, and simmer until cooked through but not mushy. Meanwhile, saute the green onion in the oil with a pinch or two of salt. When soft but not browned, add the flour, and continue to cook, stirring, for about 1 minute – don't brown the flour, you just want to cook the raw taste out of it. Add the milk, bring back to a boil, stirring regularly, until the sauce thickens. Remove from heat, season to taste. Drain the vegetables and toss with the sauce. Serve as a great and slightly unusual side dish. Serves 4.
—————
Led a fun winetasting out in the 'burbs last night for a nice German couple who moved here this last year and wanted to entertain some friends with a slightly different style party. They took care of various types of food to snack on, and we did a little presentation on Torrontés and Malbec, along with a question and answer session. I was actually a bit surprised how into it the guests were – most people at a party in my experience don't want to sit and listen to a presentation on anything – they'd rather catch up on the latest personal news, etc. It was that, or they were just amazingly polite listening to me babble on for 45 minutes.
This was my first experience visiting one of the "gated communities" of the 'burbs, the Boating Club in San Isidro, and it was kind of interesting. I'm not sure if I've ever really been in a gated community before, anywhere. We were stopped at the entrance by a couple of guards; here's where the security part is sort of amusing – they couldn't find our name on the list, despite trying each of our names in turn, and rather than call the house to confirm that we were expected, one of the guards started listing the names on his list and asked which one was us – so we just picked one, and he let us on through – no IDs, nada. Had an interesting conversation in re some of the children raised in some of these communities – some of them have led such sheltered lives that when it comes time to go off to university they have a tough time adjusting, so there's an institute in the capital that's sort of a living in the real world prep program – shows them how to use subways and buses, gives them tests like getting from one plaza to another within the city via public transit, how to shop for food, etc. Now, obviously that's not all the kids – I'm sure many of the parents take their kids all over the place, and maybe even allow them to head out on their own, but apparently there are enough of them from the various suburban communities that the need for the institute has arisen!
On to the wines…
Santa Florentina Brut de Torrontés – a very pleasant sparkling wine from La Riojana, with a very typical nose of orange blossoms and apricots, good weight in the mouth, nice finish, quite nice – it was a new wine for me, selected by a friend in the business who had put together the tasting.
Don David Torrontés Reserva 2004 – a wine I've reviewed before, and used in quite a few wine tastings, and I standby my original tasting note: very aromatic, in this case a whole bouquet of wildflowers and a strong nose of underripe apricots. The apricot carries over into the palate where it is very intense, along with a strong note of hazelnuts.
Domingo Molina Malbec 2002 – what I like most about this wine is the vibrancy of the fruit, because the winery in Salta only ages 10% of the wine in oak, the rest in stainless steel, giving it a touch of roundness, but emphasizing the purity of the fruit. Spicy dark fruits like black and boysenberry, a touch of mace and nutmeg, good finish, this is my favorite of the three Malbecs we had last night.
Escorihuela Gascon Malbec Pequeños Producciones 2002 – this Mendoza winery takes the opposite tack with the wine, aging 70% of it in new French barriques and 30% in new American barriques, and while it's very well made for the style, for me it's just a bit too oaky – though, it was a favorite of a good percentage of the folk at the party. Dominated by flavors of milk chocolate, there's a core of black plum fruit and cinnamon that's quite pleasant.
Marcus Malbec Gran Reserva 2004 – from well known producer Humberto Canale in Rio Negro, Patagonia, an interesting style of Malbec. Very dry, with slightly strong tannins, a bit of oak, though not coming across as a strong "new oak" flavor, lots of ripe red and black plum fruit, a bit of a rustic earthiness, in some ways almost more "old world" than "new world" in style, and quite good.