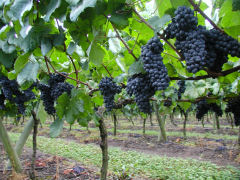 Canelón Chico – Friday morning and we set off bright and early – we had four winery visits planned for the day, and one of them was planned to include lunch; which here, of course, means sitting and chatting for at least several hours. Our first visit was to Bodegas Carlos Pizzorno in this small village north of Montevideo. I'm not going to spend a lot of time covering this winery, as I'd visited it back in August, and you can read more details about it there.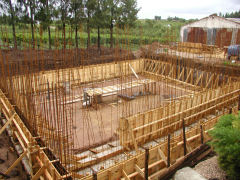 Things of note since that visit: 1) Ana, who manages the winery and is also a local gastroenterologist, got off to the conference I mentioned in South Africa. Her research was apparently very well received; it was, by the way, specifically about the relationship between wines made from Tannat and colon health, as that was the material she had to work with. We didn't spend a lot of time talking about it, but I gather it was impressive enough to have some other researchers start looking into more fully funded projects, here and elsewhere.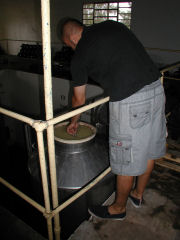 2) The winery is doing well enough to have started building a new underground cellar, tasting room, sales office combination. Work on the project is slow, but steady (though at one of our later visits another winery owner half-jokingly referred to it as "Carlos' 110 square meter swimming pool."). The plans look impressive, and given that six months ago they hadn't even broken topsoil, I'd say they're on track. 3) You can see from the photo above, quite a difference in the grapevines from the previous visit, which was basically winter time here. The tannat grapes are nearly ready for picking, and the Cabernet not far behind them. The Sauvignon blanc has already been picked and is fermenting; here, Carlos' assistant is dipping us out some samples from the fermentation tank.
On to the tasting notes: