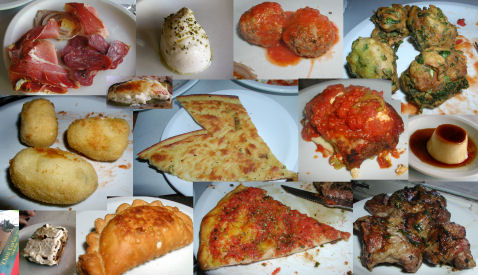 Buenos Aires –
I love a good
degustación
, or tasting menu, as much as the next guy. It's a chance for the chef to show off, to send out what they think is their best, to maybe try out a new item and see what a loyal customer thinks. Beautifully prepared, small plates, one course after the other, perhaps paired with wines as we go. I wasn't really expecting that at
Don Carlos
, Brandsen 854, in La Boca, even before I'd seen it. I've been told, always with a slight dropping of voice volume, that this is the place to go for a "real porteño" experience. La Boca isn't one of the neighborhoods that I spend a lot of time in, once you get outside the touristy pedestrian mall that is its calling card, and maybe the Quinquela museum, it's not considered one of the safer areas of town to hang out in. "Go by cab, leave by cab, and take friends" is the standard advice for anyone visiting the 'hood.
But, there are several restaurants in La Boca that have a reputation for great food and flair. So yesterday, when Grant from What's Up BA? had suggested that we go somewhere for a "real porteño" experience, Don Carlos popped to mind. The place looks like any corner trattoria that you might come across in Little Italy in New York. It's well lit, clean, seats a mere 40 people, there's a parrilla behind the bar for grilling, and a kitchen off to one corner. A few locals were eating pizza at one table, another couple were eating some steaks in the back corner. We took a table by the window.
Now, this is what I'd heard about the place – you'll arrive, and "Don" Carlos (Juan Carlos Zinola), the owner, will come over to your table to chat, size you up, walk away, and start sending you a parade of dishes of the things that based on his judgment, you should taste. No options, no menu, just great food. Set price.
Now, this is what actually happened – we arrived, and "Don" Carlos was at our table chatting within 5 seconds of our backsides hitting the chairs. He said, "picadas, pizza, pasta, pescado, parrilla…" (nice alliteration of "p"s). Then he stood there. I asked, "What do you recommend?" He replied, "It's all good. What do you want to drink?" We ordered a couple of glasses of red wine, turning out to be the 2002 San Felipe Malbec, a nice, servicable red, that goes with a wide variety of food. In about a minute, a bottle of water and two glasses of wine were on the table, and Don Carlos was standing at tableside with a plate of fiambres – some prosciutto, some matambre, and some salami – all delicious, especially the matambre (a sliced, rolled meat and egg dish that is classic in these parts). While we were nibbling on those, the bread arrived, along with a large ball of fresh mozzarella, scooped right out of the water it was made in, and drizzled with olive oil and herbs – not the best mozzarella I've ever had, but the best I've had here, and the first time I've had really fresh here.
The parade was underway. About the time the last forkful of mozzarella hit our tongues a couple of meatballs were dropped on one plate. Then there were four bombas, or chard fritters tossed onto one, while the other plate was graced with three crispy mozzarella and mashed potato fritters. We weren't finished with those before two slices of the best faina I've had in Buenos Aires – crispy, smoky, wedges of chickpea bread, flavored with green onion and black peppercorns. The Don paused while we gobbled those down, more or less cleaning our plates. But, before we'd really had a moment to breathe, he arrived tableside with a metal plate containing a large rectangle of lasagne, which he scooped unceremoniously onto one plate. Delicious layers of spinach and regular pasta, with ricotta, mozzarella, and ground meat, topped with a flavorful, mouthwatering tomato sauce. Finally, someone who makes really great pasta here!
We weren't even halfway through the lasagna when a good sized ojo de bife, a boneless rib-eye steak was brought to the table held high by a pair of tongs. Plop onto one plate. Perfectly charred, cooked medium, seasoned with actual spices and herbs – the finest ojo I've had here. But, clearly, we'd zoomed past things that he wanted us to try. A couple of slices of pizza, sauce and herbs only, were dropped right into the plates of meat juices, which just added to its delicious smoky flavor. He headed for a neighboring table (the place was, by this time, nearly full) with some empanadas, but they waved him off, so he turned to us and held them up with a question mark in his eyes. We nodded and they joined the now growing pile of food that we were still trying to make our way through. There was another pause while we finished everything off. Then, before we could stop him, a couple of tender chunks of lomo (sirloin) were placed on our plates, also waved off from another table (in fact, they actually hit the plates of the other table, and were retrieved when they said no thanks – oh well, they hadn't touched them), along with a couple of ricotta stuffed zucchini. At that point, we said, "enough". He smiled, disappeared, and returned with postres (another "p"), a wonderful tiramisu (who knew it was possible?) made from layered fudgy, chocolate cake alternated with a coffee mousse; and an average quality flan. Coffee swiftly followed.
A couple of notes. First, it's not a set price menu. While we didn't pay item by item, the bill was a list of "Dept. #" with various numbers. But given that we'd had wine, water, and 13 different dishes, and were only charged for 9 items, who knows what is and isn't free. I have the feeling that maybe the whole round of nibbles at the beginning was all lumped in one item. For what we ate, 42 pesos apiece wasn't bad, but it was more food than we really needed to eat, and a higher bill than we'd planned on, which leads to… Second, you don't, apparently, have to take everything. It's true there's no menu to order from, but we overheard him at other tables with people specifying "oh, just a pizza" or "just a plate of fiambre and then a steak" and other such things. Third, surprisingly, a couple other tables of tourists came in, a trio of Americans, a quartet of Brazilians, all with guidebooks in hand – so this place isn't completely off the radar. Fourth, that said, most of the clientele were clearly regulars, and local, and were greeted with great enthusiasm, kisses, and clearly he knows what they like to eat, as very specific food hit their tables within seconds. Fifth, midway through lunch, the door popped open and two young, slightly thuggish looking types came in, looked around, and then just stood there. A moment later they were followed by a somewhat older man, looking a bit rakish, in sunglasses, he was greeted not only with enthusiasm, but also with respect. Grant recognized him from news reports as the head of the Boca Jr. Hooligans, by some considered one of the most violent "soccer fan" clubs, oh, let's face it, they're a street gang, around. Sixth, get in a cab, take some friends, and go.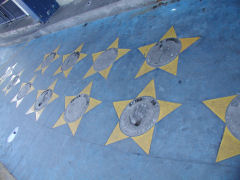 Of note for those who are into the world of futbol, or soccer – this place is just down the street from both the Boca Juniors Stadium, and the Museo del Pasion Boquense, which is the museum, gallery, and, well, whatever, related to the stadium and the team. Out front is a walk of stardom, with dozens of stars implanted in the sidewalk, each with the name of some star team member, and most adorned with either a foot or hand print.