"In the year 301 our village was the first to adopt Christianity. Today, here at El Manto [the cloak], we breathe the mysticism and the secrets of those first flavors, with dishes secretly passed from generation to generation. Our authentic Armenian recipes are changed each season by the hard work of Armenian women. Our cuisine is sacred, as are our lives."
Buenos Aires – So opens the menu at El Manto, Costa Rica 5801, in Palermo Viejo. And there is a slightly pervading air of secret fantasy in dining here. Not that the place is shrouded in the mists, in fact it sits prominently on a street corner, directly across the street from Green Bamboo, a popular Vietnamese restaurant. No, it's the feel of the place – high concrete and brick walls and ceilings, dark colors of burgundy and black, mystical music playing softly in the background, and friendly but very silent waiters who move quietly amongst the tables. On Mondays and Wednesdays at both lunch and dinner they offer traditional fortune telling off the pattern of grounds from your cup of rich Armenian coffee. The menu is simply arranged, and is available in both Spanish and English. The prices are typical of the Palermo Viejo neighborhood in which it is located, though pricier than other Armenian restaurants in town, and smaller, if more artfully arranged, plates of food.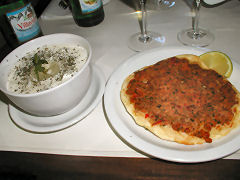 I met up with my friend who recently moved here from India and we took a table at El Manto for lunch. We started with a round of Lehmeyun, basically an open pita bread spread with a mixture of tomato, eggplant, meat, and spices. It was good. We shared a bowl of Yayic, or what I know as tzatziki – diced cucumbers in a yogurt and mint sauce – this version a bit more like a bowl of yogurt with a few large chunks of cucumber in it – great flavor, just not quite typical in consistency. We were also treated to a nice sized basket of bread containing a few small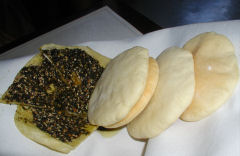 pan árabe, or pita rounds, and an interesting bread which our waiter called pan sajtar. A bit of online searching revealed nothing in that vein, and neither did the Caucasus section of Jeffrey Alford & Naomi Duguid's reasonably comprehensive Flatbreads & flavors. The closest I've come is the Armenian word sajoostoo, which is a type of flat, thin-layered bread, which would fit the base of this. The topping of mixed herbs and seeds seems common for various dishes in the region, so perhaps "sajtar" is some variation on "sajoostoo". The pan árabe were excellent – light, flaky, tasty. The pan sajtar were, well, crunchy and weedy – tasting more or less of indistinct dried herbs and seeds, with no harmony of flavor.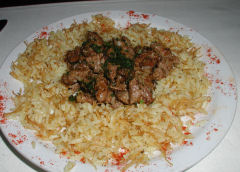 We forged ahead with a couple of interesting main courses. The first, cordero con pilaf, was a dish of lamb sauteed in butter and spiced onions, and topping a traditional rice pilaf. It was quite good, flavorful, though could have, perhaps, used a little more "oomph". Just a bit more seasoning and it would have been truly delightful. The second dish was a trifle disappointing. Not because it wasn't good, it was tasty ground veal, well spiced,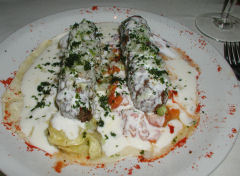 but, simply, not as good as other versions I've had here, including similar dishes at Sarkis (where the dish was also twice the size). Still, it had some interesting touches, like the addition of roasted tomato sauce and smoked eggplant on the plate, the latter of which, by itself, was delicious – I'd have gone for a plate of just the smoked eggplant with maybe a little yogurt sauce! Both main courses were garnished with a light dusting of smoked, hot paprika, which was a nice touch as well. A glass of Graffigna's Chardonnay Sauvignon 2005 blend worked quite well with these dishes.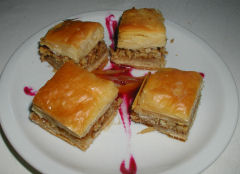 We decided to continue on to dessert. Initially, on our waiter's recommendation, I ordered the kadaif, a dessert made of sort of a nest of shredded filo dough, in this case filled with a housemade ricotta type cheese, and a mixture of caramelized walnuts and almonds. Our waiter returned a few minutes later to say that they didn't have any ricotta, and only walnuts, so he could bring me the little nest just filled with a scoop of candied walnuts. I decided to change to the baklava. I have to admit, this was not up to any standards by which I'd judge a baklava. The pastry was dried out, it hadn't been soaked in honey syrup at all –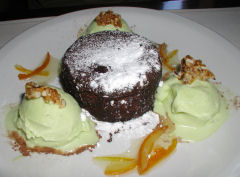 in fact, the honey syrup, with a couple of stamens of saffron floating in it, was served in a small jug on the side – it helped, but the idea is that the honey is completely absorbed into and an integral part of the dish. This disassembled version just plain didn't work. The strange looking red streaks on the plate are a syrup made from beet juice – interesting, but didn't add anything to the dish. The other dessert was more or less non-Armenian – Moleaux de Chocolate, a molten center chocolate cake, lightly spiced with cardamom, and accompanied by vividly green pistachio ice cream. Good, but to my mind, not one of the "sacred Armenian dishes."
We finished off the meal with what was possibly the most interesting part of lunch – a couple of cups of Armenian coffee. Similar to what I think of as Turkish coffee, this was a dark roast, nearly espresso style coffee with a thick layer of finely ground coffee, umm, sludge, on the bottom. It was flavored with cocoa which was a nice touch as well. Being a Monday, we were able to avail ourselves of the services of the house fortune teller, a young lady who'd been sitting at the bar throughout lunch hour flipping tarot cards and playing with her two accompanying children. The "reading" is free, though tipping was subtly encouraged. The idea was to drain your coffee down to the sludge, and then quickly flip it over onto the saucer, leaving the cup firmly planted. The fortune teller then lifted the cup, allowing the sludge to spread, and shook the remaining bits from the cup, taking care to use the same hand as you did to flip the cup. She then proceeded with a reading of the present and future – we'll see how it turns out… here's the nutshell of what she offered up from my saucer:
For the next two months, February and March, things will be relatively smooth. Towards the end of that time you will have a conversation with someone who is very important to you. They will behave in a way that makes you extremely angry – but take care to set the anger aside and push forward with your intentions in the conversation – the problem is with them, not with you, and the anger will not serve you in accomplishing your intentions. In late April you will take a trip, a trip that will be quite important to you, and will actually be a turning point in your career. Be careful after that however, as in your work life, two people, perhaps a couple, will approach you with evil intentions, probably in late May or early June. They will seem to be friends, but will seek to draw you into a dark and closed place. The place will have three other people, with yourself a total of six, it will also be filled with plants. These people are out to take advantage of you and are attempting to draw you into something that could destroy your happiness. If you find yourself in a situation that looks like this, immediately leave, even if they seem friendly. It is the only way to save yourself. If you do this, the results of your trip will be such that by the end of the year you will be well on your way to accomplishing the goals you have set out for yourself.
All in all, El Manto is a fun place to eat. The food is decent, if a little pricey. There's a cool little lounge and terrace above the dining room, and I could see coming by for drinks and some appetizers and just generally hanging out. The fortune telling idea is all good fun, and who knows? I'll certainly keep it in the back of my mind… especially since I already have a trip to Peru tentatively planned for late April. Hmmm…