New York City – My friend John has just accepted the position of general manager of I Trulli, 122 East 27th Street, which has always been one of my favorite Italian restaurants in town. The thing I like most about it is that it's "honest food" and the restaurant relies on the quality of the food and service to bring customers back time and time again, as opposed to several more well known Italian restaurants in town that rely far more on the fame of their chefs via book or television than on the quality of what they present. The focus of the food is the region of Puglia, in southern Italy, though they offer a selection of dishes from other areas as well. On top of that, they have a new chef and kitchen team. We decided to head there last night, visit with John, as well as the owner Nicola, and wine director Charles, both old friends. We were settled in at a nice table opposite the open part of the kitchen (the grill and wood burning oven, other dishes come from what I'd guess is a downstairs kitchen), my favorite part of the room when the beautiful outdoor garden isn't open. (There's also an attached next-door wine bar that is a great place to hang out and have a glass or two of wine.) "I trulli," by the way, are those white stone cone topped houses found in this southern region of Italy.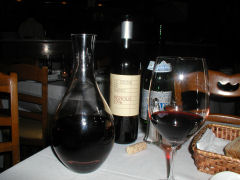 A basket of country bread and some tomato topped foccacia started us off. Being a bit of a celebratory occasion, we splurged a little on a bottle of Le Vigne de Zamò Pignolo 1996, a spectacularly good wine from Friuli in the north. (Okay, I didn't select something from Puglia, but this particular wine caught my eye…) Rich dark plums balanced by aged tobacco and roasted coffee bean flavors, incredible depth, long finish, and, well, one of the best wines I've had in months! It just kept opening up and getting softer and more interesting. It was certainly at a great age for drinking.
We started with a couple of delicious appetizers, the first being the panelle – two lightly crisped chickpea fritters sandwiching a filling of whipped goat cheese, and served with caponata, a bit of roasted pepper sauce, and an arugula salad. The second, which was truly delightful, was a whole grilled baby octopus, the polipetti, served with thinly shaved baby fennel and orange segments. The smoky flavor and the perfectly cooked, tender octopus, really couldn't have been any better.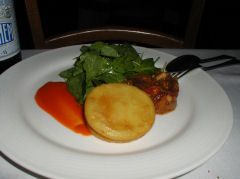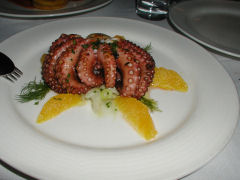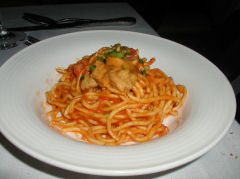 One of my favorite pasta dishes is a simple strand type pasta tossed with sea urchin roe, garlic and oil. I Trulli has their own version that incorporates a bit of tomato. The pasta, tagliolini, which is housemade and cooked to a perfect al dente texture was dead on. The sauce was good, though I think we both thought the touch of tomato hid the usual rich and delicious flavor of the sea urchin roe. Still, we devoured every bit, and I could have easily eaten more!
We continued on to our main courses. The first, a regular dish on the menu, is the rosemary roasted rabbit with black chickpeas. I have to admit, though I've heard of black chickpeas, and I know they're used in a variety of cuisines, especially Indian, I hadn't actually encountered them before. They are smaller, and have a slightly smoky flavor that adds some interesting depth to the usual flavor of a chickpea. The dish overall was excellent. We also ordered one of the nightly specials, a thick cut, roasted pork loin chop, served with cabbage, cauliflower, and black trumpet mushrooms. Exxxxcellent!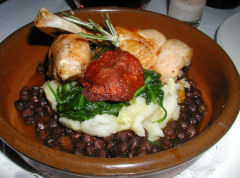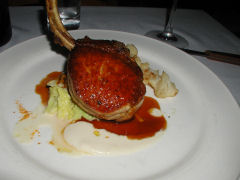 We finished off with a trio of sorbets – pear, quince, and grapefruit, which were good; and, far more interesting, a torta all'oglio or olive oil cake scented with rosemary, served with mascarpone mousse and pear sorbet. Absolutely a fantastic way to finish off the evening. I Trulli, if you haven't been, or it's been awhile, is well worth the visit! Even if you're not in the mood for a full dinner, stop by the wine bar, or even across the street for one of the best Italian wine shops in the city.