Buenos Aires – Hang around this city long enough and someone is sure to recommend El Cuartito, Talcahuano 937, in the Centro area, as ONE OF THE, if not THE, best pizza places in town. One local wag who pops up on blogs and various websites every now and again spent four paragraphs on one of them recently waxing poetic about the place and pizza in Argentina in general – dismissing all North American pizza as Pizza Hut and glossing over pizzas in Italy as if they were an afterthought in deference to its Argentine creators…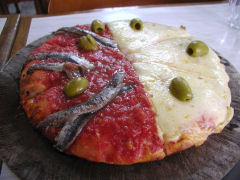 I've avoided the place like the plague. Oh, I've walked past it. I've looked in. I've looked at the menu. And something about it screamed "come here oh ye tourist of no knowledge and believe the hype." I really need to learn to trust my instincts. I guess I do, in general, I mean, I didn't eat there for nearly six months. But yesterday for lunch I had to be nearby to it, and decided I could take a chance. The room is a lot of dark wood and tile, the walls are papered with posters of various boxing matches, mostly from the U.S., sprinkled with a few other sporting events. A giant sign proclaims having served "good pizza" since 1934. The place is reasonably clean. Service is friendly and efficient. The prices are low. I tried a couple of empanadas which were passable ground beef, potato, egg, and olive versions, one baked, the other fried. Ground beef, not chopped or cut steak. I ordered a small pizza mixta, a specialty of the house – half plain mozzarella, half anchovy. The crust is fine, if a little bland. The tomato sauce is fresh, and clearly made from chopped tomatoes and garlic. And nothing else. There's not another hint of spice or seasoning or herbs. The mozzarella, thankfully gracing only half of the pie is as oily as the aftermath of the Exxon Valdez.
Come on folks, there's so much better pizza in this city that this is inexcusable. If this place once served exceptional pizza, that day has clearly passed.
—————
Staying in the Italian theme I decided to try a neighborhood Italian place I've passed several times. A couple of local friends have recommended it as decent if not exceptional Italian food, and I'll go with that in the final analysis. Celetto, at Uriburu 1276 in Barrio Norte (and they have two other locations in the city) is a hodgepodge of Italian menu items. There are representative dishes from probably every major culinary region of Italy on a somewhat meandering four page menu. They proudly proclaim that they use DeCecco pastas for their dried pastas, one of my favorites, so that's a good start. The room is simple, with about a dozen tables and a large display counter. It's the kind of place that makes you feel comfortable to just sit in. That was further enhanced by the delivery, while I was perusing the menu, of a small bruschetta of melted fontina cheese and tomato accompanied by a little tumbler of peach juice. Nice combination! This was quickly followed by a basket of decent breads – all good signs. [This place has closed, though the other two locations remain open.]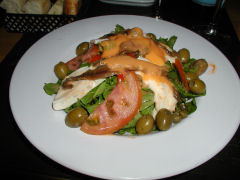 I decided to start my dinner with a panzanella, a classic of Tuscan cuisine, a bread, tomato, and onion soup/salad that is one of my favorites. I guess I should have read the menu carefully, as, when I looked at it later, I saw that it described in detail what I was getting. Not a lovely dish of bread soaked in the juices of fresh tomatoes and olive oil, a bit of chopped onion, a touch of salt and pepper, and we devour hungrily. Instead, a large bowl of arugula topped with roasted red bell peppers, anchovies, olives, capers, tomatoes, and what I can best guess was some sort of version of creamy Italian dressing. Now, mind you, it was a good salad. It just bears no relationship to panzanella.
I was in the mood for pasta, and I asked my waiter what his personal favorite was. It's one of my favorite things to do, as I like to see their approach – I can usually tell from the way they respond if they're just trying to sell something, if they're passionate about food, or if they couldn't care less. My waiter sort of hemmed and hawed and shifted from foot to foot and then meekly offered that maybe the risotto would be a good choice. I replied I'd rather have a pasta, and he blinked once or twice and suggested "maybe the first one on the menu." I asked him if he'd ever tried any of them and he admitted that he hadn't. I know I'm in a different culture, but I've found this to be common here. It's Restaurant 101 back in the U.S., but not in Argentina. Note to restaurant owners here – you'd be amazed how much more productive your staff will be if you actually let them try the food.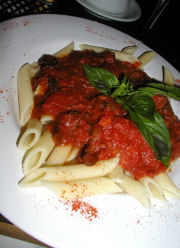 Two of the items on the menu had, beyond descriptions of their ingredients, single word superlatives. One said exquisito, the other imperdible. The latter means "safety pin." I can only hope that there's some sort of colloquial usage that I've been unable to determine. Or maybe they mean it's a safe choice. I don't know, but exquisite sounded better and I ordered the penne with ossobuco and tomato sauce. A decent sized portion, and as my friends had said, good but not exceptional. The pasta was slightly overcooked, but the tomato sauce was fresh and tasty. The "ossobuco" was a little misleading – they'd most likely used the meat that is used for ossobuco, but it clearly wasn't slow braised and tender.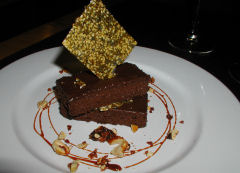 Dessert fared better than the first two courses. I ordered the chocolate torte and was pleasantly surprised to get something that was plated quite nicely and also beyond just "good." Two nice sized rectangles of flourless bittersweet chocolate torte with roasted chestnuts, caramel sauce, and an interesting sesame brittle on top and slipped in between the pieces. It was delicious, and if I wasn't such a good note taker probably would have made me forget all about the oddity of my salad.
Celetto also offers a decent winelist, including half a dozen selections by the glass. A glass of Bodega el Plumerillo Clasico Malbec 2003 showed soft, red plum flavors, was on the easy drinking side, and essentially, just perfect for a simple Italian dinner. It confirmed my impressions of the wine from the Malbec Experience back in October.
—————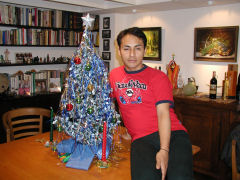 Finally, I'm going to just pat myself on the back for being such a good boyfriend. Due to a variety of reasons, I have to be back in New York later this week and for the following two weeks, which means missing the holidays with Henry. I know he's been a bit sad about it. He was out for the day yesterday, so in between my various culinary adventures I found a small Christmas tree, got it all decorated, and put a bunch of regalitos underneath it for him. He was completely surprised and cheered up and immediately wanted to pose with his new tree.