Buenos Aires – In complete contrast (well, while staying in a vegetarian theme) to yesterday's posting, I was out looking for a nice backyard grill yesterday and suddenly realized I was only a few blocks away from a restaurant that had been recommended to me by a local friend. I poked my head in to Los Sabios (The Wise Ones), Corrientes 3733, in Barrio Almagro. I'm quite glad that I did, as it, at least for a short while, erased all bad memories of lunch from the day before.
There's nothing particularly impressive about the look of the place – dozens upon dozens of small tables for two (deuces in the restaurant jargon), packed together so tightly they may as well have just set up long picnic tables. In front of these, two buffet lines, one cold and one hot. The cold line contains a small salad bar, and maybe a dozen constantly changing cold appetizers, and a half dozen desserts. The hot line contains about two dozen different hot dishes. It's all you can eat, and it's only 7 pesos. Even if the food was mediocre that'd be a bargain. It's not – the food, for a buffet line, is actually quite good. It's fresh, there's a steady stream of new platters coming out of the kitchen, and a steady stream of diners in and out of the restaurant.
There's a definitely hippie-ish feel to the place, and easily half the customers fit that mold; I think I saw more long hair and beads during lunch than I've seen in the last five years combined. The balance of the clientele is a wide ranging mix of folk. There are handmade signs throughout the restaurant exhorting one to live a happier, richer, healthier, vegetarian life; to enjoy the food and the adventure, etc.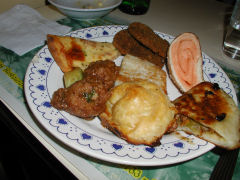 The hot food is primarily Chinese vegetarian cuisine. There are a few "porteña" style dishes, like empanadas and pizza, but very few. It is not vegan cuisine, though I think a vegan could do just fine here – there are eggs and mayonnaise (which uses eggs), cheese, and honey in several of the dishes. But the friendly staff knows their food and a man at a table near me specifically asked, and was quickly directed to those dishes that fit what he was looking for. I started off with a small salad plate, the most interesting dish being a salad of cauliflower, tomatoes, and eggs in a mildly spicy mayonnaise. I loaded up a plate from the hot food line, just to sample as many things as I could – soy meatballs, pizza, vegetable empanadas, turnip cake, a couple of different rice and noodle stir fries, soy milanesa, and some vegetables. All quite good! The dessert selection is heavy on gelled items, I assume using agar rather than gelatin – a coconut-tofu gel, almond flan, traditional flan, spiced pudding, and fruit.
This place is a bit out of the way of the usual tourist circuit, but certainly for anyone looking for a fun experience (and the neighborhood is interesting to wander in as well), and for locals, it's well worth the trip (midway between the Carlos Gardel and Medrano stops on the B Line).