Buenos Aires – A few random notes, the first courtesy of my weekly e-mail from Michael Quinlon of World Wide Words, which led me to the website of the Church of Reality – "If it's real – we believe in it!" It caught my eye only because of a comment on the Church's (it is now an "official" church, having been recognized by the IRS) "Hidden Agenda" – "what is the Church of Reality really about? Is it politics? Is it world domination? Are we really Satan's mignons?"
Now folks, these are mignons: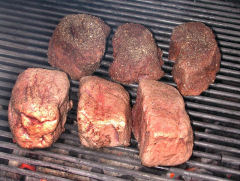 My first reaction, and of course that of Michael's missive, was that this was a typo for "minion," or essentially a demon. But as I thought about it more, I realized that the members of the Church of Reality only believe in what is "real." So perhaps they have no truck with demons, and are merely offering themselves up as a backyard barbecue for a local member, Mr. Satan.
Regardless, the e-mail led me to the website for BoingBoing, one of my favorite places to stop in for news of what's new in the world, or as the authors put it, A Directory of Wonderful Things. If you don't know the site, it's worth the visit. BoingBoing in turn led me to two new online "art" exhibits that are worth a visit as well: Nikon's new "Small World" awards, i.e., the best photographs of the year taken through a microscope; and Worth1000's Monster ModRen3 contest, just out for Halloween – graphic reinterpretations of classic paintings with the faces of infamous monsters melded in. Fun stuff!
Speaking of fun stuff, we headed off last night to Homenaje a Chabuca Granda, a tribute to one of Peru's most famous folklore singers, held as part of the 21st annual celebration of folklore song and dance of Peru that began as a tribute to her after her death in 1983. It was held at Buenos Aires' Teatro Hebraica, Sarmiento 2255, which I gather is one of the major Jewish theaters in the city. It was interesting overhearing repeated comments from Peruvians (and Argentines) to the effect of "when did we (they) become friends with the Jews?" Regardless, the event was great fun, despite the emcee's tendency to talk on and on about various unrelated topics, resulting in the show taking 3 hours rather than the scheduled 2 hours. A few photos from the event: