Louisville, Kentucky – I've been out of the midwest for 23 years, and rarely make it back there, or to the bible belt. Except on occasional visits to family members, I have a tendency to forget that many of the folk of those regions are, well, large. Girth, that is. A lot of the cause for that is simply quantity of food ingested. It's not that folks back home eat poorer quality food, they just eat a whole lot of it. Witness our trip last evening to a local eatery that my parents are fond of, Cutting Board Cafe, 2905 Goose Creek Road. [Closed]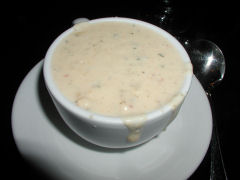 The place is a cute little venue attached to a strip mall, and consists of a dozen or so tables for four. The kitchen is open to the entrance, but not the dining room, and doubles as a take-out counter. Specialties are salads, wraps, panini, and pastas. Very Midwest American-Italian. Having warned me, my folks didn't order any appetizers. I was curious about the soup of the day, a Friday only special, Crab Bisque. One of my favorite soups, generally a deep, rich crab flavor from a stock made from crab shells and vegetables, strained, mixed with a touch of milk or cream, and then a bit of crab meat added back in. The Cutting Board's version is more of a chowder. It's thick as pudding, clearly thickened with some sort of starch, and filled with crabmeat and bits of potato and vegetable. Not a bisque at all, but other than needing a touch of pepper, quite good. And the "cup" was rich enough to constitute most of a meal.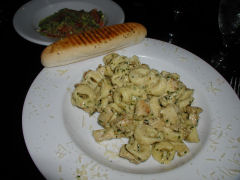 We each ordered a pasta, any one of the three of which was enough to feed two to three people. The special of the day was ravioli filled with chicken and feta cheese, topped with a sun-dried tomato brandy cream sauce. Another dish was the mixed seafood (scallops, shrimp, squid), topped with a garlic brandy cream sauce. The third, pictured here, cheese filled tortellini with chicken and a pesto brandy cream sauce. Getting a certain sense of repetition? Although the additions were different for each of the fifteen or so pastas on the menu, all but four of them were some variation on the brandy cream sauce. I also ordered a "mini-tomato salad" on the side, which consisted of thin pie slices of tomato topped with a very sweet (honey?) green onion and cream dressing. Needless to say, there are leftovers in the fridge, and we never got around to dessert. Still, taking into account the caveat of quantity, the food was quite good, and worth the trip. (By the way, if it doesn't look like all that much in the photo, consider that the pasta is presented in a 14″ bowl!)
A glass of wine was certainly in order to cut through the richness, and I thoroughly enjoyed a glass of Folie á Deux's "Menàge á Trois" 2003. This is a blend of Zinfandel, Cabernet, and Merlot, the Zin certainly dominating the flavor profile. Spicy, ripe, rich, berry fruit, with a lot of depth and length. Really pretty impressive for a glass of house wine! The Cutting Board, by the way, offers about two dozen wines, most of them both by the bottle and the glass. For a neighborhood casual eatery, that's pretty impressive.