I can eat Japanese food pretty much any time. I've always liked it, even when I was a kid I was fascinated by it from afar. I have no idea why, I'd never tried it, I'd only read about it. There just weren't any Japanese restaurants in my hometown. There were no Japanese kids in my class. I did have half a dozen Japanese penpals at one point. It was just one of those obsessions that gets stuck in your head as a youngster. And the food part of it has continued to this day, especially now that I get to eat it. So when my folks asked if I wanted to try their favorite Japanese restaurant in town (my parents eat Japanese food???), I of course said yes.
Started off with a glass of Trimbach Pinot Gris from Alsace. Lightly sweet, fairly rich, and great flavors of peaches with a touch of smoke. There's also a nice note that is usually described as "petrol," but in a good way, and very typical of Alsace.
Fuji Japanese Steakhouse, at 3576 Springhurst Boulevard, is once again located in a strip mall. In fact, other than the downtown areas for dining, many if not most restaurants here are located in strip malls or as free-standing structures adjacent to regular shopping malls. The two rooms are furnished in blond wood with lots of Japanese touches, one room consisting of a long sushi bar with surrounding tables, the other, what I always call "benihana tables" – ten of them, with two chefs rotating between them flashing knives, tossing food in the air, and serving the resultant mess to their adoring fans. I've never been fond of that sort of food, though the show is fun to watch. Once or twice. (Note: I refer you to my personal website and a little piece I had fun with on my "Say What?" page – The Flying Shrimp of Death – see the January 14, 2005 entry.)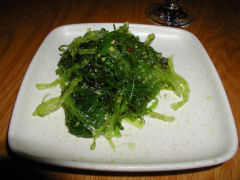 Again forewarned of the quantity of food that might arrive, I intentionally ordered light. There's nothing quite like a good salad to start off dinner, and seaweed salads are among my favorites. Fuji's is a mix of three different sea vegetables, topped with the usual slightly sweet sesame dressing. It was a nice sized portion, and I think the first time my parents had tried something quite like it. They, meanwhile, having ordered full dinners, began with the ubiquitous iceberg lettuce salad with "Japanese dressing" and bowls of steaming miso soup.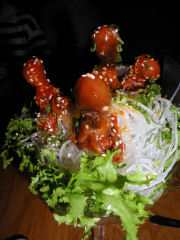 I moved on to a small appetizer, one I have to admit to being surprised at seeing, given the surroundings. Baby tako, or octopus, are another favorite. Usually I see these grilled on a small skewer, then brushed with a tangy barbecue sauce and served, more or less lollipop style. Occasonally I've had the same thing cold, served more sushi style. Here, while cooked, they weren't grilled, and they were dripping with a sweet, almost caramel-like barbecue sauce (must be the Kentucky influence), and showered with sesame seeds, and served ice cold. Good, but definitely not a winner.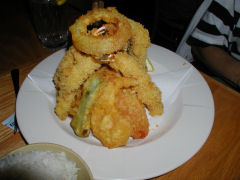 I saw the dishes approaching, and once again understood the warning. Two large dinner plates mounded with tempura vegetables and shrimp were placed in front of my dining companions. Half a dozen jumbo, and I do mean jumbo, shrimp (easily 2 ounces apiece) were standing on end surrounding a melange of carrots, sweet potatoes, onions, broccoli, cauliflower, peppers and mushrooms. All, of course, deep-fried. Between them (and me helping here and there), I think they finished one of the plates combined. The other joined the previous night's leftovers in the refrigerator.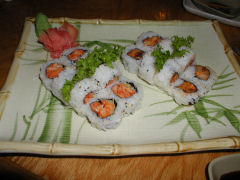 Fuji lists an inordinate number of specialty sushi rolls – two sides of a menu card – roughly sixty different rolls. Very few of them are of the ordinary "tuna roll" variety, and most have fanciful names. After reading the descriptions, I settled on two that were not the usual suspects. The Hot Mama Roll was a quartet of tuna, yellowtail, snapper, and "whitefish", rolled up with bits of fresh garlic and scallions, and doused in spicy mayonnaise. It was an interesting take on various more common "spicy" rolls, though perhaps with the chili in the mayo, the garlic, and the scallions, it was a bit of an overkill. The other, and not only more interesting, but really quite good, a roll of crayfish tails, cajun spiced – the New Orleans Roll. Now that's a good example of fusion food that works!
—————
It just happened that the new issue of Louisville Magazine's new annual dining guide came out, and I was flipping through it. With 300+ listings, dominated by categories like "Upscale Casual," "Barbecue," "Delis," "Homestyle," "Major Chain," and "Mexican-Southwestern," I found a couple of unusual things that I thought were worth noting. Three African restaurants (two Ethiopian, one "West African"), three Bosnian restaurants, one Mongolian spot, and hey, an Argentinian parilla! Who would have thunk it?