New York City – I was a big fan of Judson Grill, back in the day. Chris Cannon moved on to other things – putting together the Bar Veloce projects, and then L'Impero and Alto with Scott Conant. Bill Telepan is soon to be opening his eponymous restaurant. The space (152 West 52nd Street) has been taken over, completely revamped, and reopened as Bar Americain by one of the darlings of the media set, Bobby Flay.
My feelings towards Bobby are mixed – not so much on a personal basis, I've met him several times in restaurants where I've been working; he's always been charming, personable, and friendly; and he actually remembers me. It's the food. I hated Mesa Grill from day one and it took years to get better. Scatterings of hot peppers of varying types obscured any possibility of tasting the food they were meant to enhance. But then, I loved Bolo. His take on Spanish food, with a bit of zip thrown in, was spectacular. I hated his tantrums and antics on Iron Chef. But on Iron Chef America he's like a different human being – sane and professional. On Boy Meets Grill, his television show, it's an up and down experience – one day the consummate pro, the next snapping peevishly at an itinerant briquette of charcoal. What would Bobby's first new restaurant in many a year hold in store?
The room has been redone handsomely. The lighting is great, the choice of colors and fixtures are perfectly to my tastes – tending towards my two favorite crayola colors; burnt sienna and raw umber. I'm sure those aren't the exact colors, but for me they will suffice. The space has been opened up, which gives it a great, airy feel. There is an air of hustle and bustle, yet at the same time, it's not loud and overbearing. We were seated off in the front corner, a charming table, only made slightly less so by the party of four next to us – one of whom, I swear, never took a breath for the half hour they were there, and never let anyone else at the table speak more than a murmured monosyllable, as she rattled on in a voice like a jackhammer.
Ordered a bottle of Txomin Etxaniz Getariako Txakolina 2004. I'm not going to attempt to tell you how to pronounce that. It's from the Basque country in Spain, up around San Sebastian. It is made from two obscure grapes – 75% Hondarribi Zuri and 25% Hondarribi Beltza, as far as I know, grown nowhere else. It is crisp and bold, quite high in acidity, a perfect accompaniment for shellfish. Citrus flavors, leaning strongly towards grapefruit, are balanced by an interesting note that seems almost like a touch of brine.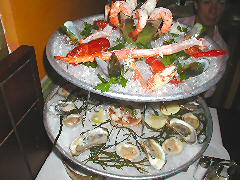 On to the food. We'd come here, because, for my birthday yesterday, I'd had this sudden urge for a platter of raw oyster on the half shell. It came from nowhere, it was just suddenly there. We discussed options, and not having been to Bar Americain yet, decided to give it a shot. There are several raw bar options, but we zeroed in on the two centerpieces – The Selection and The Deluxe. Thankfully, both for our stomachs and our wallets, we opted for the former, at $65 the two-tiered vehicle for a whole lot of shellfish dominated the table. Three tiers would have been, well, over the top. Assuring each other that we'd see each other soon, we dug in from our respective sides. Plenty of oysters, clams, mussels, crayfish (Bar Americain spells it crawfish, but I'm sticking with my midwestern roots), crab legs, clam and scallop ceviches, and, quite simply, the best shrimp cocktail I've ever had. The tomatillo cocktail sauce was spectacular, the shrimp were huge, it's a winner all on its own.
Here's a hint to the owners… after a raw shellfish platter, which runs either $65 or $110, you can spring for some sort of hot, damp towel for folks to clean their hands. Even a wetnap. Though our waiter figured out a substitute (hot water and lemon in a teacup and a clean napkin) for us, he told us that in staff meetings they've been instructed to tell people that hot, damp towels are not offered at Bar Americain "for business reasons." So management has clearly thought this through and decided the 18 cents for laundering a small towel isn't cost effective. Not a smart decision.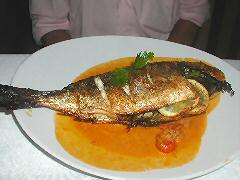 The menu is laid out brasserie style, a format you'll recognize instantly on seeing it. And indeed, this is supposed to be Bobby's take on Americanizing a French brasserie. We ordered two main courses – a whole dorade stuffed with lemon and herbs and topped with a creamy crayfish sauce; and skate, with a caper and chipotle chile glaze. The dorade is indeed served whole, and oddly, no implements for filleting it, nor an offer to do so, were in evidence. We asked for and got what we needed, and soon were on our way to enjoying, more or less, the filleted fish. The flavor was good, the crayfish sauce was good, the fish was overcooked to that point where it feels a little spongy when you bite into it.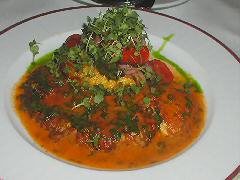 The skate, as a dish, was good. I love chipotle chiles (smoked jalapeños), and the balance with the traditional French caper and vinegar sauce made a great glaze. Although I enjoyed it, honestly it could have been any fish. The chiles are so dominant in the glaze that the flavor of the skate is completely hidden. The polenta cake served alongside helped tone it down a notch. It was, however, cooked to perfection, the skate delicate and moist on the inside, with just a slight crispy searing on the outside. It's a dish that could easily be a wow with just a touch more restraint in the glaze. One other note, the two dishes are near complete opposites in plating, as you can see – one filling the plate with various decorative touches, the other, a simply presented whole fish. Yet both beg to be eaten.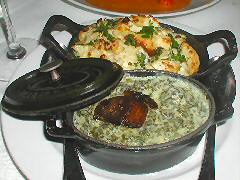 In a move that's becoming more common in new restaurants, the entrees are not served with accompaniments (other than my polenta cake, which wasn't mentioned on the menu). Side dishes are listed separately, and there were some intriguing sounding choices. We both love cauliflower, and the cauliflower gratin was an immediate joint choice. In an interesting twist on the classic creamed spinach, Bar Americain offers creamed kale. Both turned out to be excellent! I also love that they're presented in individual La Cocotte enameled cast iron dishes from Staub. If you're not familiar with them, these are probably the finest enameled cast iron kitchen accessories to be had. They fall into the "gift for the chef who already has everything" category. Keep that in mind, my birthday was yesterday, I'm happy to accept gifts after the fact…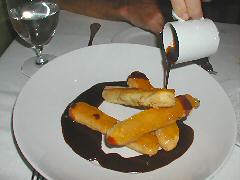 We were stuffed. We were happy. One dessert stood out on the menu. A plate of eclairs in a whiskey and caramel sauce. I know that doesn't immediately grab everyone, but that sounded immediately like my kind of sweet. And it was amazingly good. The long thin eclairs with just a touch of firmness to them, glazed with a little bit of crunchy sugar, were filled with a delicous pastry cream. And the sauce really made the dish – a dark caramel with bourbon. We picked up the eclairs, dipped and munched, a perfect way to end the meal!