Buenos Aires – Spent the day yesterday with some new friends, a couple of young Argentine guys. It brought home a couple of interesting cultural (and probably age-related) differences. One arrived a few hours early, while we were having breakfast, he'd left the other sleeping. So we hung out and waited for the other to wake up and arrive at our originally planned time, which he did. Hanging out in the apartment seemed high on their list, watching music videos on t.v., and surfing the web on my computer… high quality home computers are pretty rare here unless you're wealthy. Most folks use locutorios or ciberts, synonymous names for the local equivalent of internet cafes.
These are found everywhere, and I do mean everywhere. It's hard to walk more than 2-3 blocks in any direction, residential or commercial neighborhood, without spotting one. Because of the high cost of a good home computer, and by local standards, of a high speed internet connection, it's far easier and far cheaper to use public facilities. Some of these places are as simple as a couple of computers on a table in a corner of a store, others, like one across the street from my apartment, have several dozen machines, some in open cubicles, and some sin filtro (no filters – so you can surf "adult" pages) in private rooms…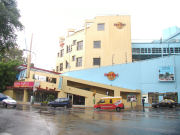 When finally dragged away from this cornucopia of technology, we headed to… the mall. Okay, this time it was the Buenos Aires Design Center, a high end mall that focuses on home design and furnishings. Then a wander down to the likewise high-end fashion center, Patio Bullrich. For me, the most interesting thing on the walk was this amazing old Banyan tree in Plaza Alvear, estimated to be more than 300 years old!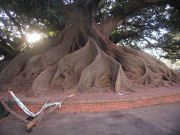 Finally a return to my apartment for the originally planned coffee and pastries – all told a mere stretching of an hour into eight…
The evening was more to my tastes. Friends Mickey and Marta, who I know from New York, have recently bought a house here. They won't be moving into it for at least a year, but have rented an apartment for a few weeks while they are "visiting."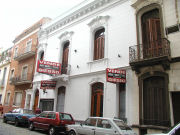 Mickey is a wine importer in New York, and they were off to Mendoza for a few days to see the area and drop in on the winery he represents, Bodega Banfi. Now, I have no doubt that the Banfi folks in Italy would not be happy to have another winery of the same name out there, and the Argentinian Banfis have clearly taken that into consideration, marketing their wines under the name Cinco Tierras, for the five growing regions in Argentina that they represent.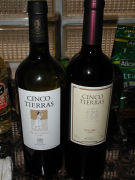 Back to my venture in regard to this, Mickey and Marta invited a group of friends over to their apartment in San Telmo (the "East Village" of Buenos Aires) for an evening of cheese, fiambres (cold cuts, sausages, small sandwiches…), and, of course, wine. It was great fun to sample our way through some of the various wines that are marketed under the Cinco Tierras label, including an excellent and not overly oaked Chardonnay and several different "versions" of Malbec. The outstanding wine of the evening was what the winery calls their "classic" Malbec – vivid flavors of black and raspberries, dark chocolate, and nutmeg. If I were to taste this wine blind I'd put it in the more expensive category, yet, it should soon be available in the U.S. for under $10!
I got to meet some wonderful new friends, ended up with an invitation to a wine brunch this Sunday, and met my new Spanish teacher. Now that's an evening!
Grey and cold today. I'd wish everyone a Happy Bastille Day, but I'm not sure that "happy" is an appropriate adjective… I feel I should go out for French food tonight.