Buenos Aires – Last night it was off to meet Heather in her neighborhood of Las Cañitas. This is the hot, new neighborhood for locals with enough income to afford it. It's also thankfully lacking in tourists, as it's not easy to get to via public transportation, and it's a recent enough phenomenon that it's not in most guidebooks. Chock-ful of trendy little restaurants (with, my sense is, prices to match), this is a tranquil area that real estate brokers are touting as "the" spot for "actors, models, artists, and publicists…" Chelsea, before the gyms arrived. Still, an area that I'd like to come back and explore a bit during the daylight hours.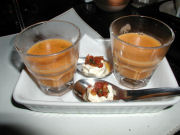 We were originally meeting just for a glass of wine and then Heather was off to other festivities and we were planning on dinner elsewhere. But, her favorite local spot, La Corte (the entourage, the court, other similar meanings), was an invitingly upscale spot, and after all, we were already sitting down. La Corte has been described as Buenos Aires' first real "New York style" restaurant, and that's apt.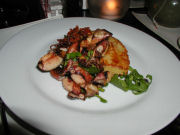 Subdued lighting, every inch carefully designed, waitrons in black, and prices that are a wee bit higher than typical for the city. Located at Arévalo 2977 in Las Cañitas.
We had a few glasses of decent but nondescript wine and ordered a couple of appetizers. We were first treated to an amuse bouche – the first time I've seen that in a BA restaurant. A warm, creamed Sopa de Tomate alongside small spoonfuls of a fresh cheese, sort of liked whipped ricotta, topped with a salsa of walnuts, bell pepper, and tomato was quite delicious!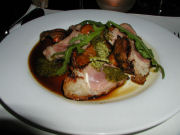 The better of the two appetizers was the Chiparrones, sautéed baby squid that were laquered in a slightly sweet glaze and piled atop a chickpea cake. The other was a decent, though somewhat over-salted and gristly Lomo de Manzo, loin of veal (amazingly for Buenos Aires, cooked medium rare!), sliced and served with fresh wild mushrooms, demi-glace, and an herb purée. If that isn't a description of typical trendy cuisine, what is? (And at nearly 20 pesos apiece, double what most restaurants in BA would charge for appetizers, still, by homeland standards, cheap.)
[Note: this restaurant has closed.]