Families are a funny thing. Sometimes they stick together, sometimes they repel each other, sometimes they remember, sometimes they forget. I started on the trail of the family Helueni when I noted that there were a few listings for various Syrian-Jewish restaurants and bakeries that included the surname. In one or another Arabic dialect it means, simply, "confectioner", a trade surname if ever there was one, I suppose more or less like the English "Baker". In Hebrew it means "a clearing in the woods", but it's unlikely that applies to these Argentine descendants of what may well be a single Syrian Jewish patriarch, Jacobo, who arrived here a bit over a half century ago. Although he arrived from Cairo in Egypt, his family were Syrian Jews from the Aleppo area (at least this is the best I've been able to track down). Over the course of a couple of days, I headed out on the family trail.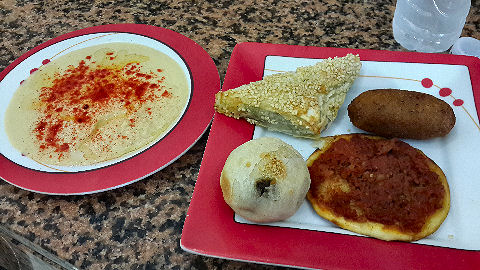 Some fifty years ago Jacobo opened up a small bakery for traditional Middle Eastern pastries and savories at Paso 687 in Once and ran that for three decades. Roughly twenty years ago he moved the location to Córdoba 2495, just off the corner of Larrea, on the border of Recoleta and Once, where it has remained since, now called
Helueni – Delicias Arabes Orientales
. It's primarily a store, where you can buy spices and pickles and various preparations for your own cooking, or prepared baked goods, both savory and sweet, and, there's a small counter along one side where you can sit and eat something. A sampling from what was on offer, some hummus (a little bit too lemony for my tastes and lacking in salt, but good), a triangular pastry that their signs appear to call
muarrak
, a term I can't find anywhere, but it's a phyllo triangle filled with spinach that was quite good (what I think would typically in Syria be called an
imwarah
, heavy on the sesame); a fried
kibbe
, a little greasy on the inside but tasty; a
boio
, basically a round knish, filled with sweet and sour eggplant that was absolute heaven; and a
lahmayeen
, or open empanada of meat and tomato that was beautifully spiced and one of the better ones I've had in town.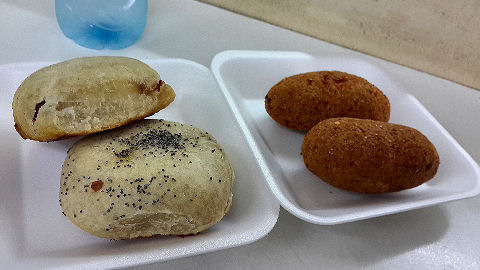 Here's where the family stuff comes in. Just a few short blocks away is
Lalo Helueni
, at Tucumán 2755 in Once, where chatting with the woman running the place she allowed coyly that all the various Heluenis that run and have run different places in town are related, but that none of them talk to each other or have anything to do with each other. This spot is sort of a smaller version of the previous one, maybe half the size. It's also kosher, and has only meat and vegetable preparations, no dairy of any sort. Here, a spectacular potato knish and nearly as good eggplant one, though not sweet and sour like the previous one, this was a faintly sweet, roasted eggplant filling. She insisted I try two of her fried
kibbe
, and had I not already been eating and planning on more, I'd have gone back for more – spiked with sweet spices and a mild kick of chili, these are up there among the best kibbe I've had.
Now, there was a bit more wandering in the neighorhood as there were two other addresses along Tucumán, at 2418 and 2620, that my internet digging had listed. The former is a fabric shop and looks like it has been for awhile, so no idea, and I couldn't find any details on the listing. The latter is currently the small, kosher, El Jaial restaurant, whose shawarma I've reviewed, not particularly favorably. The story as best I can gather is that a cousin of Jacobo used to own the place, which was locally called "the Helueni of Tucumán", but met and fell in love with a millionaire heiress from Panama, married her, packed it in and moved there with her. The new owners changed the name (or maybe the name was already El Jaial but the Helueni thing was just known by locals) and continue to run the place, but there's no connection any longer to the Helueni clan.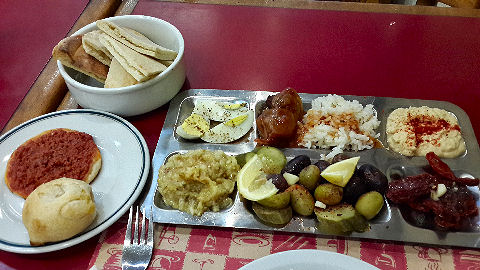 Heading south into Monserrat, we find
Liliana Helueni
at Santiago del Estero 244. Here, the family stuff gets more awkward. On several different online forums Liliana has made it clear that she just happens to share the last name, but is no relation to any of the other Helueni spots. However, according to an online history of her eponymous restaurant (admittedly published by others, not her, but also hinted at by the woman I talked to at the above spot), Liliana is actually Jacobo's daughter. As I said, "family". Interestingly, as well, the Facebook page for the restaurant claims her as the owner and chef, while her personal Facebook page states that she's the former owner. Intrigue. This spot is a sit-down restaurant, a bit of a long, narrow, hole-in-the-wall. Surly waiters, a grubby photocopied and stapled together few sheets of paper as the sole menu in the place that I could see. Most of the customers seem to be regulars who come in and simply order without looking at it. They offered a sampler plate, so I gave that a shot. All pretty mediocre and bland. The "pilaf" was nothing more than gluey white rice with some hard, sweet and sour meatballs on the side, both the hummus and the babaganoush were unseasoned, seeming to be nothing more than plain purees of chickpeas and eggplant, respectively, the hard boiled eggs were way overcooked and sprinkled with flavorless paprika, etc., etc. The pickles were decent. I ate a bit of each thing, paid up and left.
There's also a Pizzeria Roberto Helueni listed at Pinzón 1235 just off the corner of Regimento de Patricios in Barracas (right on the border with La Boca), but the space was closed up when I visited, with no sign. It's possible I simply hit a day or time when they weren't open, but it really looked more abandoned than that, and the two cops on the corner didn't think it was still in business, though they admitted they were new to the neighborhood, so perhaps it was just closed for vacation. If I'm back around there one day I'll check again (or if anyone who knows the place or the barrio knows the answer or spots it open, let me know).
And that's my family roundup for Familia Helueni.