While the rest of the world waxes rhapsodic over the mixed grills of parts of cow here in Argentina, I'm still on the hunt for the best in the same vein of fish and shellfish. It's been over half a year since my last entry, and it's time to add in some more spots.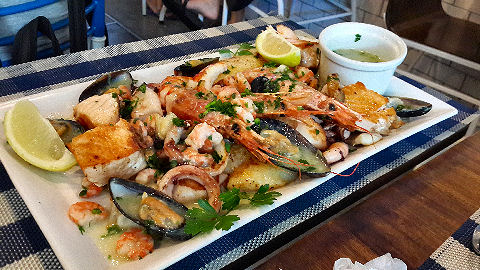 As recommended by Miles of The 5th Floor here in BA, we made our way over to Chipper, Humboldt 1893 in Palermo. I've given a short review to their fish and chips awhile back, but hadn't returned for more. This time Henry came with me and we ordered the parrillada de pescados y mariscos. One of the better arrays of seafood on a platter, with four different kinds of fish, and a mix of shrimp, prawns, mussels, squid and cuttlefish, all nicely coated in a faintly garlic and parsley flavored olive oil. More of the same on the side for dipping, along with a couple of lemon wedges. Well seasoned, all cooked perfectly except the salmon which was just a touch overdone. A definite find in the parrillada world, and though expensive, not outrageous at all, coming in right now at 245 pesos.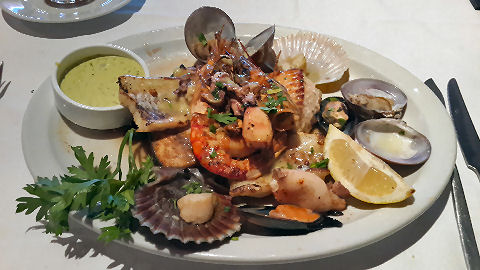 A solo afternoon in Puerto Madero and a stop in at La Parolaccia del Mare, the seafood branch of the parolaccia chain, at Alicia Moreau de Justo 1170. As at most places, the parrillada is listed as "for 2" (and sometimes more), and I was pointing at it and starting my question to the waiter as to whether or not… he interrupted me and said, "of course we can make it for one, not a problem." And, unlike some places where those half portions are sometimes 70-80 percent of the full portion price, here it was a mere 55%, 162 pesos versus 290. And, one of the best selections I've seen with three different fish, mussels, shrimp, prawns, scallops, squid, cuttlefish and clams. The accompanying herb mayo – sort of a ramped up tartare sauce, was excellent, and the portion size was perfect for one person.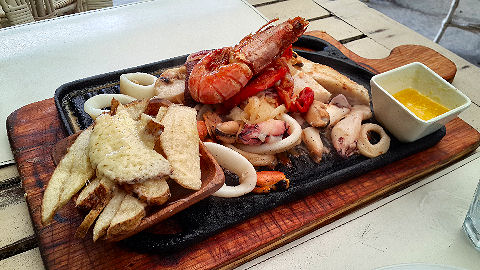 And, another solo day out, here off to Villa Ortuzar at Domingo, Virrey Aviles 3888, appropriately visited on a Sunday afternoon. The waitress tried to talk me out of going it alone on the parrillada for two, though acquiesced with the idea that I could always take home what was leftover. The selection here was a bit more limited – the fish, only abadejo, or pollack (then again, on the menu it's not called a mixed grill, but just grilled pollack with shellfish), accompanied by mussels, squid, cuttlefish, shrimp and a single prawn. The seafood was cooked right, though texturally I have the feeling most of it was probably pre-cooked frozen – I'm willing to be wrong about that, but I really think it was. Kudos for not only a generous plate of lemon wedges as opposed to the usual one or two, a mound of grilled peppers and onions, and also a bowl of drawn butter (I haven't seen that anywhere here at seafood restaurants, it's one of those things I think of as a very US sort of accompaniment), and slices of baked potato with cheese. In addition, on the table, while ostensibly for the bread, there's a very good roasted pepper mayo which was a perfect accompaniment as well. And, the pricing is more reasonable than most at only 190 pesos for the portion for two. By the way, I finished it all, sin problema, except the potatoes.