"Two Italians and a Frenchman walk into a bar…" Oh, never mind…
I'm sorry I haven't been giving you more full-on reviews recently, let's just say that the wallet is still recovering from nearly five weeks away in Peru and Bolivia combined with this being an exceptionally slow spring business-wise. It's picking up bit by bit though, and the credit card is rapidly getting paid off, so we'll get back to going out some more. In the meantime, I've been kind of limiting things to lunches either solo or out with friends, and often at spots I already know, so there's been less to talk about. Still, that will mean more step-by-step recipes coming your way as I get them written and photographed. Today, a trio of lunches two of which are return visits to places past reviewed.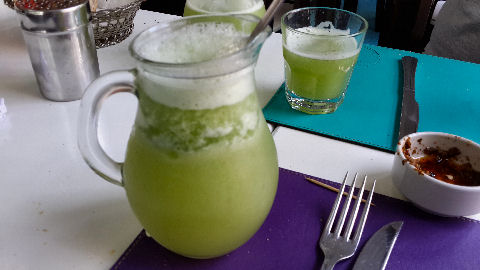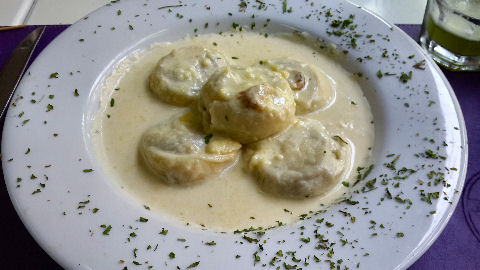 I don't know why I rarely go to
Salgado
, Ramirez de Velasco 401, in Villa Crespo, it's some of the better pasta in the city. The first time I went there
I waxed a bit poetic about it
. I shouldn't even say "rarely" because I've actually only been back once in the intervening six years. I should change that because they really do know what they're doing here. There are two things in particular that stand out over most pasta places here – they cook the pasta to a proper
al dente
, in fact I think on that first visit part of my waxing was that it was the first place in town I'd discovered that did that – since, however, I've found quite a few more. The second thing is that beyond the usual selection of pastas and sauces, the menu offers up some really interesting combinations that I've not seen in other places – there are plenty of unusual combinations to try (morcilla, almond and orange raviolis anyone?)
I let the waitress pick from her favorites, giving her really just one guideline, I didn't want just one of the regular pastas (I even pointed to a few as examples of what she might consider). She picked the "agnolotti de cordero". I'm going to pick a bone. Not for the quality of the pasta, which was as good as both previous visits – perfectly cooked pasta, tender braised lamb inside, and a roasted garlic and mint cream sauce on it – that could have used a little more punching up from both the garlic and mint, which were a little overwhelmed by the cream and grated cheese, but was still delicious. No, the bone I'm going to pick is, these are not agnolotti. There are rules of sorts to these things – especially when it's a name that means something – an agnolotti is, quite simply rectangular, and it's folded over once, so that only three edges are sealed – it's just what the shape is called. These were round and plump, basically sorrentinos – round ravioli. They did get correct that agnolotti can only be filled with meat and vegetables – never cheese – cheese goes on the outside of agnolotti, again, just part of the traditional definition of what it is – in Piemonte, where agnolotti are from, if it's cheese filled, it's called ravioli, even if you get the shape right.
Really, truly, recommended for pasta, and I'm going to make it a point to pop back there more often. Prices range from about 30 to 60 pesos per pasta, depending on what it is – widely varying, I admit, but that's the way it is.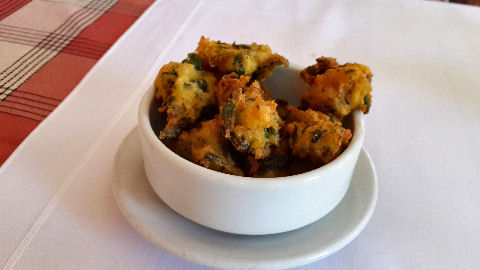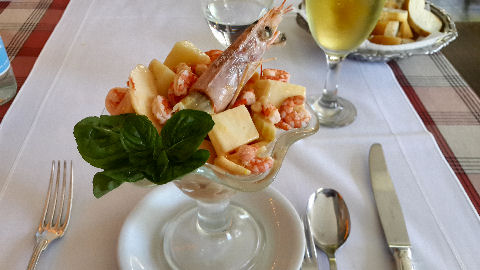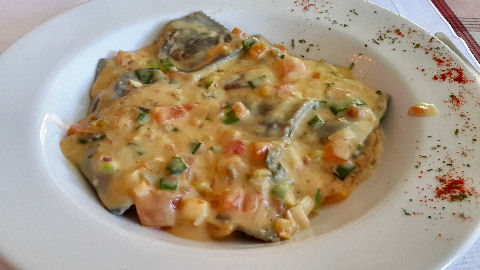 After last year's successful
Masticar
festival I shouldn't be surprised that this year it had caught on with the public. I headed off to go one Sunday, knowing that it would likely be busy, so I went early. The line to buy tickets and get in stretched just over four blocks long, and it wasn't moving beyond a snail's pace. I decided to blow it off, go eat, and then come back and see if it had gotten better later (slightly. the line was down to about three blocks, I still didn't bother – 78,000 people showed up this year, roughly 55% more than last year). I was feeling in the mood for Italian food, so I plugged that into foursquare to see what might pop up and just a couple of blocks away was
La Molina
, Gorriti 5806, in Palermo – a mixed Italian and Argentine (mostly parrilla) menu.
Now, not to offend any of my Argentine friends, but one of the things I often look for in an Italian restaurant here are the places that Argentines criticize for their pastas – which, by the way, Salgado receives criticism for its "undercooked" pastas here and there – as does this place, as do I now and again – many Argentines, especially older generations, that I've encountered, like their pasta limp as a wet paper towel, they just don't get al dente. It's cultural, I get it, such is life. Actually, I could tar and feather most South Americans with the same brush, just from my own experiences – when I make pasta here at home for us I often scoop out a portion for me and leave the other half in cooking for another 3-4 minutes for Henry and friends. So, La Molina getting criticism for its pastas just not being cooked right was a glimmer of hope. And, a well founded one. While the place was nearly full and everyone else was enjoying their grilled meats, I settled in on the one pasta that stood out on the list – shark ravioli. Yup, shark ravioli. Which turned out to be delicious – cooked a proper al dente squares of squid ink ravioli filled with a mix of shark and herbs, and topped with a "salsa primavera" – basically vegetables in a thickened white wine sauce. Visually, the sauce appears to be a bit of a gloppy cream sauce, but it turned out not to be – no cream, and actually not heavy.
Don't ask why I ordered a shrimp cocktail to start. Really, just don't ask. I don't know, it's not something I would normally order, it just caught my eye and I did. It was too sweet with apples and heart of palm, and what seemed to be a sweet version of salsa golf, and rubbery shrimp, so I wouldn't pick that again, and given that they serve up a nice little bowl of warm swiss chard croquettes to every table (I'd have preferred them a bit hotter) I'm not sure an appetizer is even a necessity. So, overall, not bad. I wouldn't run back there again, but if I was nearby I might give it another shot.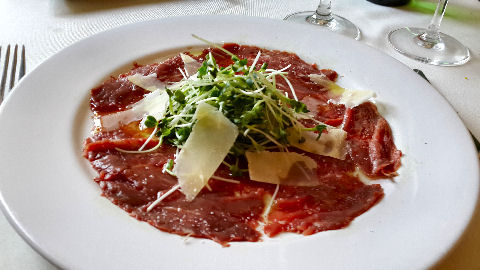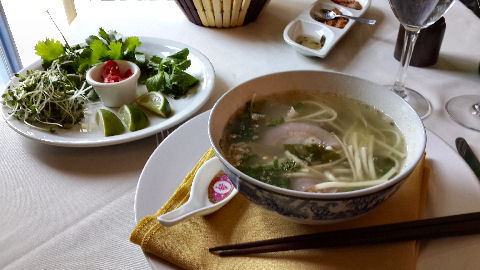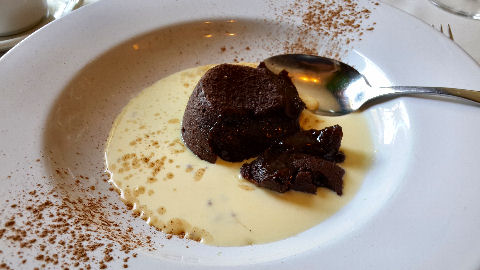 Recently (I think), perennial favorite of numerous expats here,
Azema Exotic Bistro
, Carranza 1875 in Palermo, started offering lunch. I was in the area and thought I'd give it a shot – it's been awhile, and, like Salgado above, I'd only been back once since my initial review, and besides, let's see what they're doing for lunchtime, right? Now, I purposely didn't go back and re-read
my original review
, though I couldn't help, of course, remembering that while I recommended it, there were things about it that I both liked and disliked. So not a completely clean slate. 
[Closed]
Interestingly, it turns out that my thoughts run much the same as they did on that first visit. I found the service a bit lacking – it was friendly and even reasonably helpful, but given that I was the only person there the entire lunch hour, and there were two people ostensibly working in the dining room, it would have been nice to see one of them at a time other than while taking an order or delivering food, but they just disappeared into the back somewhere. No sign of the chef, though it may just be that he doesn't come in at lunchtime – when I wandered back to the restrooms I didn't see him in the kitchen. The one really positive note on service is that when I asked about a glass of wine and they only had one, not so interesting one open, my waitress went back for a consult and came back and offered that they could open any of several that they had on hand.
On to the food, for which I have mixed thoughts again as well. First off, there are no appetizers on the lunch menu, it's main courses and desserts only. But, my waitress said they could serve the carpaccio as an appetizer if I wanted, so I said sure. What it turned out that meant though was not an appetizer portion, but just they were happy to serve me the carpaccio as my appetizer, and charge full price for it. It was, however, an excellent carpaccio, so I can't complain about the quality of what was on the plate.
I decided for my main course to order the "pho Thai". A bit tricky on the menu here, as in its title the menu makes a point that pho is a "traditional richly flavored Vietnamese oxtail broth". First off, what's the "Thai" doing in the name? Vietnamese food is not Thai food – was it presaging a Thai version of the dish? Second, you have to read the fine print under the title to find out that they're not making the traditional oxtail version, but a lomito version – thin sliced steak. And, it arrived. Just from the color of the broth I was a bit concerned – this was a pale grey-pink, perfumey, flowery broth that had little, if any, meat flavor to it, there was none of that richness from having charred the bones and onions and spices. It was almost like drinking slightly sweetened jasmine tea. And, there were no more than 3-4 little teeny pieces of meat in the bottom of the bowl, I found myself wishing I'd just saved the carpaccio and slid it in. The noodles were overcooked rice noodles that just fell apart at the touch. The accompaniments were fresh herbs, lime, and chilies, all of which it desperately needed. Surprisingly this time, in going back and reading my previous review of the place, nothing spicy – the chilies, slices of jalapeños, had been seeded and blanched so that they were flavorless, and there was no hot sauce on the table (there was, accompanying the bread, a sort of, kind of, slightly spicy tomato spread) – had the waitstaff been in evidence I'd have asked for some. Pretty much a yawn – I picked out the herbs, noodles and meat and left behind most of the broth.
The dessert of a molten chocolate cake was absolutely bliss. So, two great courses and one insipid. I do so want to like the place more than I do, and I still think there are some interesting things on the menu, but it's just not a place I'm going to run back to. You shouldn't have to "pick out the best dishes to try" as I've had offered in order to have a great experience.