Oh do we have a range of pizzas, both in style and quality this time around, as we pick up crossing the border between Flores and Floresta from where we left off not far from Plaza Pueyrredón.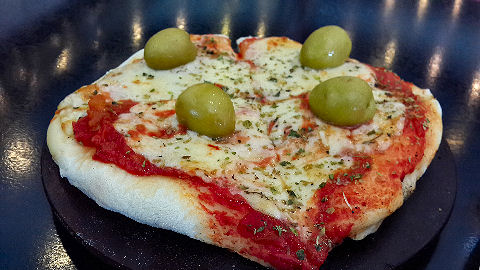 Just a few steps further along Av. Rivadavia and on the opposite side of the street (which technically I should probably cover on the return leg, but the bus zig-zags a bit on the return onto side streets and it gets complicated figuring out which blocks are covered and which not, so I'll just hit both sides on the way out), we stumble into Urbano at #7324. While there's no pizza by the slice, there is a pizzetta available that's a perfect small sharing size for this trek. And, it's not bad. It's not a great pizza, the dough is a little bland and underdone, but the sauce is quite good and the cheese is of reasonable quality. The olives are rather over-sized and a bit hard, and the whole thing is sprinkled a trifle liberally with oregano flakes that have mummified with age and include stems as well as flakes of leaves. Another minute or two in the oven and a higher quality packet of herbs and they'd actually have something worthwhile here. As it is, take it or leave it.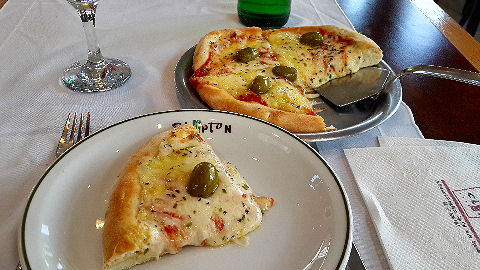 At the next corner (Avenidas Nazca or San Pedrito, depending on which side of the street you're on) we hit the bonanza with three pizzerias taking up three of the four corners. We're in potential pizza heaven or hell here. On the closest corner on the right we've got Clapton at #7399. It's a large, standard cafe looking spot with old white tablecloths and matching waiters who are a touch on the gruff side but know their stuff. Our waiter did suggest that we move from a window table to a more central room table. Why? Because they charge a cubierto or table service charge at the window tables only. Bizarre. Here, too, a pizzetta is an option – quite possibly the smallest pizzetta I've encountered to date, which for our degustation purposes is perfect, but if I were there for lunch I might feel a bit slighted. Still, it's well cooked with a decent if slightly more bread-like dough, an okay sauce, and actually rather decent cheese. Our issue with it is that it's been salted. Heavily. To the point we can see the salt crystals scattered over it. On that basis alone it's one I'd give a miss to, or at least ask them to leave the salt off.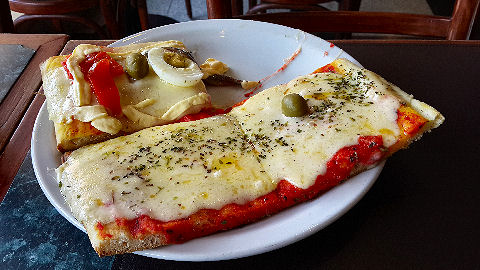 Across the cross street at 7401 is Tio Pipa's where pizza is sold "by the meter" – either a full meter ("10 portions"), a half ("5 portions") or "by the portion", which unfortunately they didn't tell us was cut all the way across (though I suppose it makes perfect sense given the style of service), so when we thought we were trying one portion of plain and one of the house special (ham, hard boiled egg, two kinds of cheese, roasted bell peppers, olives, and, inexplicably, mayonnaise), we thought we were getting half of what ended up getting. On the other hand that explains the portion prices that were basically double what we've encountered in other spots. It's fine, we tried both and just sort of nibbled and then left them because, well, they weren't all that good – to make the point, between us we didn't finish one square of each type. The dough was tough, the sauce was flavorless, the cheese was oily, and, did I mention the inexplicable mayonnaise? Pass.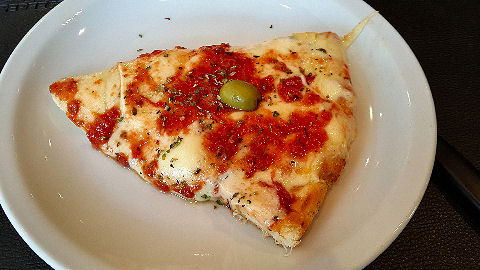 Across Rivadavia at 7402 is Pizza & Birra which is a sort of mixed pizzeria and parrilla. Perfectly for our purposes at the end of the grill counter there are a couple of seats where you can plop down and eat if you'd rather not take up a table – and since we decided after the last three spots that we'd just split a single slice (which turned out to be a good move given the size of it), we did so. The flipside turned out to be that there was a mop and bucket sitting in the corner behind the counter and we realized after we'd been there a couple of minutes that we were smelling the dirty mop water. Thankfully, the pizza turned out to be a nice turnaround from the earlier trio – delicious dough of the thicker variety, zesty sauce with fresh herbs and garlic, high quality cheese and just the right amount of it. Had we still been hungry we might have gotten another or tried a different variety. Certainly of the three corner spots this is the winner.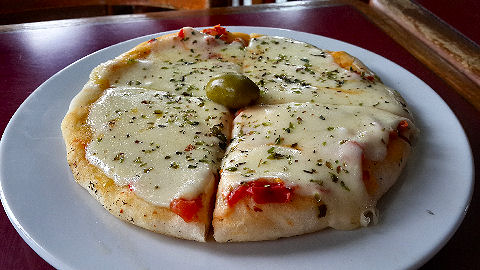 Picking up on another day and I ended up solo-ing this one, so only two spots. First off, a several block stretch with nothing, other than crossing the border from Flores into Floresta, it's all furniture shops – until happening upon Saxon at the corner of Pergamino, #7800. I didn't even want to like this spot. The cook and the manager were busy playing Angry Birds or something like that on a cellphone and paying no attention to their jobs – even when the waitress, who has to be the poster girl for the entry "bimbo" in the dictionary got around to both taking my order and trying to explain it them – they kept telling her "wait a minute", it took her a solid four or five tries before they'd even take the order check. Not surprisingly the pizza that came out in barely five minutes was no better than the service with tasteless, gooey dough that wasn't remotely cooked, sauce that was nothing more than something tasteless out of a can or box, and insipid cheese. It was, however, obliterated by the chemical flavor of being coated with garlic powder – if I were to guess there was a solid teaspoon of the stuff spread across a small pizzetta. Inedible.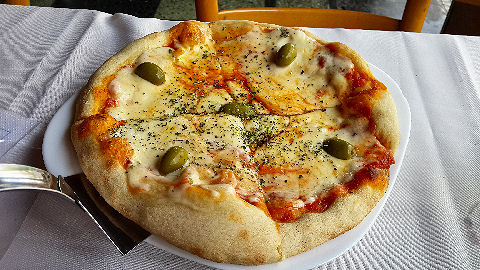 Another couple of blocks along on the opposite side at the corner of Emilio Lamarca, actually addressed as Lamarca 1, is the eponymous Lamarca. The lack of sustenance from the previous spot led me to hope for something better. And, delightfully, it was, from charming professional service to two cute pizzeros working the ovens, to a pizzetta near the size of a dinner plate for the same price that the others in the 'hood were offering one the size of a bread or side plate, to simply one of the better pizzas I've had on this trek. Perfectly cooked, flavorful crust, delicious sauce, proper pizza mozzarella, proper cooking, good seasoning – everything right, and a great way to end this section of the journey. Pizza that's actually worth a trip out to Floresta.