It's one of those places that at a glance you just know is not going to be a good move to enter. It has that fast-food look – signs emblazoned with photos of the food, cheap (relatively speaking) prices, plastic chairs, well, sort of plastic everything. But, it was raining, it was Las Cañitas, virtually nothing else was open, and I was hungry. I decided to brave the place and see how it went. And so, I found myself in Kono, Arévalo 2919, a self-proclaimed "sushi lounge". There was nothing lounge-y about it, but it's their claim, not mine. (Apparently, a franchise chain concept.) [Closed]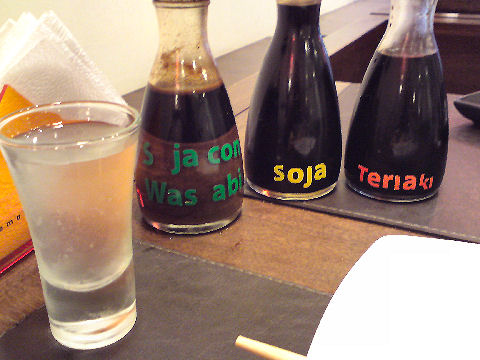 No one else was in the place, the one waitress was immediately attentive and friendly. The menu held out a bit more promise than I might have hoped – promises of fresh tuna as opposed to the ubiquitous canned that so many places have here. There were actually rolls without cream cheese. There were listed "spicy" rolls. There was a nice mix of sushi pieces, rolls, hand-rolls, and more. If the quality was good, this might turn out to be decent. I liked the array of sauces on the table – teriyaki, soy, and soy with wasabi already in it (which, you can actually taste and actually gives a kick to it, as it turned out). The sake was less promising – turns out that the only option they have is cold sake by the cup (which is not a problem in and of itself), mixed half and half with sweetened limeade (which is a problem in and of itself). It's already pre-mixed, no other option. It's dreadful.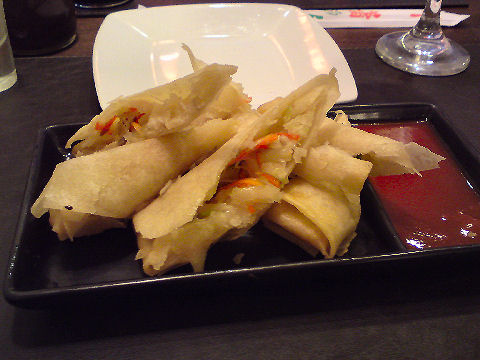 Springrolls to start – option of meat or vegetable. A bit greasy. A bit skimpy on the filling. And pre-cut open on a diagonal so they didn't stay hot. Decent dipping sauce. But, a little disappointing.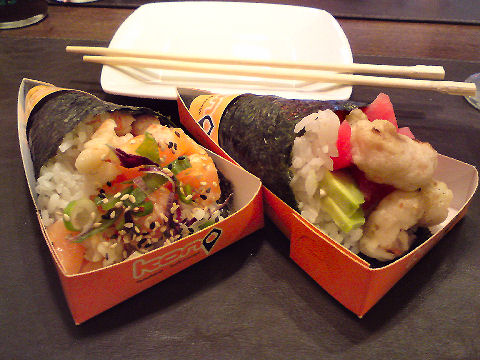 A couple of
temakis
, or hand-rolls, up next – the specialty of the house (they also lay claim to being a "temakeria"). They were out of octopus, so that quickly went by the wayside and I ended up with one shrimp and one tuna. I have to say that when you offer the options of: salmon, tuna, whitefish, shrimp, octopus as you're only choices, being out of one of them is annoying. Especially when you're located less than 10 minutes from the Barrio Chino fish markets. But, the ingredients were fresh, and a decent amount. The hand-rolls are packed wrong – the seaweed cone is filled completely with rice and then the seafood is sort of clumped on top like a scoop of ice cream, which means that once you eat that, the rest is just rice – they really need to mix it in a bit. And I don't quite get the cardboard takeout containers when you're eating in "the lounge". But overall, they were good.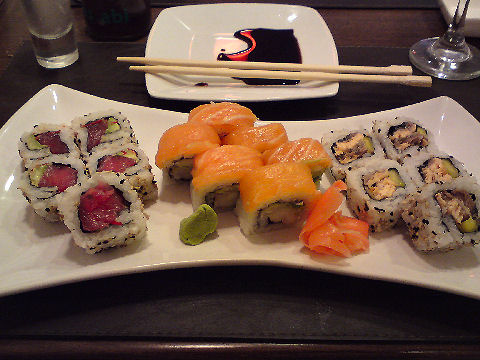 The regular rolls fared better and most of them are available in half-roll portions, as here. A spicy tuna roll was laced with a generous amount of fresh chilies that easily got me to break a sweat. The shrimp tempura and salmon roll was delicious. The salmon skin roll, tasty, but too much salmon, not enough skin, and the skin wasn't crispy, at all – it had a more soft-chewy texture – that one was a disappointment.
So, all told, with springrolls, two hand-rolls, three half regular rolls, a sake and a bottle of water, and tip it came in at just under 200 pesos. Not cheap, but not bad for the quantity of sushi. And, they gave me a card to get 20% off on future visits, which would make it far more reasonable. Surprisingly, Recommended.