I often get asked why I don't review more of the restaurantes a puertas cerradas here in town. Inquiring minds apparently want to know, and I understand. Well, there's two reasons, one logistical and one philosophical – who knew on a Sunday morning I was going to turn into a master from Trinity College? The first is simply one of timing – as Casa SaltShaker has gotten more popular and busier, we're often open, between the public and private dinners, four or five evenings a week, generally centered around the weekend. Almost all of our closed door compatriots are open on the weekends – many because they have other jobs during the week. We're simply working when they are and it requires taking a night off in order to go to one of them – that said, every now and again we do.
The second reason is a bit more of a grey area. I don't want to give a bad review to another puertas cerradas, it's as simple as that. But wait, you say, you write negative, sometimes castigating, reviews of restaurants all the time. Please, not all the time, really, it's actually pretty rare. I just like to think they're memorable. But here's the difference. In the case of a "regular" restaurant, first off I don't know that my reviews have all that much impact – sure, here and there someone may decide to go or not to a place I recommend or not. But in general, people look at multiple sources and if I'm the only contrarian, they often ignore me, and I even often hear about how wrong I am. In the case of the in-home world of restaurants, though I never set out to be, I seem to have become the de facto go-to guy for information on them – and not just the linked listing of places around the world, but I get, generally, 20-25 e-mails a week from someone asking my opinion about one or another of them – and given the nature of what we do, and simply how sensitive some folk are about their home creations, I'm just not comfortable trashing someone else's home-work. And while there are other bloggers out there who write them up, they're few and far between, and, bluntly, at least a few of them, in various spots both in BA and other parts of the world, are compensated for what, to my mind, amount to fluff pieces. I like to think that I give a pretty balanced viewpoint, even when I write an overall good review.
Now, does that mean that all the closed door restaurants here in BA that I haven't written up are terrible? Not at all, see point number one. I just haven't been to most of them. In truth, I can only think of one that I decided simply not to write up because of how bad the experience was – and I'm pretty sure that a good part of it was simply a truly off-night, they just seemed "out of sorts". So, preamble aside, I'm happy to report on a delightful experience at a new spot that serves up a homestyle asado, or barbecue, that I heard about from some customers recently, and was equally happy to find out that one of the two hosts is someone whom I've met before. I added them to our listing and shortly thereafter received an invitation for Henry and I to attend a dinner – gratis – just to be upfront – and, they're open on Wednesday each week.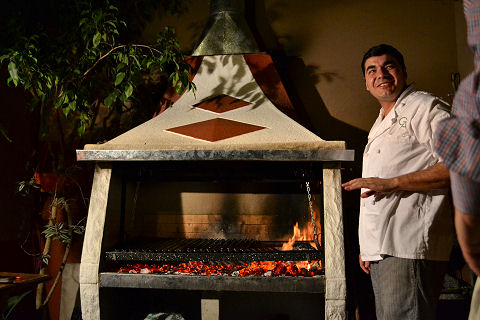 The place,
Adentro Dinner Club
in Palermo. Henry was unable to join me for the evening, so our friend Allan who often fills in for him, came along for the ride. It's a house rather than an apartment, and one of the two hosts, Kelly, greeted us at the door, gave us a quick tour, and took us out to the small patio where her co-host, Gabriel (doesn't he kind of look like a Spanish Emeril Lagasse?), was busy stoking the fire under the grill with
quebracho
, the local premium wood for grills. Introductions all around and we sat down at the patio table to chat with Kelly over flutes of champagne with passionfruit liqueur. Over the next few minutes another three folk arrived for the dinner, more introductions and back to conversation and sipping. 
[Closed]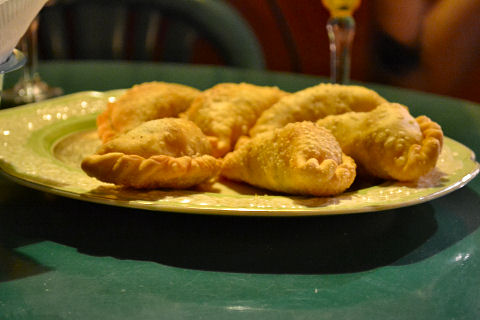 At some point Gabriel disappeared into the kitchen and shortly returned with a platter of empanadas. Fried, reasonably spicy, absolutely delicious – truthfully some of the better empanadas I've had here in BA over seven years. His mom's recipe. It also came out, as we sat nibbling away, and Kelly didn't, that she's vegetarian, something I hadn't recalled from her visit to Casa SaltShaker in March of last year (she came to one of our
vegetarian evenings
and was probably one of the few actual vegetarians at the dinner). The question had to be asked – at first glace there's something odd about one of the hosts of an asado not eating meat – why not another concept then? She explained that in her time here, one of the most common things she hears from visitors is that they wished they could be invited to someone's home asado, and get the whole social experience, rather than just going out to a parrilla. I can get that, I hear the same at times. And, as you'll see, there're plenty of non-meat options to eat during the evening.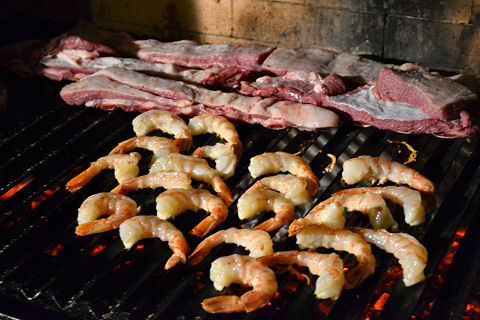 At some point Gabriel had gotten the fire just right and started laying out the different things we were going to get to eat. I've got to say, it looked like a whole lot of food – for five guests, plus himself, there were five kilos of meat. Plus the shrimp on the bar-b move, piles of vegetables….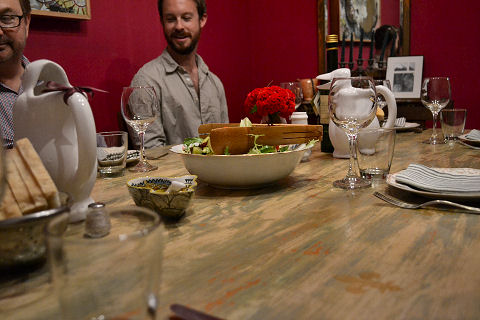 Adentro at Adentro – we moved inside to the dining room. Love the space and the rustic touches like the refinished door as a table top and some of Kelly's own artwork – she's in the graphic design biz. A big salad with greens, tomatoes and feta cheese awaited us, mineral water, and glasses of the house wines – either a white or red from Escorihuela Gascón. There's also a short wine list of other selections available for those who want to upscale the drinking a bit or have more than the one glass included.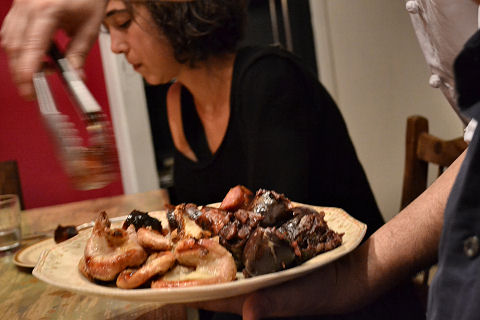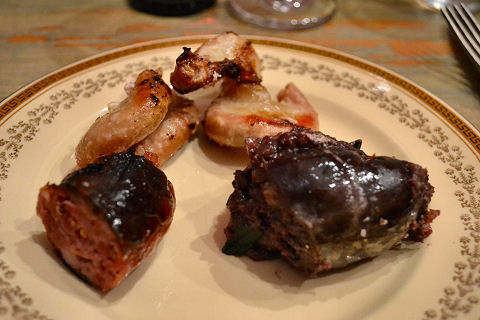 My actual favorite part of an asado is the beginning – the innards and sausages. I just, generally, like them and find them more interesting than the steak part of the meal. Not everyone is of the same mind, and there were a couple of refusals of one bit or another – a mistake in my mind, you're there for the full experience, at least check it out – coming to a home asado, this is part of what it's all about, not just getting a piece of sirloin. Absolutely delicious chorizos and morcillas (that are sold to them by Gabriel's sister and brother-in-law), along with chinculines, grilled intestines. I was really happy at this point. I could have also just ended at that point…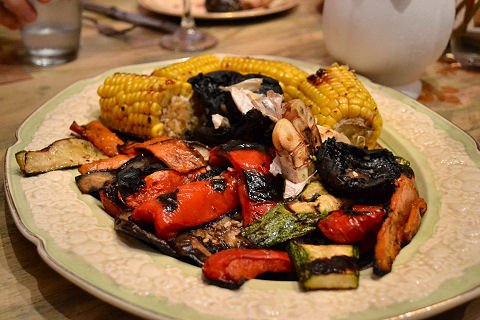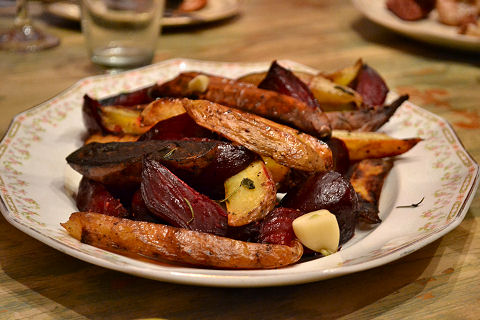 …but that was not to be. Remember, we're five guests, plus Gabriel and Kelly – and here was where she got to dig in with a bit of gusto – platters of grilled vegetables – corn, zucchini, peppers, garlic, onions, portobellos, sweet potatoes, potatoes, beets…. Oh, and those grilled prawns, which had been brushed with garlic-paprika oil as they cooked.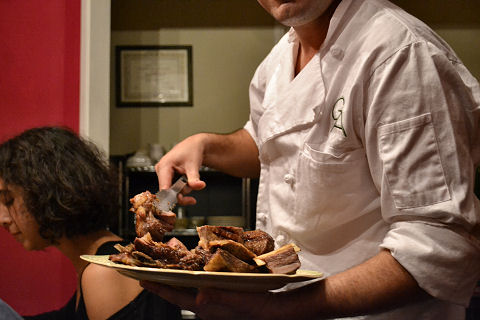 And then the meat arrived, Gabriel placing a good sized piece each of
cuadril
, or rump steak, and
tira de asado
, cross-cut ribs, on each of our plates, and then coming around with more as we finished them. At this point he joined us for dinner, pretty much skipping over most of the vegetables and heading straight into the meat. Lots and lots of meat. No question we over-indulged, but then, it's such a rarity that, at least I, go out for an asado, parrilada, or even just a steak, that it was worth it (next day, nothing but green salad for lunch and a vegetable pasta for dinner). The over-eating was also helped along by all of the food being perfectly cooked, seasoned just right, and completely delicious. Minor point – although plates were changed out a couple of times during the evening, they were all small salad plates – at the main course with the grilled meat and vegetables, they were a bit impractical – dinner plates would have been a good move, and maybe a change of silverware at some point during the evening rather than the same knife and fork throughout.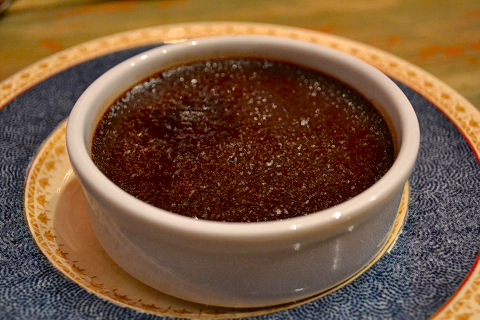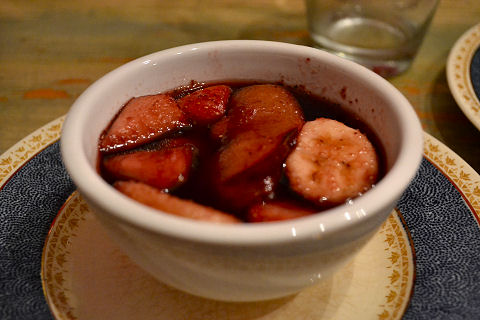 And then, two, yes, two, desserts. A chocolate creme brulee spiked with coffee liqueur – creamy smooth with just a hint of a crackly sugar crust on top; and then stewed fruits in a reduced mix of Malbec and Port. Great way to end the evening. Coffee and liqueur was offered, but none of us could handle it, so we chatted a bit longer and then called it a night.
So, overall… great food, charming ambiance, wonderful hosts. No negatives, really. Being that we were invited I didn't really think about the pricing until afterwards. It's not outrageous, it's not ridiculous, but it is expensive. For us anyway, going out to a typical, good parrilla here in town, it would be rarity to spend 220 pesos apiece for a steak dinner or mixed grill with the various trimmings (Adentro's price includes all the above mentioned food, a welcome drink and a glass of wine, mineral water, and coffee at the end). Perhaps if we threw in a bottle of good wine, but generally I'd say we spend about 300-350 for two of us. On the other hand, we're not getting the social experience of a home asado. There's no question that the company and the whole interaction both with Kelly and Gabriel and the other guests is a big part of the evening. There's also no question that the food was as good as any of those good steakhouses. So it's a personal question of what's important for you as a guest. Talking with Kelly afterwards I think that there are three categories of people for whom this will particularly appeal – visitors who likely wouldn't get a chance to experience a social asado, expats who don't have local friends that invite them to such things, and locals who may not have good friends or family in the area to share in a similar evening with.
Either way, it means there have to be other people there to have that experience with. Interestingly, I looked back at Kelly's e-mailed comment to me after her attendance at our place:
"I had a wonderful time and the food was great. The only thing I wished was that we could have talked more to the both of you – I think we all felt that way…. The end of the evening where you came out to chat was our favorite part…. I think from the website there's an expectation (maybe I'm wrong) that part of the deal is getting to interact with the hosts… more familiar and less service oriented…."
Clearly they've taken her thoughts into account, making sure that one or both of them are at the table at all times interacting with guests – a stylistic decision, and I'd agree that I did enjoy that. The flip side is to note that it does mean less attentiveness to the service aspects of the evening – again, I think that comes down to what sort of dining experience you're looking for – this is definitely family style with some "serve yourself" elements – but that's part of a home asado. Recommended.