"If I had it all to do over again, I would do most all things differently. However, how would I know that if, I had not had the opportunity to do them the first time."

– Janice Markowitz, author
Four years ago I was taken out for my birthday by a couple of friends and discovered what was to become one of my favorite restaurants in the city. It's a place I went back to time and again. But I had a problem with going there. The sort of problem that some people would say, "oh yeah, like that's really a problem", because to them it sounds like a good thing. And it sort of is, but sort of isn't. You see, I got to know the owner and we became friends. And I'd show up at the restaurant and he would start sending me dishes to try. Long, elaborate tasting menus, only not with tasting menu portions because he doesn't do that. I'd get four or five appetizers on the table followed by a pasta or two and then maybe a couple of main courses. And I had no say in what I got. If I wanted to order something that looked interesting, it didn't come instead of one of the things he wanted me to try, it came in addition to.
By the time I'd leave, not only would I have spent far more than I planned (despite generous discounting on his part), but I'd have ingested more food than I'd normally eat in three meals. And I couldn't say no to him, because he doesn't take no, and not finishing what was on the plate would make him unhappy and I'd start to feel guilty, and force myself… you get the idea? It was also fueled by that not only had I given him a great write-up on the blog, but, I'd written a piece for the Guardian UK that recommended it – something he says has brought him an insane amount of business over the last four years. I'd actually sometimes call the restaurant just to find out if he wasn't there so that I could slip in and eat just a single plate of something that I particularly liked.
So I kind of stopped going. And then he moved the restaurant across the street, doubled its size, added in two private rooms (including one in his new temperature controlled wine cellar), in fact, he probably spent more just on renovating this space (he says in excess of US$1 million) than most restaurateurs here have spent on property, renovation, and ingredients. So I couldn't not go back, especially when he invited me to lunch along with another good friend. And so, we found ourselves at the new Damblée Bistro, Av. Rivadavia 3401, 4861-1629, corner of Sanchéz de Bustamante as Gustavo's guests.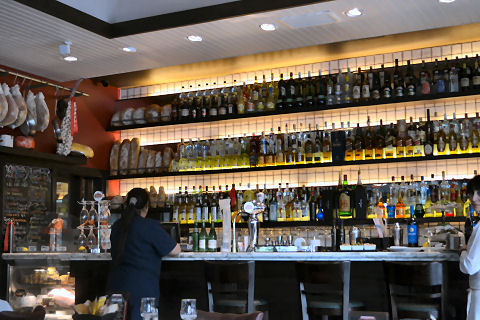 The new space is spectacular. It no longer looks like a Chock Full o'Nuts coffee shop, it looks like a New York City style bistro that would comfortably be situated somewhere in midtown or just north. Every detail has been thought out and it's immediately noticeable. He's even added in a little shopping counter where you can buy specialty products that he imports himself from Spain and Italy, and a bar that you can actually dine at, a rarity for BA. After a tour of the three floors plus the rooftop, we settled in at a window table and the parade started….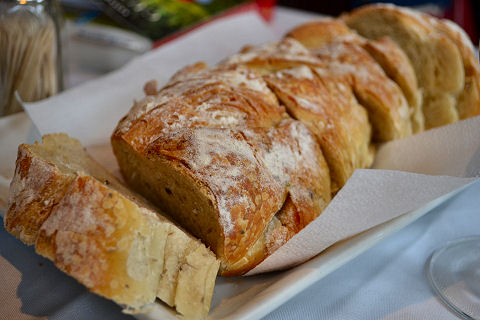 The restaurant bakes its own breads and has a bit of a selection on display and available. I noticed that different tables got different ones, which is kind of interesting. I couldn't quite put my finger on this one – it was delicious and had an elusive hint of something… Gustavo came over to join us at the table and revealed that this particular bread is spiked with tabasco sauce. Not enough to be spicy, but enough to note.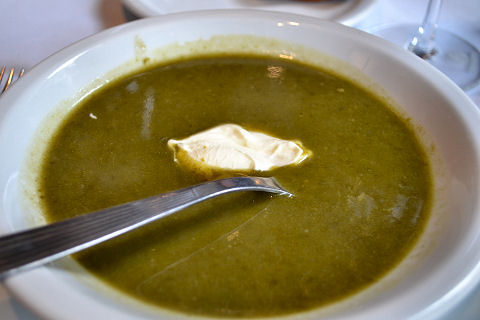 First up, bowls of steaming spinach soup, beautifully balanced, and just a nice touch to start the meal.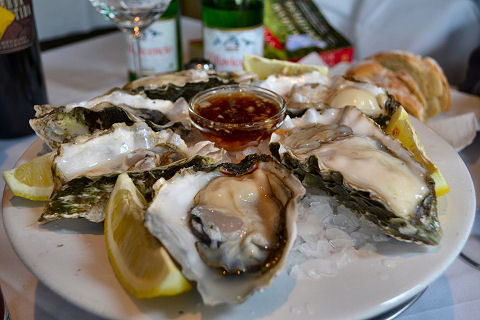 I'm a huge fan of oysters on the half shell and these were plump, pristine, and briny. I generally go with nothing but a squeeze of lemon and a grind of pepper, though I did try his mignonette sauce – and if you're a fan of that, it's a great one. Tabasco also available.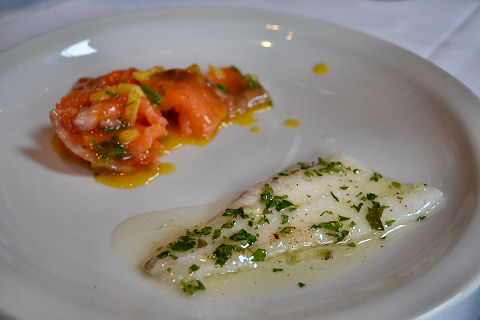 This may look like a tasting menu portion, but that's only because the waiter served us up each one small fillet of the two fish. And then left the plates with the remaining fillets in the center of the table. Olive oil poached pejerrey in herb oil and fresh salmon cured in a passionfruit and ginger marinade. Yum!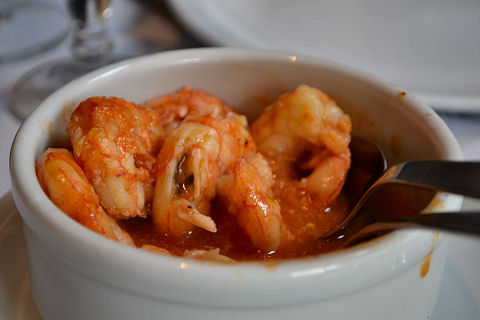 A good sized ramekin of langostinos al ajillo, or prawns in a spicy garlic sauce, hit the table, and Gustavo and I dug in. My companion can't eat some shellfish so didn't join us on this one. Really, really, good. I'd go for these in a main course size with a plate of rice or potatoes and be perfectly happy.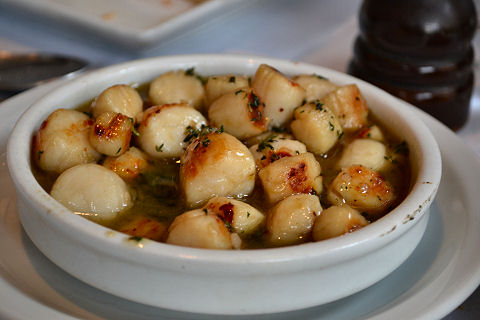 Except I wouldn't want to miss out on this stunningly good bay scallop dish – beautifully browned and then bathed in a thyme broth that I ended up soaking up with another slice of the bread (okay, that one was my own fault, but damn it was good).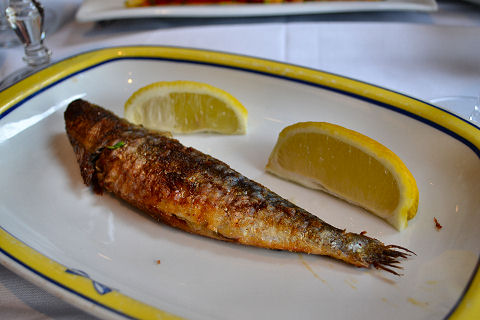 While the two of us were polishing off these ramekins of seafood, my friend got himself a crispy, grilled sardine, one of his favorites. The regular order comes with three of them, one was already verging on "enough already".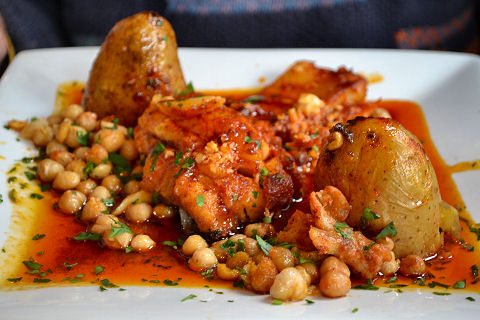 Especially because coming up right behind it was a full main course of bacalao a la vasca – a mixed butter and oil sauce with lots of peppers and onions and accompanied by potatoes and chickpeas. My friend was clearly faltering, I could see it, and we had no idea what else might be coming.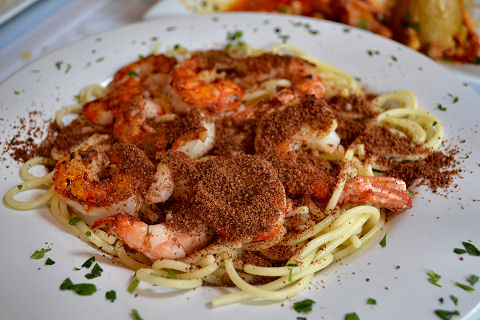 Knowing that bottarga (dried, salted, pressed fish roe, usually mullet or tuna) is one of my favorite things out there, Gustavo had planned on a huge bowl of spaghetti with more garlic prawns, and then an extremely (perhaps slightly over much) generous portion of tuna bottarga over the top, along with a good lashing of top quality olive oil. I have to admit that even with him taking a couple of forkfuls, I just couldn't push through this one and only made it about halfway. Hated to waste such a good dish, but.
And then he wanted to serve up a parade of desserts, but thankfully, we were able to talk him out of it and just settled in around some espressos. Still, or perhaps, again, one of my favorite restaurants in the city, and although not as creative/modern as Oviedo, it's more my style of food, and I'd put them in a tie for best seafood in the city – and (even without the invite or the discounts I get), far easier on the wallet.