"Ambivalence dominates the Argentines' self-identity. Depending on the political climate of the times and the dominant ideological orientations, residents of this country oscillate between an identity stressing commonalities with other Latin-American nations; a shared history of four centuries of Spanish rule; and an identity highlighting the uniqueness of this nation, an alleged Europeanized cosmopolitan national culture. Some regional cultural traditions are quite distinct. In the northwest the influence of Pre-Columbian Andean indigenous traditions is very strong while in the northeast (mainly in Corrientes and south of Misiones province) the Guaraní indigenous influence is apparent in speech styles, music, food, local customs, and beliefs."

– from Culture of Argentina, by Carmen Alicia Ferradás
Following my walk along Pueyrredón, detailed in my last post, I was, not suprisingly, hungry. Nothing along my walk had grabbed my attention, and while I was close to one of my favorite little casual Argentine places, La Perlita, I wanted to try something new. A few blocks of wandering about at random and I encountered Ñande Lája, Tucumán 2202, a place advertising "our customs" cuisine, which turns out to be the restaurant's name in the Guaranín language. (The internet is a wonderful thing for searching out such information, no?)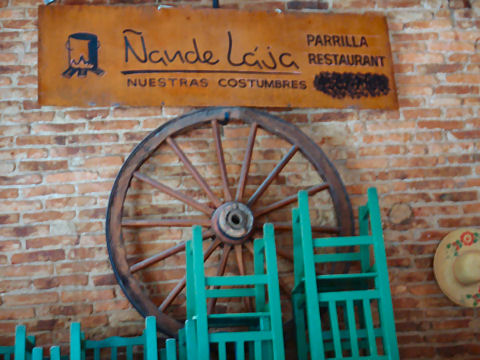 It's a typical, casual, corner café looking sort of place, with reasonably friendly and relatively inattentive waitstaff. I decided on a couple of local classics, some empanadas, which, of course, I ordered the carne picante, expecting little more than a few red pepper flakes or green onion bits; and, a milanesa a caballo, a weiner schnitzel with a fried egg on top.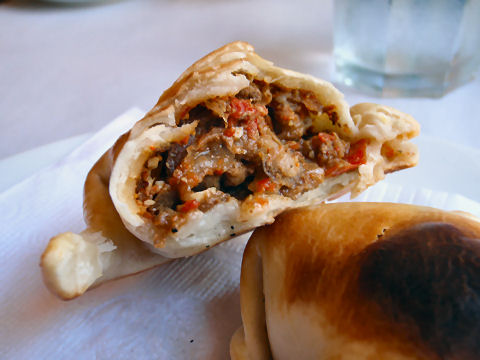 I was more than pleasantly surprised to find that the empanada was more than just that – in particular the spice, it had actual chopped fresh chilies in it! In fact, though I wasn't overly enamored of the crust, which was a little saltine-ish, the filling may be the best carne picante I've had to date in BA.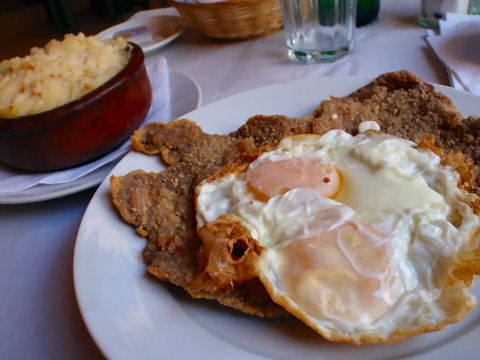 The main course fared less well. A slice of steak pounded hair-thin and therefore way overcooked and at least slightly tough. The fried eggs atop, two of them, also overcooked, and the guarnición of mashed potato that ought to normally be a simple dollop on the side, a bowl that must have contained two full potatoes, and nearly refrigerator cold, except around the edges, like someone had just take a bowl out of the fridge and tossed it in the oven for a few minutes.
It's a cute place, cheap (2 empanadas, the milanesa with potatoes, and two waters just over 30 pesos) I'd go back for a couple of those empanadas again, but something different for the main course.