"Organizing is what you do before you do something, so that when you do it, it is not all mixed up."

"One of the advantages of being disorderly is that one is constantly making exciting discoveries."

– both from A.A. Milne, creator of Winnie the Pooh
Buenos Aires – A trio of restaurant visits without any real intent to review them, but just observations and photos.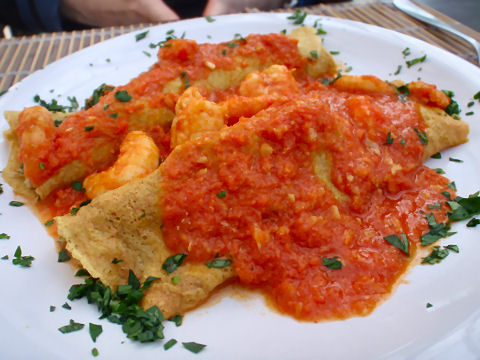 The first, a visit last week to Colonia del Sacramento, and a stop at this cute little place that I've been eyeing for quite some time, Gibellini, San Miguel 81, corner of Ituzaingó. It is indeed a cute place, with kitschy decor. It was a beautiful day, we sat outside on the tree-lined street. An old Ford Victoria is parked in front, in serious need of attention and restoration. The chef came out to chat, looking jaunty in his lop-sided chef's hat. We took his suggestions for various dishes, these fish crepes were fine – a mix of two different fishes inside, and a very fresh herbal tomato sauce ladled over. The crepes themselves a bit on the eggy side.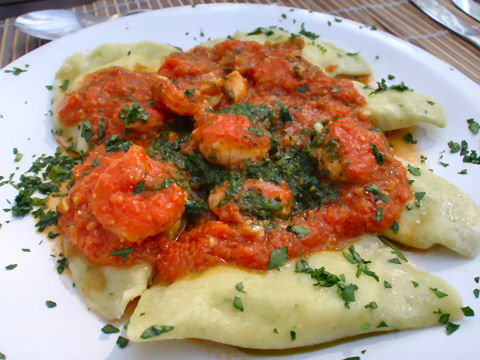 The agnolotti, light, delicate pasta filled with a delightful fresh sheep's milk cheese. The sauce, a tomato based seafood sauce that was primarily just shrimp. In particular we liked the freshness of the ingredients. We did feel the portions were a bit skimpy, especially given that this is one of the pricier restaurants that we've encountered in Colonia – each of these plates running over 300 uruguayos (which at the official exchange rate would be nearly 50 pesos apiece… see below).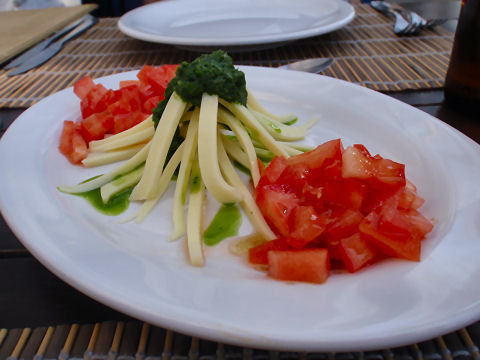 Admittedly we had something different in mind for his suggested shared appetizer of "mozzarella sticks". This, blatantly, is a ripoff dish. The cheese, not even the quality of an average pizza mozzarella, doubtful if it's even mozzarella. And talk about skimpy? At least the tomatoes and pesto were fresh. But at 280 uruguayos, or an official exchange of over 40 pesos for the plate, it's ridiculous. And, the bill turned out to be even more so – on top of expensive food and drink, the place tacks on another 50, yes, 50 uruguayos per person as a "cubierto" or cover charge – roughly 8 pesos each. And, top it off with the official exchange rate being nearly 6.5 uruguayos to the peso but he only offers 5.5, which adds another roughly 15% to the bill. So for these three little plates, 2 beers, one glass of house wine and one bottle of water, we were socked with a more than 1200 uruguayo bill, which would have been over 185 pesos at the official rate and was around 225 at his rate. Sorry, despite the cuteness, won't be going back here.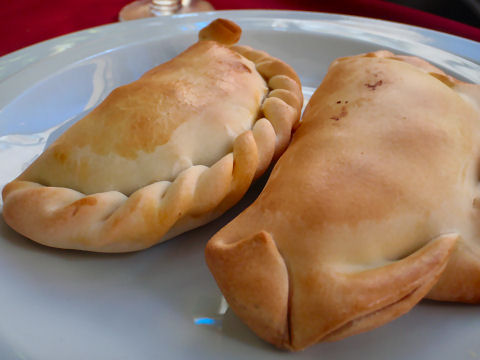 Was up near the Congreso plaza the other day and stopped off at this very porteño spot, El Cortijo, Santiago del Estero 20 at the corner of Rivadavia. I picked it mostly because it was just far enough away from the plaza to get away from the noise of the demonstrations going on and the honking traffic backed up, and because they specialize in fish dishes. Started with a couple of empanadas – a quite good steak version, and a not so special vegetable one, that turned out to be little more than unseasoned chard and chopped egg.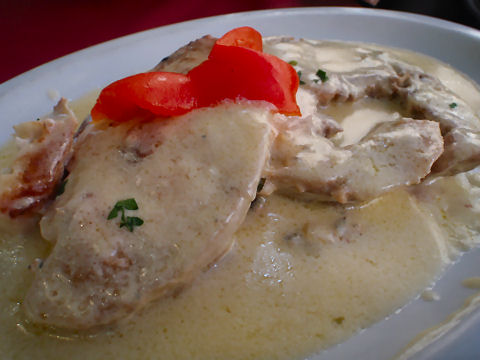 And was far happier with the special salmón blanco served up in a creamy roquefort sauce. It was a generous portion, properly cooked, flaky and juicy with a lightly caramelized exterior, the sauce was tasty and well-balanced. These two plates and a bottle of water, and a 4 pesos cubierto came in at a mere 42 pesos.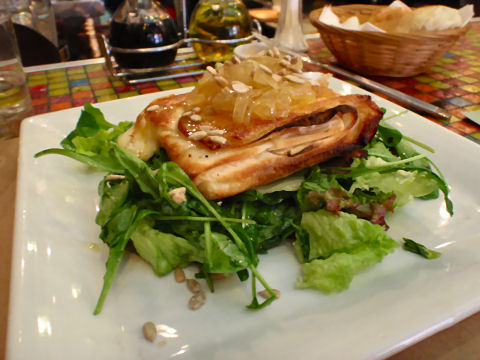 Just a "pre-taste" of a future review as I'd like to come back to this place and give it a proper going over. Quite a few people over the years have recommended Dadá, San Martín 941, in Centro. Most of them have been visitors who seemed inclined to stay close to one or another downtown hotel, but, I was over in the area and not feeling up for a pizza at Filo, so thought I'd give it a try. It's a small space, with weird art decor. I plopped down at the bar. Now, one of my favorite cheeses in the world is Morbier, though the Argentine version is a pale imitation of the real stuff, it's still pretty good. So, a phyllo wrapped slab of the stuff sounded right up my alley for an appetizer. And, for the most part it was – I loved both the concept and the "package". The onion confit atop was, perhaps, a little too sweet for my taste, and there was a general air that the whole thing might have been drizzled with a bit of honey, including the salad underneath. But, I'd still order it again – though maybe for an after dinner cheese course!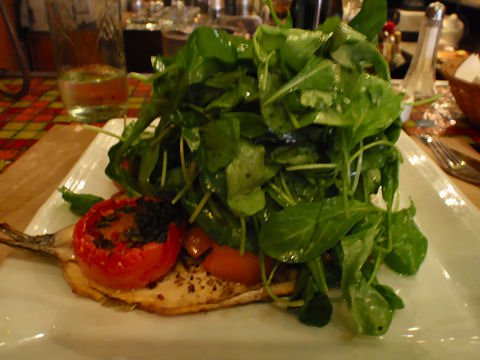 I was less enamored of the main course. First of all, I left the decision in the hands of the bartender, who assured me that the trout was an amazing dish. My biggest problem, honestly, was the huge salad on top. First of all, I'd just had the identical salad, in large quantity, underneath my appetizer, and she knew that. And this was dressed the same way, with a sweet, honey dressing. I pretty much just pushed it off to the side and ignored it. The trout itself was good, nice and fresh, though cooked maybe a minute past the point it should have been, just ever so slightly dried out. Still, it had great seasoning with fresh cracked black pepper scattered about. The accompanying charred tomatoes were great. The baked squash, quite sweet, would have gone over better without the sweet salad dressing permeating. The dish had potential but just wasn't quite my thing – I'm not a big sweet-tooth sort. Rumor has it that their rib-eye steak is "amazing", so one of these days I'll drop back and give it a shot, along with some other dishes.