"One's only rival is one's own potentialities. One's only failure is failing to live up to one's own possibilities. In this sense, every man can be a king, and must therefore be treated like a king."

– Abraham Maslow, psychologist and philosopher
Buenos Aires – I have a pretty high tolerance for salt and in general when I cook have to make sure things taste just slightly under-salted for me or most everyone else finds them too salty. So I understand the problem. I also understand the correction and do my best to work with it. The chef at Rey Castro Cuban Bar & Restaurant, Perú 342, San Telmo, 4342-9998, suffers from the same problem – even more so – but clearly hasn't done much about it. Still, I can't imagine that the staff haven't heard from customers, this food (which I mistakenly thought was the highest rated Cuban spot in town, turns out not when I went back to look at Guia Oleo) is so oversalted it could have been used by the Phoenicians as trade goods. And that was just the first of two issues I have with the place.
The second… where's the Cuban food? Turns out, we were there at lunch. At lunch, this Cuban bar and restaurant, doesn't serve Cuban food. Just casual local porteño-ish food. Even that not really, it's just closer, and, I suppose, draws in the local business crowd for lunch. Oh, there's ropa vieja and coconut shrimp on the menu – but they were out of the former (presumeably it's there both because of familiarity and because they can make a big pot of it at night and have some leftover at lunch), and the latter wasn't interesting. You have to go at night for the Cuban food – a glance at the evening's menu revealed at least 2 or 3 more dishes that were somehow, vaguely, Cuban.
Now, in the end, we sat at the bar, had lunch, and managed to survive. We had a cream of fresh peas soup that, with the addition of the juice of a couple of wedges of lemon to balance the salt was actually quite palatable. We had saffron ravioli filled with ricotta and chicken and topped with an almond cream sauce that could have been smoother and, of course, could have used a whole lot less salt. And, a couple of beautifully cooked slices of pork loin in a reasonably tasty mustard sauce that might have actually been the best thing there had it not been doused in that sprinkly white stuff, and served up with tasty mash and grilled mushrooms. And we drank a whole lot of liquid, and, given that the place is, after all, at least a good part bar, perhaps that's the reason….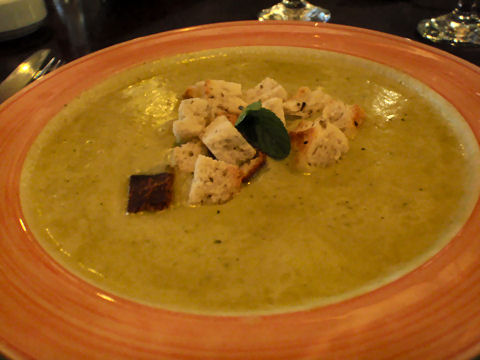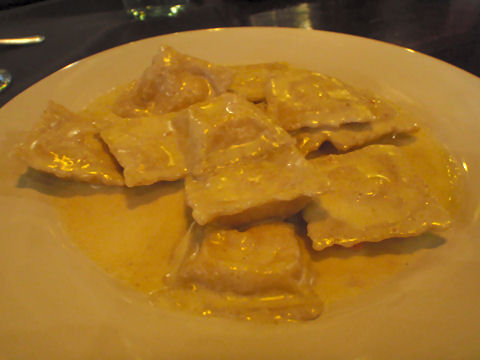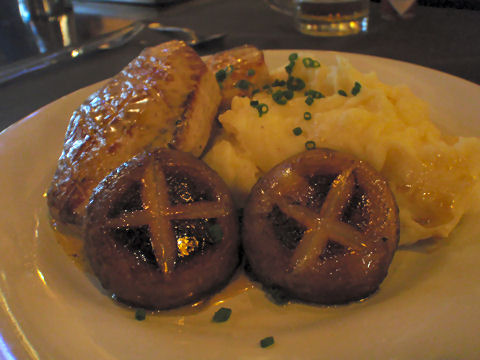 The question is, whether to go back one evening and sample the Cuban food, or just move on to one of the other spots like Cuba Mia or La Casa del Habano which actually do get higher (though not particularly high) ratings for their food? Methinks the latter. The king is dead. R.I.P.