"People are like stained-glass windows. They sparkle and shine when the sun is out, but when the darkness sets in, their true beauty is revealed only if there is a light from within."

– Elisabeth Kubler-Ross, psychiatrist
Highwood, Illinois – Trying to get a group of people to agree on some place to go out for dinner is generally an exercise in futility. Trying to get a group of friends to agree is often such. Trying to get a group of family members to agree is simply useless. Luckily, our family is relatively tolerant of someone making a decision, following that lead, and then, the praise or blame can be laid later, depending on how it all goes. My brother narrowed the choices for our wine evening out over the weekend down to a quintet, handed the local Zagat's to me, and said "choose". Very smart boy. Not for letting me choose, but for not making the choice himself. Given the vagaries of allergies, food preferences, and price, I settled on The Stained Glass, 1735 Benson Avenue, in nearby Evanston, a "wine bar bistro" with "seasonal American" offerings. The allure of wine flights, hopefully good ones, was a strong draw.
And, there's no question, those are the draw for many guests – flights of three wines abound on the tables, delivered via very cool carriers that allow the servers to deposit all three glasses at once. The selection is eclectic, with nearly three dozen wines available by the glass in standard sized pours or half pours as part of the trios (along with an additional wine list of over 250 selections by the bottle), and contains quite a few gems. I was in a white mood and found myself in front of a Meinklang Grüner Veltliner from Austria, Clayhouse Vineyards "Adobe White" from California (blend of Chenin blanc, Chardonnay, Roussanne, Viognier and Princess), and a Hahn SLH Pinot Gris from California. All quite nice – nothing earth shattering, but certainly far more interesting than, say, a trio of $10 Chardonnays like some places come up with. Around the table various other flights made it – a trio of French reds with a Rhône, a Provençe, and a Bordeaux placed together; a different grouping of whites of various aromatic varietals; and then, several individual glasses.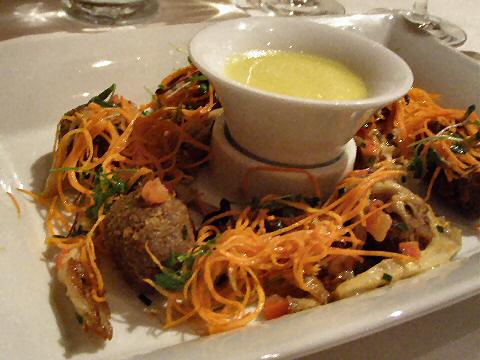 As to the food – again, nothing earth shattering, but interesting. The "seasonal American" is a bit of a misnomer, with dishes like an Alsatian
tarte flambee
(excellent), or my quite good escargot breaded in brioche, deep fried, and served with white truffle hollandaise. But it does creep in with a platter of crab crakes (good, but a little bready) surrounding a mound of guacamole and topped with crispy shoestring potatoes. The hit of the evening seemed to be the salmon with the cauliflower custard baked in phyllo dough accented by Meyer lemon preserves.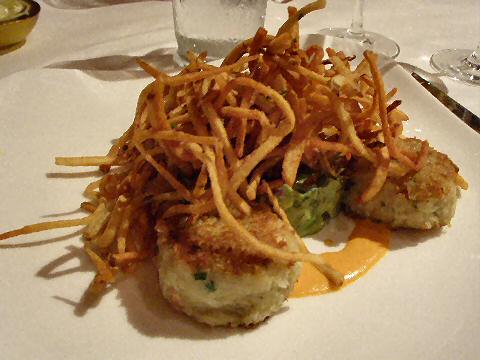 Overall, if you're in the Evanston area and a wine aficionado, this is a great choice for a little something to drink and a little food to enjoy along with it.