"When it comes to traveling these are some wonders I'd like to see: A cabdriver who understands English, especially in America. A place in the world where you can't get a Big Mac and a Coke. A headwaiter who hides his scorn when you order the house wine."

– George Burns, Comedian
Buenos Aires – Several people have told me to check out this "cool wine bar" where you can try a "whole bunch of different wine varietals". There's good news and there's bad news. Indeed, the place offers up a large number of varietals. However, only four of them by the glass. About a dozen more by the bottle only. Not unusual for many a restaurant. Except this place isn't usual – it turns out to be the restaurant for a specific wine label I wasn't familiar with – Bodega 52 – and is located at Ravignani 1905 in Palermo, 4774-6908 – and they're not only offering up their wines for dining at the restaurant, but retail as well. Given that, why aren't they all available for tasting? It's not a wine bar. In fact, there's not really a bar – unless you count a small counter with a couple of stools off to one side. It's a kind of kitschy, rustic looking place, with a lot of rough wood, and lots of bottles all over the place. It was also a bit of a let-down given that while I was awaiting my dining companion, I chatted a bit with one of the two waitresses and she told me that they offered flights of wine for tasting and comparing, a wide selection by the glass, and paired tastings with the food. They don't offer any of those it turns out – well, two nights a week they have a dinner special of a plate of the day with a matched wine – not the night we were there. The offer of having the owner/wine guy come over and chat with us about wine selections which was touted by her crashed and burned when he simply looked over at us and declined to get up from the table at which he was seated doing paperwork. Nothing like service, especially when you're trying to sell your own product, you know?
So, we weren't primed for a great experience by this point, though decided to make the best of it. We'd been greeted with a glass of sparkling Moscatel – a semi-sweet apertif wine that actually wasn't bad, so at least, perhaps, the wines would turn out to be interesting. We decided to split a cheese and olive platter – which arrived in short order stocked with wedges and batons of several varieties of cheese – all of them decent, none of them exciting, and no explanation as to what they were. The olives were scattered and few. We'd asked, by this point, about the wines by the glass, hoping to do some sort of pairing or flight, and been told there were only two available – a Malbec and a Cabernet-Bonarda blend. We ordered both to accompany the meal. The former, not bad – a medium weight Malbec with characteristic spiced plum fruit. Not a lot of depth or complexity, but eminently drinkable. The latter, a thin, somewhat weedy version, with strange coffee and graham cracker notes to it and not much fruit. We sipped them politely during the meal.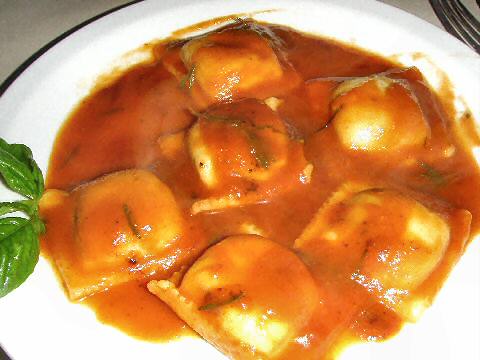 On the main course selection there are basically two ways to go – a half-dozen fancied up parrilla items – steaks, bondiola, lamb; or a half-dozen or so pastas. The raviolones de cordero caught my eye, and the ñochis con hongos caught my companions. The former arrived as a good portion of large ravioli, perhaps a touch too al dente, and filled with a sort of lamb paste – presumeably, to be blunt, made of the leftover scraps from the parrilla lamb – including bits of gristle and fat, and even, in one, a 2″ piece of butcher's twine that had probably been wrapped around a piece of meat at one point. Not overly pleasant – the sauce coming across like a canned tomato puree spiked with a whole lot of rosemary and a dash of mint. The gnocchi seemed to be fine – a bit large, but relatively light, however essentially swimming in a bowl of cream with some mushrooms lazily mucking about – the menu listed off a trio of different "wild" mushrooms – it looked and tasted pretty much like just a bunch of ordinary brown mushrooms to me.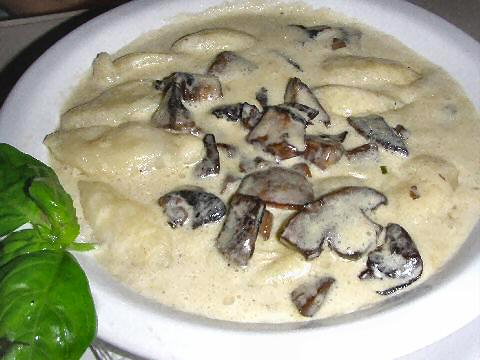 After eating what we could… or at least what we wanted to, we figured that maybe we could at least try one more wine – perhaps a vino dulce, in place of a dessert, which neither of us was interested in trying. But no, no sweet wines on offer, though a few minutes later our waitress returned and said, "well, there is a torrontés that's somewhat sweet if you want". We decided to give it a go, and actually, though it turned out to be pretty much completely dry, it was probably the best of the four wines we tried over the evening. Would have gone great with the cheese plate at the beginning, had we known. We finished the night with the offer of a "tour of the cave" – the wine cellar – which turned out to be not so much of a tour, as our waitress guided us over to the spiral steps leading down to the basement and pointed… we went downstairs on our own, to find a room with some more table seating, and a wall with a couple of locked gates that had bottles stacked up in bins – couldn't see anything but the bottoms of the bottles, though there were a couple of small chalkboards to the side listing off what was supposedly inside – mostly wines from 1996 to 2001 from some of the big name commercial wineries.
So hmmm, do I recommend this place? Not really. It might actually be kind of interesting if there were more attention paid to the food – and might be a kind of cool place to try some wines if they actually pried open their cellar and let people taste the wines they're looking to sell. As it stands, I wouldn't bother.