"A guy works all day, he don't want to look at his plate and ask, "What the fuck is this?" He wants to look at his plate, see a steak, and say "I like steak!"

– Ian Holm, as Pascal, in Big Night
Buenos Aires – In my life, I have had two tasting menu meals that were unforgettable… in a good way – they were extraordinary, amazing, delicious… one was a ten course meal at Charlie Trotter's in Chicago, the other a twenty-two… yes, twenty-two course parade of one exquisite plate after another at Tetsuya, in Sydney. The point, well, actually, the word, I want to focus on, is "unforgettable" – without breaking into song. Now, respectively, roughly ten and six years have passed since those meals – I don't remember every detail anymore – but I still remember certain dishes… and even the twenty-two course extravaganza I was able to recall in detail days afterwards, explaining what I'd eaten to a friend. So seven plates of food, containing sixteen different little tapas, for which I have photos, should be no challenge, right?
Except, it was forgettable. Not bad, mind you. Not even mediocre. Just ordinary, mildly interesting, we enjoyed ourselves, we didn't spit anything out, I'd even go back and give it another try sometime when the menu changes. Part of the problem might be the disconnect between the room at De Olivas i Lustres, Gorriti 3972 in Palermo, 4867-3388 – it's an old, converted bar, with peeling paint, rough wood, a mish-mash of heavy tables and desks used for dining, and kitsch memorabilia tacked on every surface and placed in every nook and cranny – versus these very pretty, gleaming white, modern plates, with a clean, contemporary presentation. It's a disconnect that we remarked on more than once during dinner – it's so evident that it actually feels like the food must be coming from a different restaurant. But I think more of the problem is that there's simply no "wow factor" in anything. It's all stuff that "we've seen before", in one form or another.
Still, the price is good – no, really it's great – the regular tapeo menu running a mere 63 pesos for two people, the "Italian tapeo" running a few less and including a pasta course after a smaller number of tapas. The wine list is not just the usual suspects, and is priced not much over retail, though, with a list that's only about thirty selections, the first two we tried to order were "out of stock", and our waitress made an attempt at steering us towards a couple of the only high priced items on the list – and then quickly dropped that when it became clear we weren't biting. My new friend was looking to try out a couple of different wines, so we ended up with two bottles of Malbec on the table as a comparison tasting – the 2005 Viña de Cerno and the 2005 Azul, both from Mendoza – the former a light, smooth, fruity style, the latter a big, oaked vanilla and fruit bomb. On to the food…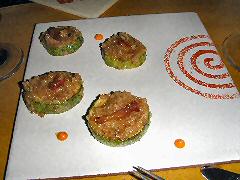 Grilled zucchini rounds topped with an almond and garlic paste and a small strip of pancetta. Tasty, but sort of standard cocktail party fare.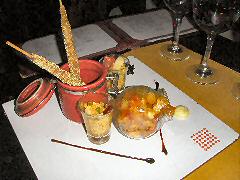 A little more interesting, three tapas on one plate – some "meat sticks" with a plum paste to spread on them. Shotglasses of "alphabet soup" sans the soup and with just a spritz of passionfruit juice on them and a sun-dried tomato tucked in – okay, interesting might be stretching it. And some very nice little cubes of "smoked" potatoes (I didn't get much smoke flavor), seasoned with some paprika and served with aioli – i.e., papas bravas, just in a jar.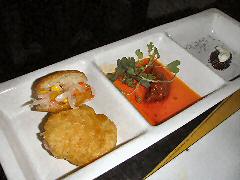 Ceviche sandwiches… corn, onions, bell pepper, a tiny cube of fish on a small roll with a tomato/pepper paste and a "barbecue" sauce on the side. Neither sauce had any zip to them, and come to think of it, the ceviche didn't either.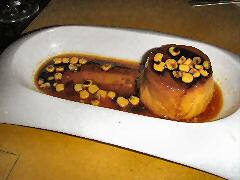 A corn flan. Sweet as dessert, with a dark caramel soaked into it and all around it – I'd have actually been quite happy with this served as an offbeat dessert, but as an appetizer it was over the top cloyingly sweet. I guess I missed taking one photo – there's a tapa missing here… a square bowl of melted cheese with shards of caramel and poppyseeds in it – which initially sounded like… "oh no, not another caramel dish right after that one"… but turned out to be the best dish of the evening – it was like a very cool fondue with these little crunchy bits, and the caramel wasn't overly sweet in this case.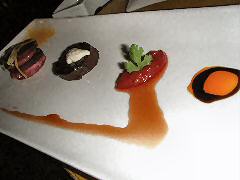 Beet weirdness… a little stack of beet slices that our waitress said was layered with "morcilla pate" – only it was a bright pink cream of some sort and tasted of nothing other than beets – if there was morcilla in the mix, it got lost – though there was a slice of morcilla next to it – and then a scoop of beet puree. Even had this been more interesting, one problem with the service of this particular plate was that it was one of each thing, and the tapas is supposed to be for two – yes, you can cut these things in half, but it's interesting that (other than the flan, but that was relatively big), this was the only dish that wasn't portioned for two people to share.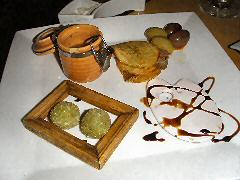 Okay, I'll give them a cute twist on a french dip sandwich – with the bread replaced by slightly soft potato chips, layered with very thin slices of beef, and a little jar of hot beef broth to dip it in. The two cornmeal balls in the picture frame were dense and wet on the inside, like they hadn't quite been cooked through, with some mixed herb flavors, but I didn't quite get what they were. The olives were… olives… and I'm sorry, that doesn't count as a "course". The drizzle of reduced balsamic vinegar… there.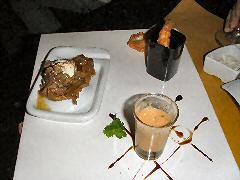 And finally, some very soft, tender pieces of lamb with a little yogurt atop, a couple of grilled shrimp, and shotglasses (one removed already) of some sort of creamy, tomatoey, something.
As I said, missing the wow factor, missing the zip. All perfectly fine, and had these come out on trays at a cocktail party, scattered over the course of an evening, I'd have probably thought that it was the rare host who puts that much attention into passed hors d'oeuvres. As it was, for a sit-down dinner, it was just… forgettable.