"I never read a book before reviewing it – it prejudices a man so."

Sydney Smith, Essayist, Clergyman
Buenos Aires – In the last couple of weeks a trio, or is it a quartet, or quintet, of books has come across my desk. They didn't get there by themselves, I went to book launching parties and was given copies of them, which is a delightful way to acquire books, especially when there's free food and drink, the chance to ferret out the three people at the party actually worth talking to, and no requests to do any work – i.e.,, no one asked me to review the books, they were gratis without strings. The 3/4/5 thing we'll get to momentarily.
The 2008 edition of Viñas, Bodegas & Vinos was amongst them. Long time readers might hazily recall that I've reviewed the last two editions, and that I was a member of the tasting panels for the 2007 edition. Likewise this one. My thoughts from last year pretty much stand – I'm still disappointed that the book is being offered these days in Spanish only, and that it only covers Argentina now – I can't vouch for the marketing and finances and what went into the decision last year to drop the side-by-side English translation and the rest of the continent, but I can tell you I've heard from at least a couple of dozen people over the last year asking if there was an English edition now because all they could find was the Spanish, and the 2006 and previous editions are simply out of date. There's a market out there for a South American wine guide in English, believe me, and if it wasn't the massive undertaking that it is, I'd be all over that. Beyond being an update, the book is very slightly expanded this year, with an increase in the number of wineries and wines covered. One fun little addition at the back, being the fifth edition, the editor/publisher had saved up bottles of the top wines from the first edition in the cellar, and we had a separate tasting of those to see how they had held up over the last 4-5 years. Some well, some not so well, but it was an interesting exercise that's included in this year's edition. The event, by the way, was held at the Museo Evita, which is worth a visit in and of itself, has a nice little restaurant on the property, and a beautiful courtyard. The top 60 wines were all arrayed for our tasting – one in particular truly stood out for me, the Valle Las Acequias "Rosedal" Malbec 2003, quite possibly the most elegant, delightful Malbec I've had the opportunity to taste.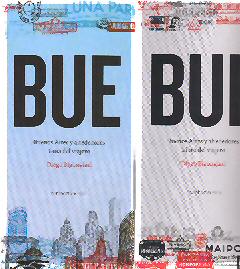 Apparently several years in the making, and perhaps another part of the reason why the wine guide has been cut back, editor Diego Bigongiari has been hard at work on a duo of Buenos Aires guides… Now, I realize we need more travel guides to Buenos Aires like we need another newspaper article extolling the amazing and wildly exaggerated cheapness and ease of moving to and living in this city, and it's also hard to be critical of a couple of books written by someone I've spent the last two years working with and also consider a friend. Nor do I object that he included a mention of Casa SaltShaker at the bottom of page 146… Thankfully, I don't have to be particularly critical, as I think he very smartly approached the guides in a different manner from many of them out there. The guides, first of all, are in Spanish only, and second of all, they come together as a set – tall and narrow and inserted into a plastic cover which is useful for packaging and marketing and protecting the books from dust on your shelves, but completely useless when you're ready to use them. However, with no manual skills at all you can easily slip them out of the cover and use them separately – which you should. The first book, in big bold letters titled BUE, states it is a traveler's guide to Buenos Aires and surrounds, from rumbo-austral, rumbo meaing "to get one's bearings", and austral being the publishing company. Coming in at 335 pages, it's packed with 'hood by 'hood tips on things to do and see – and it goes well beyond the usual three or four barrios that most tourist guides bother to cover, gives detailed information on how to do things like navigate the bus and subway systems, and covers everything from where to get good coffee to where to find transvestite prostitutes. The maps are well thought out, there are lots of sketches to illustrate various monuments and buildings, and it's well written. Each entry has a color coded bar along the margin placing it in a category such as "eating and drinking", "architecture", or "night and sex" – which would be truly annoying and useless given that color key is in the introduction to the book and includes eight different categories, except they very smartly didn't just put the color bar, but also the category name in each bar, so you really don't even need the key upfront after all.
The second book is more for the armchair traveler, or perhaps while you're sitting in your hotel room, or whiling away an hour or two at a local café. It covers the same neighborhoods, in the same order, one by one, but instead of being a guide, this one is labeled in big bold letters BUE… oh wait, it's the same, but in small print says it's the traveler's book, rather than guide… it's designed for simply reading. Perhaps the best way to think of it would be as if you had a tour guide sitting right there telling you stories about this building or that monument, or an event that happened here, or one of those great anecdotes that make having a good tour guide a gem to find. While you have to read this rather than listen to it, you do have the priceless advantage of not having to listen to the identically dressed in tracksuits never set a foot on a track middle aged couple from Home on the Range Middle America complain about no one here speaking English and why don't they learn it and why can't they eat at 6 p.m. like regular people and do we really have to get off the bus and walk it's just as easy to take a picture through the window as we pass by. My British readers will recognize the same couple as being from Outer Peasbody on the Marsh, but the rest of the details remain the same.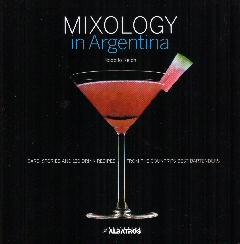 Now, lest you think I spent all my time at one party at the Evita Museum sipping high end wines and snagging delicious little hors d'oeuvres off passing trays, let me assure you that's not the case. I also found myself inside a jam packed soirée at OchoSieteOcho, the "secret" speakeasy that's not secret anymore, a faceless bar at 878 Thames with a guy in a suit out front deciding whether or not to unlock the door behind him and let you in. He pretty much let's everyone in, at least when it's a private event and you have enough wits about you to say "I'm here for the private event." Here, the focus, at least in the free drinking and dining realm, was well made cocktails offset by iffy hors d'oeuvres that might have been thrown together by someone who'd just dropped into the kitchen and thought they'd "give it a whirl". The event this time, the dual release of the Spanish and English language editions of Coctelería Argentina and Mixology in Argentina, by Rodolfo Reich, a local food and wine writer and editor. Though I don't know Rodolfo, I do know his English translator, Brian Byrnes, the person who invited me to the event and reserved an English copy for me. I haven't read through the Spanish language version, but I trust that Brian stayed true to the original. The book is by parts a history of the world of cocktails in Argentina – at one time a big part of the drinking scene here, not so much these days when everyone is into wine and micro-brewed beers – an introduction to some of the "top" bartenders in the country, and a cocktail recipe book. It's beautifully laid out and photographed, and it's well written, at least the English prose. The history part was intriguing and fun to read, no question. The recipes, a mix of classics, reinterpreted classics, and outright inventions, useful if not particularly exciting to read – but recipes rarely are. The introduction to the bartenders, for me, was a trifle odd… not that it wasn't interesting, it was, but there is, perhaps, a conceit, not uncommon to someone in their early 30s, that the true innovators, masters, etc., are in their own age bracket. Of the twenty bartenders profiled, all but one, at least based on their photos and resumes, are not more than a few years out of college (their birthdates are given, and range from 1971 to 1982, with one from 1963) – and are, for the most part, the bartenders at trendy venues frequented by the club set. Now, not being someone who hangs out at bars, and these days I don't drink many cocktails, perhaps there are very few over 35 bartenders here plying their trade and proving that they know how to mix a drink, and innovating – but if my experience in other cities around the world holds true, that's unlikely to be the case, and it was notable that they weren't included. The best part for me was a single page devoted to a local aperitif called Hesperidina, something that's uniquely Argentine, though it's a shame he didn't spend a little time on others, like Pineral, Legui, or Hierro Quina. For cocktail aficionados, the book is a nice addition to the bar library shelf, and worth the investment.