They were very popular through most of the '70s and part of the '80s. But when microwave ovens came along, people lost interest in baking and traditional cooking methods."

– David Dahlquist, creator of the Bundt pan
Buenos Aires – Local friend Tom recently e-mailed me:
There is a new Thai restaurant in Belgrano that has been open for about 3 months but has no signage yet. We went there last night and it was pretty good. Had a green curry, pad thai, satay and tom yum soup. Total cost for three people with a bottle of wine and one desert was 130 pesos.
Restoran Tailandes & Bar Massage Tuk tuk
Mendoza 1970
Martes – Sabados 12.30-23.30
Tel: 47830887
Green curry was very good and very spicey (flamin' by BA standards). Tom Yum soup was quite good though a little strong on the fish sauce. Pad Thai was OK. Satay was expensive for what it was (5 sticks of mixed chicken and pork with a peanut sauce on the side). No Thai desserts (per the waitress) but had an apple crumble cake with ice cream. They put cardomon powder on top of the ice cream which was a really nice touch. I thought it was much better than Neo Thai Lotus and it was certainly more reasonably priced. Given the fact it is a pleasant walk from my house I am thrilled it is open!
We made reservations for 8:30pm on a Friday night and were the first people there. We left around 10:30 and maybe half of the ten tables were occupied–looked like an entirely Argentine crowd. I heard about it from a Malaysian friend who heard about it from someone at the Malaysian embassy.
Thought you would like to know….
[This place closed sometime during 2010, at least as a public restaurant.]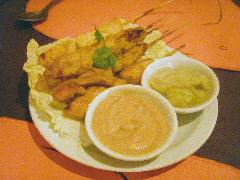 I would indeed! A good spot for Thai food up in Belgrano, on the opposite end of town from Empire, would be an excellent thing. The "Bar Massage" thing had me wondering, but we dutifully trooped off to check it out one eve last week. We arrived to find an unmarked home with a large arched doorway. After pressing the bell, we waited, someone answered, inquired what we wanted, we asked if it was the Thai restaurant, she said yes, and clicked off. We waited. We heard some noises from inside. After about a minute had passed a woman opened the door and asked us in. We found ourselves in what had been the garage of the home, the reason for the style of doorway, but nicely decorated now. Up a couple of steps and into the foyer – off to the right, a living room turned small store selling t-shirts, gym wear, and various things related to massage and meditation practice. She explained that this was a massage school, which operated on the floor above, and that they'd turned the dining room into a small restaurant. We went on in, and as Tom related above, we were the first there (it was about 9:30 on a weekday evening). Actually, in a way, we were the only ones there, as the only other customers who came in were students who wandered down when their massage training ended around 10:15, most of them in leotards or other sort of gym wear (I'm left wondering why, for a massage program, they dress like that – maybe it was more of a yoga or meditation class…?), and most of them doing nothing more than hanging out in the room, not necessarily seated, chattering away, drinking bottled water or sodas – for us, a bit annoying when trying to have a decent dinner, it was all very lunchroom style.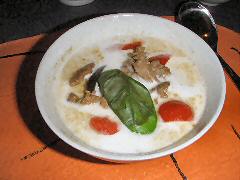 We only sampled a trio of dishes. Despite Tom's warning, we went for the satay – not just expensive, but really not particularly interesting. The meat was fine, the peanut sauce could have been thinned out peanut butter for all the oomph it had, luckily there was a small dish of "hot sauce" – which was a sweet and sour carrot puree tinged with chilies, that had been served with some shrimp crackers at the beginning when we sat down, that we could mix with the peanut sauce. We tried a beef and coconut curry – quite good actually. Fairly spicy, a good amount of meat and vegetables, nicely done. The whole fish, a besugo, or sea bream, cooked to death… truly… and doused in a too sweet, caramel sauce of some sort with a touch of tamarind for balance, though not enough. In an odd, and disappointing note, they were out of bottled still water, and of beer – a delivery hadn't come. I mean, come on, you know you've got reservations, there's a grocery store a block away, send someone over, pick up some bottles of each so you have them for the evening – yeah, they cost you more, but not as much as you're charging for them.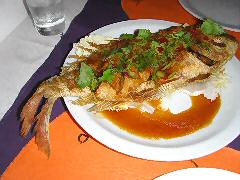 Here's the thing that really bothered us – microwave ovens. The kitchen is right off the dining room, and the sound of microwave ovens being used regularly, is evident. Some of the things were obvious – the peanut sauce had been heated up in one – there's the telltale that some parts are still refrigerator cold, others are hot. Same with the rice. Honestly, it wouldn't surprise me if both the satay sticks and the curry were done the same way, and maybe even the sauce that was poured over the fish. The texture of the fish, especially the skin, would say that it's more likely that it had just been cooked, even if for too long. I'm guessing that some good percentage of the food is made in advance and refrigerated, and just heated to order – we noted that when a couple of the students ordered dishes they had plates in front of them within mere moments, that should have taken far longer to prepare, and, coming out right after the ding of the microwave bell.
So, overall, I'm going to give the place a pass – I almost hate to, because I can understand Tom's enthusiasm given the dearth of southeast Asian food in town, especially when it opens up right near to his home, and also because the place is new – but the microwave oven cooking isn't likely to change, which is going to mean certain types of dishes – soups and curries, will probably do well, while others simply won't. We didn't care for the atmosphere, though that's probably specific to time of day and what classes are scheduled. For us, Empire is closer, and far better – though, for those living on the north end of town, this might be good enough for the occasional fix.