"Life, you know, we gotta take it all in stride."

– Alberta Wright, Chef/Owner, Jezebel's
Buenos Aires – For almost exactly the same 23 years I lived in New York, there was a restaurant on the southeast corner of 9th Avenue and West 45th Street, called Jezebel's. It was, to some, an "upscale soul food" dining spot, though the question of exactly whose soul, and whether or not it was upscale easily came into play. It wasn't somewhere I went to regularly, maybe half a dozen times in those two decades, but there was something about it that always captivated me, and that was the ambiance. The best term I can come up for it would be "studied flea market"… or maybe "artfully arranged hodgepodge". Nothing in the place matched anything else – every piece of silverware, glass, plate, bowl, linen, napkin, curtain, chair, table, was different from every other. Yet, somehow, it all worked together, both visually and psychically, it was impossible to be in the place and not feel like you'd just stepped into another world, and at that, a world where you were safe and taken care of, with a bit of romance in the air (Ms. Wright, quoted above, has also been quoted as saying "As long as you're in love, you can sit close," perhaps a nod to the neighborhood's sex trade seediness. Jezebel's is now gone, recently I gather, along with her short-lived branch in Paris – another story for another time.
[This place has closed.]
It took a minute to register when we walked into Desde el Alma, Honduras 5298, 4831-5812, in Palermo… there was something about it… Not that it's the same atmosphere as Jezebel's, at least, not quite. The place has its own style – more rustic, a sort of rambling, ramshackle home with, instead of mismatched draperies and linens and such, it's more knickknacks and lamps, and a certain penchant for branches and sticks stuck in odd places, mostly the ceiling. And it's not quite the 100% carefully chosen and arranged disparate elements, some of the chairs match, there are sets of four or six of a kind glasses, sometimes on the same table. But it has that same air of warm indifference, a sort of "come on in to our home and don't worry about it" that instantly had me feeling relaxed and… at home. A fire was burning in the fireplace off to one side, a few loungy chairs and a couch circled around it, tables scattered in nooks and crannies, the bathroom, the men's room at least, has a tub with shower and a couple of bath towels on a cabinet shelf… you could just lock the door and… never mind. It's been billed by some as one of, if not the, most romantic spots to have dinner in Buenos Aires, and I can see why. So, it seemed, could most of the couples dining in various spots in the room. If it fails in that respect anywhere, it's in the service, which, though relatively efficient and friendly, wasn't quite as warm and welcoming as the ambiance of the place would suggest – there was a certain air of those of us dining having interrupted the staff from doing something far more important… mostly gathering in a corner chatting.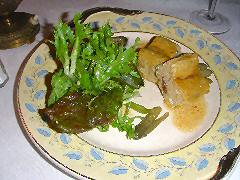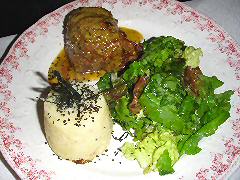 The food is good. It's not wow, it's good. For the most part it seems to have just been stuck on the plate, not carelessly, but with little thought to presentation. And, like the plates it comes on, it varies in presentation. And in style. There are elements of fusion cuisine(s), and there are things that are simply… run of the mill. Neither of us were overly hungry, so we thought we'd share the "duck terrine", which was a terrine only in the sense that it had probably been molded in a loaf pan. It was more of a fluffy, light, whipped eggy sort of thing, vaguely infused with the flavor of duck, and, I think, hazelnuts, and served up with a bit of a green salad that was tasty, but more of an afterthought. Maybe it's just that it wasn't terrine-like, something a bit heartier, and disappointed slightly on that basis, because we certainly ate it all.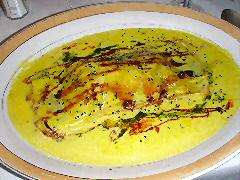 We moved on to main courses, a nice thick cut of lomo, or sirloin, almost more like a tall fillet mignon, served up with a bit of a stoneground mustard sauce, the same green salad, and a sort of timbale of mashed potatoes that had been then baked into form so it was a touch crusty. Again, we ate it all, but there was something not quite memorable about it. Our other main course, a crab ravioli, and a bit artsy, laid out in three long strips of pasta sandwiching a decent amount of crabmeat, perhaps a bit… doused… in a creamy saffron sauce and then drizzled with a sweet tamarind syrup. It needed, perhaps, a bit of spice, or something a touch sharp, to go up against the richness of crab, cream, and sugar, less sauce maybe. Yet, we finished it all.
So, I find myself thinking… I'd really love to just go back to that house, sit by the fire, have a glass or two of wine and maybe something to nibble on. Maybe take a table afterwards and have a little something to eat, maybe not. Kind of like visiting the home of good friends who like to play in the kitchen and manage to produce perfectly edible dishes that don't always go together, and don't leave me wanting the recipe, but I wouldn't think about not hanging out with them, and not leaving anything behind on my plate.