Eating brunch
I had a thought —
Sometimes things
Have a funny, light, watery

Way of working
Out

– Mike Albo, Author, Poet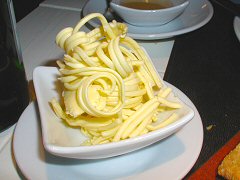 Buenos Aires – Look, anyone who spends the time making bizarre butter curls is okay in my book. Obsessive, compulsive, a bit loony, but okay by me. I promised I'd share a few more brunches as we headed out and tried places – in a recent article in a local magazine, I think in El Gourmet, there was a piece about places to eat brunch – and one highly recommended was Sirop Folie Resto & Tea Corner, Vicente Lopez 1661, Locale 12, 4813-5900 – not to be confused with just plain Sirop, at Locale 11, which is their fancy dining spot. Sunday brunch was the recommended ticket… and so we found ourselves seated in the homey, inviting spot on election Sunday, with only a few co-brunchers around, mostly families, along with a trio of young norteamericano businesswomen clearly a bit bewildered by nearly everything being closed up for the day. Also, of course, being election day – no alcohol being served, so no mimosas or bloody marys or wine… for those who don't know, in Argentina, no alcohol can be served in restaurants or bars from 10 p.m. the night before an election until 10 p.m. the night of, after the polls have closed and officially been certified… or at least that's the theory. [Closed]
So, here's the thing. There are three options for brunch at Sirop… the third, and least interesting, is to just order something from their sandwich menu – clearly a vestige of their weekday lunch menu. The other two, conveniently, and practically, named Brunch Opción I and Brunch Opción II, are clearly designed with completely different people in mind. The first is a simple pot of coffee or tea, a stack of toast with butter and marmalade, and some juice – 20 pesos – not interesting to us. The second initially looks a bit more pricey, coming in at 60 pesos, but then you realize it's for two, and it portends to be a large amount of food. And, it is, and it's good, and it's not exactly brunch – it's more of a weird mixup of lunch and breakfast items that arrive in waves of a plate or two at a time as your table is empty and ready for them… and strangely, doesn't include coffee, tea, or any other beverage…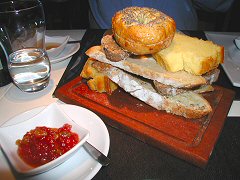 A large basket of very good breads, plus an extra almost passable bagel, and a dish of excellent tomato marmalade that you'd never know was tomato unless they told you. There's also a small dish of a "chardonnay syrup" off to the side somewhere…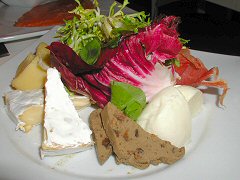 A platter of cheeses and meats – four different cheeses – mozzarella, brie, swiss, and something unidentified – all decent but nothing special, some very good paté, and some thin sliced prosciuto.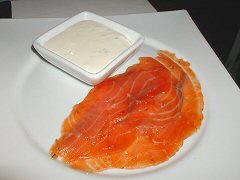 A half dozen slices of smoked salmon, and quite good smoked salmon, along with a dish of whipped cream cheese with herbs…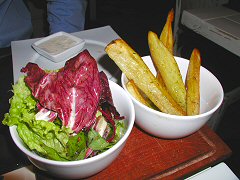 A small green salad with a very nice vinaigrette, and a strangely skimpy bowl of steak fries soaking in olive oil and herbs – a little drippy, but tasty, and too few of them…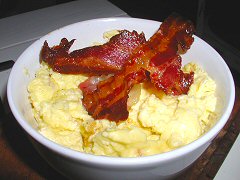 Some excellent and very buttery soft scrambled eggs, along with bacon for different tastes – two strips of crispy and two strips of soft and just lightly cooked.
For two people, this was plenty of food, though a good portion of it was filling up on the really good breads – the brioche bread was my favorite. It's not what I think of as brunch, but I leave you to judge for yourself. It was certainly good food.