"It's about human imagination and curiosity. What's out there? What's in the great beyond? What exists at levels we can't see with our five senses?"

– James Cameron, Screenwriter, Director, Producer
Buenos Aires – I don't know why it didn't click in my mind when the waiter was trying to explain to us the origin of the name of the restaurant. I've been to the museum, I've seen the tapestries… but it's been a long time, and it simply didn't register – although I could swear that the waiter never said the words museo, tapiz, or unicornio. Cluny, El Salvador 4618, 4831-7176, in Palermo Viejo, is named after the Cluny Museum in Paris, and is a paean to the museum's star exhibit, the famed Lady with Unicorn tapestries that celebrate six senses – taste, smell, touch, sight, hearing, and understanding. [Closed]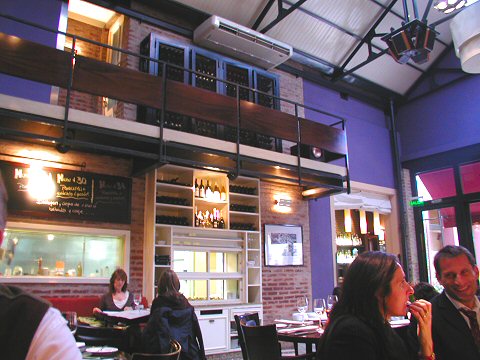 It's a pretty room, with lots of mixed textures, colors, different surfaces – very fitting. The kitchen is visible, and faintly audible, there's a buzz of conversation, soft music – Rod Stewart singing ballads – we kept waiting for, maybe, Rosemary Clooney… but that would have been too… something. Service is, amazingly for the neighborhood, completely attentive. At lunchtime they offer a couple of options – a full menu selection (similar to the dinner selection, which we also took a look at), as well as several different fixed price menus, depending on whether you want appetizer and/or dessert, and/or wine, and/or beverages included – it was a little complex, and the simplest thing, and quite reasonable at 34 pesos, is to just go with the full three course menu with water, wine, and coffee. On the other hand, it's a lot of food, they're not shy about the portions at Cluny, even with the fixed price menus.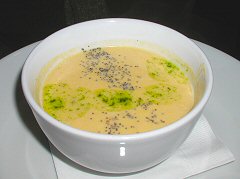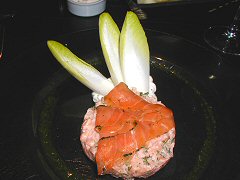 We started off with a nice, steaming bowl of delicious squash soup, sprinkled with different herbs – I'm not sure what the purple sprinkles were – some sort of chopped flower petal I'd guess, we forgot to ask; and an equally tasty salmon tartare – a huge portion that could have been my meal all by itself – topped with some smoked salmon, and served with some good whipped sour cream on the side. We also got a basket of housemade breads – very creative and interesting, both in flavors and form – not the usual plain white rolls.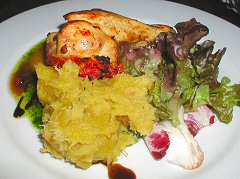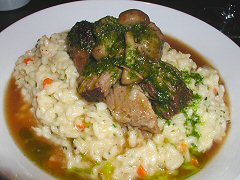 Strangely, the main courses were far less decorative or decorated than the appetizers, being almost more of the "food on a plate" style. But there was no slacking off on flavor, and I'd much rather have something that tastes good than something that just looks pretty. With the fixed price menu, one interesting sounding option was the stuffed chicken breast – they actually cut a long cylinder through the chicken breast and filled it with a roasted tomato stuffing, rather than rolling it around the filling as we'd thought might be the case – and absolutely delightful to eat, along with a squash puree, which was a bit of a repetitive note given that Michael'd had the squash soup, but he didn't seem to mind. I went with a risotto of veal and mushrooms with a bit of herb oil on it – perhaps a touch too much herb oil, and it's a huge portion, I couldn't even finish it, especially given the salmon tartare beforehand, but really good, and the rice cooked just
al dente
as it should be.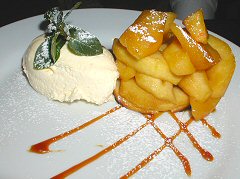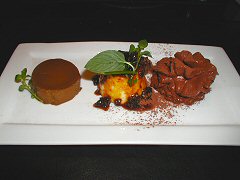 On the dessert side, still good, though perhaps slightly less interesting than the rest of the food. First off, I'm getting tired of seeing
tart tatin
on menus here and having a wide range of desserts that simply have apples on them pop out of the kitchen. A tart tatin is a specific dessert, and not always apples, where it is essentially what we'd call an upside-down tart –
i.e.,
, the apples or other fruit are put in the tart shell, the pastry is put on top, it's cooked that way, and the fruit kind of turns into a dark caramelized and delicious whole, and the pastry browns up beautifully, then the whole thing is flipped out onto a plate for serving – it's been that way since 1889, when it was first served up at the Hotel Tatin in Lamotte-Beauvron, France. It became famous when Louis Vaudable, the owner of Maxim's in Paris, visited the hotel, fell in love with the dessert, and had it added to the menu at Maxim's. So when I see a pile of barely cooked apples piled on a thin little bit of just cooked pastry, as seems to happen here so often, it annoys me. So be it. It was a reasonably good dessert, though the apples were a bit too undercooked for my tastes, for any kind of apple tart. The other, a mini-degustación of desserts – a trio of coffee flan, cheesecake, and a chocolate foam, was quite good – the cheesecake could use some work but wasn't bad, the other two, wonderful in combination.
All in all, thumbs up all around for Cluny… next time, I'd probably just go back, have the salmon tartare, a couple baskets of the breads, a nice glass of wine, and call it a day.