I wish I had a twin, so I could know what I'd look like without plastic surgery."

– Joan Rivers, comedienne
Buenos Aires – So there we were, two days later, looking at a narrowed, elongated version of Sucre, with lower height ceilings. You could tell the same thought process went into the design of the space. Even had we not know that Bar Uriarte, Uriarte 1572, 4834-6004, in Palermo Viejo, was owned by the same folks, we could have guessed. In some ways the room feels more intimate, simply because of it's tighter spacing, but it also has a certain lack of energy that Sucre has – in that space, virtually no matter where you choose to sit, you're surrounded by other tables, in this space, you feel more separated from other diners. Still, it's a comfortable room, and we settled in easily. [This place closed in early 2010.]
At Bar Uriarte, the menu seems a trifle more traditional in its bent. There are no tapas offered to start things off – instead a selection of tablas, or cured meat and cheese platters to share – after that, it's a simple menu of appetizers and main courses. If I were to put them side by side, which in a way I am, I'd say that Sucre shows more creativity, more of a modern edge, more of a willingness to take a shot at something off-beat. On the other hand, Bar Uriarte's kitchen turns out food that could simply be termed classic. Not classical, in the sense of something that feels old or stuffy, but classic in the sense of well done tradition. While deciding on other things, we decided on a nice large bowl of crispy golden french fries served with fresh mayo, to share, and then moved on to a trio of appetizers – a simple risotto and fresh cheese croquette, a piadina (more or less an Italian quesadilla) of spinach and bacon, and the winning plate, a delicious salad of sauteed mixed mushrooms, marinated, and topped with shaved cheese.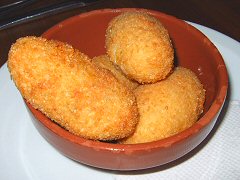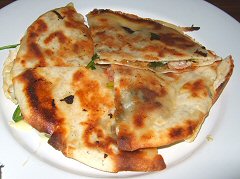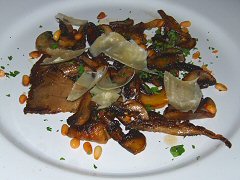 We moved on to a trio of main courses – spinach and ricotta gnocchi with a tomato and mushroom sauce, thyme marinated entraña (skirt steak) with brie and basil mashed potatoes, and a great presentation of lightly crispy grilled sweetbreads served with giant onion rings and giant steak fries. The gnocchi were nice and light, the sauce fresh and tasty; the steak, cooked beyond the medium rare requested, but still roughly medium well, and very flavorful, the potatoes delicious; the sweetbreads themselves, perfect, the steak fries would have probably been more interesting had we not finished off the large bowl of fries to begin with, the onion rings were nice big rings of onion, but the batter was lacking in flavor – salt helped, but they really both could have used something to perk them up – even a dipping sauce of some sort… mayo, ketchup, cocktail sauce, chili sauce… something. I did like the peppery watercress salad that accompanied the dish – it made a great foil for the sweetbreads.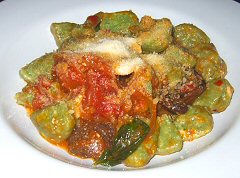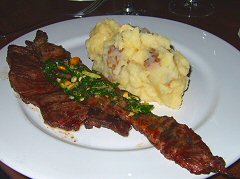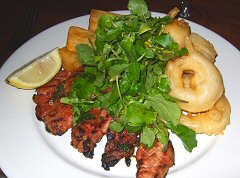 We were stuffed, so desserts will have to wait for another time, and there will be another. The food is good, the ambiance is casual. The prices are also a bit easier on the wallet than Sucre (though, not significantly, especially given the difference in creative talent that goes into the two kitchens' food).