Can anything be more humiliating than that your mother, friendless and alone, should have to eat others' food?"

– Queen Pritha-Kunti, from the Mahabharata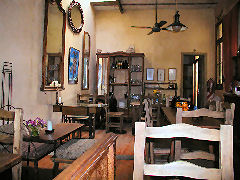 Buenos Aires – Perhaps I should have taken it as a sign when we were turned away the first time we visited this restaurant. Especially given the reasoning of the wave-off, that the chef just didn't feel like coming in on Tuesdays. This time, I called first, and the chef had indeed shown up, but it should have given me an uneasy feeling that the chef (and owner) had such a cavalier attitude. Still, on entering La Reina Kunti, Humahuaca 3461, 4863-3071, in the Abasto neighborhood, I really wanted to like the place. It reminded me (as did the chef) of working at The Kitchen Club in New York with Marja Sampson – mismatched tables, trinkets and random art scattered about. La Reina Kunti is in some ways a puertas cerradas, like our own Casa S, though they've gone the extra step of expanding the kitchen to a commercially equipped one. Still, the dining room is the house's living room (there's also a smaller room at the back, clearly a former bedroom). There's no exterior sign, it's just a rundown building on a quiet neighborhood street.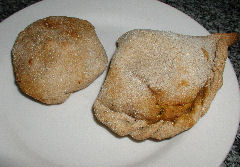 I might also have been warned off by Time Out's review of the space that could lead one to believe the place was awash in cats… or "moggies" as the brits apparently term them – though I only saw one, a small black cat who came out, hopped on my table and proceeded to try to rub against me (I'm allergic, just don't need that). But, I'd heard that the place offered decent Indian vegetarian cooking, so it seemed worth a shot. As it turns out, the menu is about half Indian dishes and half local porteño dishes – all vegetarian versions (the menu claims a mix of vegetarian and védica, or ayurvedic cuisine). Since I was there for the Indian, or hindu side of the menu as it's referred to here, I started off with one apiece of the kachori and samosa. The former was supposed to be filled with vegetables and ricotta, and indeed had the veggies, but no cheese in evidence. The latter was filled with a mashed bean or lentil paste. Both were well spiced, good fillings – however, both were enveloped in whole grain wrappers with the texture and taste of thick corrugated cardboard.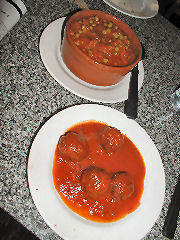 In many parrillas here, the cubiertos, or silverware, consist of a simple fork and knife. Not a steak knife, as that would be the equivalent of admitting that the steaks were not tender enough, just a regular knife. So, I was surprised when I was presented with a fork and steak knife in a vegetarian restaurant (not to mention that steak knives are a pain to try to "butter" one's bread with – in this case with a very soupy carrot puree). But, lo and behold, it turned out to be necessary when the vegetable "meatballs" arrived. The size and texture of a large marble, these were hard, dense, blackened, inedible spheres that would have responded more readily to hammer and chisel than even the sharpest knife. They were also doused in a salty tomato sauce that tasted as if it had come from a can. The accompanying day's special (thankfully given the first dish, my waitress had recommended something additional) of tomate dhal was only texturally better, and only by comparison. I swear this was just a heated up mix of canned peas and canned squished tomatoes, with a lot of cardamom tossed into it.
I really had wanted to like the place, especially upon walking in and the good memories it brought back. But the food is, while well spiced, poorly cooked, and of questionable quality. There are clearly some good ideas at work somewhere in the background, but the execution seems to show off the lack of care and concern on the part of the chef evidenced by our first visit. One of the tenets of ayurvedic cooking is that the "vibrations of the cook" are of key importance in the quality and effect of the dish produced. Perhaps someone needs a vacation…