"This house, is a place to enjoy a tranquil moment, with good music, enjoying delicate dishes, artesanally prepared for you. For each dish we use top quality natural and fresh products that have not been pre-prepared; because of this, they are prepared to order, respecting the time it takes to create them. It is an ideal place to rediscover the intimacy and the pleasure of home cooking.

I hope you enjoy it.

Jose
Buenos Aires – I've passed by this small casa many times, it's facade painted with smiling multi-racial angels beaming out and down upon all who pass. A simple sign states "Slow Food". I've peered through the window and never seen a sign of life in the space, despite that it's open for lunch and dinner. Recently, some new friends recommended it as a favorite place to have a casual meal, and when another friend and I were trying to decide where to have lunch and catch up today, I remembered it. So mid-day found us a Lo de José Slow Food, Arenales 2659, in Palermo chico, 4823-8476. It's a pretty room, indeed very homey, with warm colors and casual touches – if it wasn't for the layout of the tables it would seem like dining in someone's living room.
No one is in evidence when I enter, but a bearded face peers out from behind an archway at the back. I ask if they're really open, and he waves towards the dining area and says to take my pick. There's a small, rounded window at the front, and I seat myself to await my friend. A waiter appears a few moments later with menu in hand, greets me, and disappears again. I read the opening statement on the menu, translated above. My friend arrives; the waiter, another greeting and menu appear, and again he disappears somewhere into the back. This is to be the theme over the course of lunch – the waiter, and the bearded man (whom I'm guessing to be José) only appearing when there's something to be brought to a table (1 party of 2 and a solo gentleman arrive a bit later and also have lunch). I don't mind the delay for the food preparation, none of which is excessive, but trying to order something requires a trial of patience.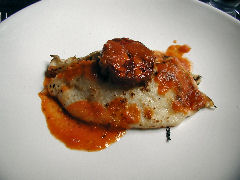 The menu focuses on pastas and crepes, with a scattered few other options, but clearly the former are José's specialties, and numerous varieties are available. We start with a capelina de verduras. I don't ask what it is, merely note that amongst the various appetizers, it is the one that stands out as something unique. A capelina is a skullcap, a Roman yamulke if you will (it's also the Portuguese name for smelt, but I guessed that was unlikely) – and I mentally predict that this will be some sort of domed vegetable dish. Indeed, the pasta wrapper is somewhat cap shaped, if one uses a bit of imagination. It encloses a near puree of greens and cheese, and a couple of slices of boiled ham. It's topped with a spicy, hard-style chorizo, probably cantimpalo and a mildly spicy tomato sauce. It isn't quite what I was expecting, but it's quite good.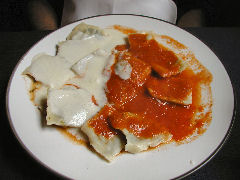 One of the problems with a venue where everything is made to order is that some things, it is discovered, are missing ingredients, and it's too late to run out and buy them. Chicken filled raviolis are nixed when our waiter returns to say that there is no chicken in the house. Vegetable and ricotta raviolis are nixed for some inexplicable reason, as plain vegetable or ham and ricotta are both available – perhaps, and most likely, the raviolis are at least rolled out and filled in advance, and the mixed vegetable and ricotta were missed. Plain vegetable, simple, slightly bland, but with good texture, arrive. Salsa Mixto, usually a blend of the two more common blanco, or bechamel, and fileto, or tomato, sauces; here, served side-by-side, offering one the opportunity for varying taste sensations – separately and mixed.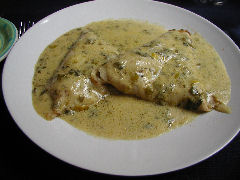 I don't know who Uriel is, but the Crepes Uriel sounded delicious (as did the other crepes – there's a page devoted to various types) – a filling of calabaza squash, walnuts, and ricotta, all topped with a leek sauce. I'm not sure why, but our waiter seemed to want to talk me out of the leek sauce and into a substitution of something more basic like bechamel. Perhaps many folks don't like leek sauce. I do. The dish was excellent – the crepes perfectly formed and delicate, folded over into triangles around a rich squash filling, well seasoned. The sauce, though a little "broken" (shouldn't have boiled that cream!), was a perfect accompaniment, the leeks caramelized and toasty. The dish wouldn't have been nearly as good with a plain white sauce.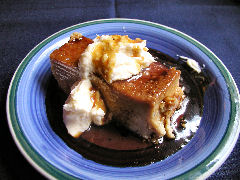 Several of the desserts, likewise, were unavailable, a shame as a couple of them (like a plum mousse, in particular) sounded really intriguing. I settled on a budín de pan, which I think of as bread pudding, with whipped cream and caramel syrup (dulce de leche sounded like overkill). I'm not sure where the bread comes in in this dessert, perhaps it's there somewhere – it's a two layered dessert, the lower layer soft, almost a cross between a cheesecake and a flan, the upper layer dense and gelled, like some sort of pressed preserve. Topped with a dark caramel syrup and a touch of whipped cream, truly excellent, bread or not.
Overall, high marks for the food and decor. Inexpensive. The music, a trifle odd – very much in the background, but also very much in the hard rock genre, as if someone had decided to figure out a way to play Metallica on an elevator and not offend anyone. The service a bit slow, and while not dour, there were moments I felt like we'd intruded upon the waiter's time, as if something more interesting was going on in the back of the house that we were taking him away from. Still, I'd go back again.
[Note: this restaurant has closed.]