Buenos Aires – Mexican food is not a big thing in Argentina. In fact, it lays claim to the foundation of a much used ethnic slur here. Serve something with a bit too much spice to many an Argentine and the response is, "What do I look like, a Mexican?" I've hear it more times than I can count over the last year (well, if I'd been counting, I'm sure I could have kept track). I attended a lecture and slide presentation at the Central Cultural Ricardo Rojas a couple of months ago on Mexican food, and the woman giving the talk, who actually runs a local website devoted to Mexican food, repeatedly emphasized how spicy the food is. Not to mention the bug-eating. I've tried a couple of Mexican places here, and they've been pretty lackluster – part of it is, indeed, the damping down of the spice level for the local palate, and part of it has just been lack of quality. So when I heard about a new "burrito joint", I didn't give it a lot of thought. But then I kept hearing about, and from friends who like Mexican food.
So the other day, we trooped off to the Centro district and the California Burrito Co at Lavalle 441. First, I should note, it's unrelated to the California Burrito Co "chain" in New York (which I believe has four or five locations in Manhattan). Second, we're not really talking about Mexican food, unsurprisingly given the name – we're talking about Cal-Mex food – more or less fast food, but freshly made. Burritos and tacos (soft wrap… I was so looking forward to a nice, crunchy, corn tortilla type, but one can't have everything). Third, well hey, a trio of landsmen as we might have said in Yiddish – some nice Jewish boys from San Francisco (actually, I'm not sure all three of them are either Jewish or from S.F., but at least one of the owners we chatted with is, and it sounds good).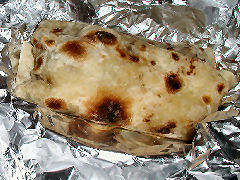 It's a long, narrow space, set up more or less like a trendy cafeteria. You get in line, you pick burrito or taco, you pick the fillings, it all gets wrapped up in foil, placed in a basket, and you check out at the cash register. It's about as easy as you can get – the staff are friendly and efficient, and eager to make suggestions about combinations. The ingredients are fresh, seasonal, and made on premise – in fact, on the menu was a tomatillo sauce, but since they're not in season, there's none available, but the young lady helping me assured me I'd love the fire-roasted red pepper sauce – which I did. You make your way to a table or one of the counters around the outside, grab plenty of napkins – these things are juicy! – and eat. Smile. They're really good burritos and tacos. You can get them spicy or not. They offered me a wedge of lime to put in my Corona. That's about as Cal-Mex as you can get!
It might be fast food, but it's the kind of fast food worth checking out.