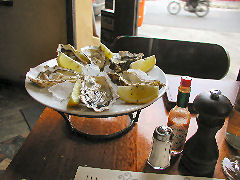 Buenos Aires – There are certain things you don't notice you're missing until you notice you're missing them. Tautology at its best. One of those, for me, turned out to be oysters on the half shell. I can't remember the last time I had any. And truthfully, I wasn't missing them. Until I was passing through Palermo Viejo yesterday and saw a restaurant with emblazoned sign "tapas & oyster bar". Oyster bar? Wait, that's the last time I had them. In New York, at the Grand Central Oyster Bar, January 5th. That's six months and five days. Yikes! So I'm happy to report that I've satisfied that craving – probably for another six months, especially as I hadn't known I had the craving. Lunch yesterday began, obviously, with a half dozen beauties served up with a glass of bubbly, at Spirit, Serrano 1550. Accompanied by individual lemon wedges – way too many – salt, pepper, and tabasco. I used one wedge and moved on. Pristinely fresh, these needed nothing else. [Closed in 2008]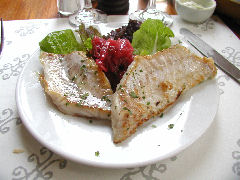 Spirit offers up a tabla de mare and a tabla de tierra – your choice if you want six or twelve different little tapas selections from sea or earth. They also offer oysters, shrimp, and other shellfish in various states from raw to cooked. Then a selection of pastas, salads, and various primarily fish related main courses. One nice plus, if the selection of tapas is a bit daunting (it's lots of small little bowls of things that individually sound interesting, but in combination sound like an awfully broad range of non-complimentary flavors), any of the items is available in a larger – appetizer size – portion. I decided to go next to the delicious sounding grilled fish with kumquat chutney. Delicate and flaky, I forgot to ask what kind of fish it was, but it was good. The chutney was overly sweet, and I'm not sure what they did to turn it vermillion colored, probably beet juice, so strongly sweetened that it could have been any fruit – in fact, it really didn't look like kumquats.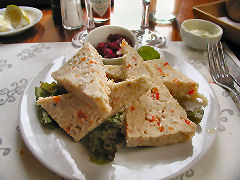 The fish terrine was my second choice – excellent! Like big wedges of perfectly made gefilte fish, well seasoned and peppered with bits of vegetable. Truthfully, one of the better fish terrines I've had in quite a long time. The portion was a bit much I think, especially for an appetizer, but then again, I was eating three appetizers, one after the other, so who am I to complain. I also, immediately noticed, that despite noting that it was a large portion, I didn't leave a crumb of terrine on the plate. It was served with a beet horseradish sauce, clearly sweetened again – almost sugary. That's the Argentine palate I guess, gotta mask the spicy stuff with something. A shame, the terrine would have been perfectly complemented by a bit of truly spicy freshly grated horseradish. That's the New York Jewish palate, I guess.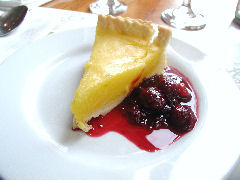 For dessert, the crostata de limon caught my eye. But I've been fooled before here, with various versions of this more or less lemon pie. However, when my waiter tried to talk me out of it by telling me that it was very lemony and was "missing" the "proper" pile of merengue on top, I knew I was in for a treat. And I was – this was bright, lemony, delicious, and not masked by the sugary egg white mound atop. It was nearly as good as the recipe that I got and tried out last year from Marion's in New York. Okay, maybe not. But it was darned good!
I liked this place. And now I know where to go for good oysters on the half shell, next time I discover I've been missing them.