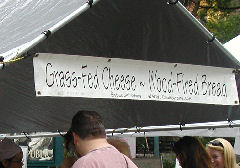 New York – Okay, I know what these folks are trying to say. And they make a good product. Bobolink Dairy makes some excellent cheeses and breads. But sometimes, in the push for political correctness, green-ness, and just trying to be the bee's knees of products, folk overdo it. For me, "Grass Fed Cheese" is just silly. Cheese from the milk from grass fed cows, I'm sure. And yeah, it's a cute way to get attention and maybe even get some gullible visiting food and wine blogger to write about it. I still think it's silly. But try the cheese.
—————
One of the favorite late night places for us restaurant folk to hang out, when it first opened, was Craftbar. This was the second installment in the Craft empire by Tom Colicchio (yes, I know he's getting a lot of press in my blog, but I worked for him, and now he's a "tv stah"). I love the concept of Craft – to the unitiated, it looks like a nightmare menu – sort of the grrr-animals approach to putting your meal together – I mean, why can't they just give me a menu that says what I'm getting? I'll tell you though, after many years of restaurant work in New York, it's a chef's dream menu – it's the ultimate answer to the swirling chaos of Manhattan diners who insist on laundry lists of what they will or won't eat, how they want things prepared, which sauce, which vegetable, which side, substitutions and special requests. Back in the kitchen we're screaming "why didn't they just stay home and cook their own dinner!" (Well, because let's face it, most Manhattanites aren't even sure HOW to turn on the stove.) But it's part of the game in the Big Apple, New Yorker's love to see how much they can get away with.
But, that free for all that is Craft has a limited appeal for the folk who are into that game (our approach was always – "you guys pick and send us stuff" – which was probably equally annoying to the staff). Enter Craftbar, a scaled back version of similar food, but a selection of some of the favorites of the cooking team, much of it in sandwich or snack type form. Originally located directly next to, and attached to, Craft, it features a fantastic wine bar (and, when it was next door, you could get wines off the Craft list as well), and some of the best snacking you'll find in Manhattan. Gradually, they cut back their late night hours, and many of us stopped going regularly. Then it moved almost a year ago, taking over the space vacated by the ill-fated and way too orange Morrell's downtown wine bar, at 900 Broadway, between 19th & 20th Streets. I was curious to see how it was faring, and if Tom becoming a TV star and opening restaurants in Las Vegas and who knows where else has had an effect. It has, and it hasn't.
First, the venue – sleek and chic, cool bar, tables topped with brown paper, alcoves, tables a touch too close together in some places and widely spaced in others, chainmetal wine refrigerators suspended above the bar. Nice job with design in general. The hideous orange lighting is gone (noone, and probably nothing, looks good in orange light). Staff, at lunchtime anyway, a bit scattered – one standing around reading the newspaper, in general all looking a bit disheveled, like they'd just rolled out of bed, run their fingers through their hair and tossed on the clothes on the floor. They were friendly and relatively efficient, but everything was "oh, that's a great choice" – no help at all. Waiters were left to wing it in the wine department – I could overhear an amazing amount of simply wrong information being given out about wine selections. A woman was seated near me, and it was clear she was going to be a bit demanding – she snapped off a couple of requests as she was seated (nothing out of the ordinary – but she was clearly a businesswoman in a hurry). When she went off to the bathroom, one of the waiters proclaimed (loud enough to be heard throughout the room) "Oh she's gonna be a whole lot of fun, I can see it already." No one seemed to be managing – there was a young woman who seated me, and a young man in ratty jeans and wide open shirt who seemed to be zipping back and forth regularly and surveying the room, but if he was the manager, they need a new one.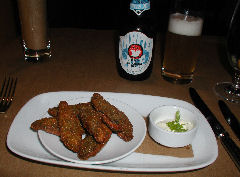 If you do nothing else but order a beer or glass of wine, you simply must order the Sausage Stuffed Fried Sage Leaves. They're amazing. And they're still as good as ever. Two large sage leaves encasing an ovoid of delicious veal sausage, lightly breaded, deep fried, and served with a lightly lemony mayo. You could really just order a couple of plates of them and keep eating. But that would be missing the opportunity to graze on some of the other great selections. By the way, from the beer selection, if you've never tried the Japanese Hitachino's Nest White Ale, look for it. One of my personal favorites.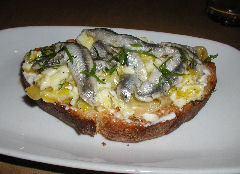 This is one I hadn't tried before – White Anchovies with Soft-Cooked Egg and Braised Leek Bruschetta. It's also nigh on the perfect bruschetta ever created. It's probably actually stretching it to call this a bruschetta, other than being stuff on toast, though too hard to pick up, but who cares, it's good. Vinegary white anchovies, a soft cooked egg, and buttery soft braised leeks harmonize better than, well than they sound in combination. I love white anchovies to begin with. I love soft cooked eggs to second with. And the leeks just make it all work.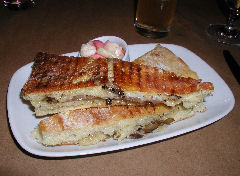 This was a disappointment. Not a big disappointment, but a bit of one. I've had this sandwich many times in the past – Duck Prosciutto with Fontina and Hen of the Woods Mushrooms may sound a touch pretentious, but at its best it's a truly amazing sandwich. This one seemed to be severely lacking in duck prosciutto, the mushroms were overcooked, and there was way too much fontina on the whole thing making it a gloppy mess. Someone wasn't paying attention. The little pickled vegetable cup I didn't quite get either – sort of a chow-chow – cauliflower, yellow beans, and baby turnips – they were in pieces far too large to put on the sandwich, and they didn't add anything to the dish.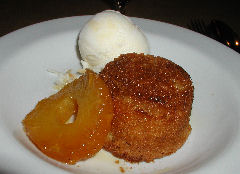 All, however, was forgiven at dessert. Even when the coffee I asked for to be served after dessert arrived ten minutes before the dessert did and got sent back. Even when asking for and receiving the bill turned into an exercise in patience reminiscent of dining in Buenos Aires. This Brown Sugar Cake is heaven on earth. And the pairing with roasted pineapple and a coconut-passionfruit sorbet is masterful. I'm stealing the idea and carting it off to South America with me.
In the end – the kitchen team clearly still has it together. The food, for the most part, is as good or better than it ever was. The service standards have slid way down. I don't care if it's lunchtime and there aren't a large number of people eating – the dining room staff really didn't have it together.