Buenos Aires – There are "known" areas of restaurants situated in or near enclaves of the porteño elite and/or wealthy. Small groups of restaurants where it can be counted on to find more suits, scarves, and silver hair per square meter than a Dick Cheney fundraising lunch. One such strip is along Roberto M. Ortiz, near to the Recoleta cemetery, and just a shade east of the touristy popular cemetery strip of clubs and TGIF imitations. Here you can find elegant places like Lola, La Biela, and, yesterday found my friend Michael and I at Munich Recoleta, number 1871. Subtract the two of us and the busboy out of the equation and the average age of the several dozen folk in the room was somewhere in their late 60s or early 70s. The waiters too. Curtained windows, large tables and booths, white tablecloths, a tuxedoed maitre d', and a dozen animal heads staring down at the dining room from their mountings around the room, and, not a tourist in sight, complete the picture. [Closed in April 2017]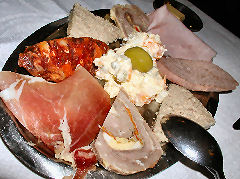 Michael swears by their revuelto gramajo, and indeed, it seemed as if three-quarters of the patrons were digging into the Munich version, here presented elegantly with the egg done up as a huge thin omelette, encasing a mountain of potato and ham. The menu is pretty classic local food, with all the usual suspects. On our waiter's recommendation, we decided to split a plate of mixed fiambres. A nicely laden plate of paté, okay matambre (I'm spoiled after yesterday's freshly made matambre), long slices of sausages, and thin leaves of hams arrived within moments, along with our bottle of Kaufmann Cabernet Franc, 2002, a well-made cab franc, with just a touch of smokiness and spice, and good depth of fruit.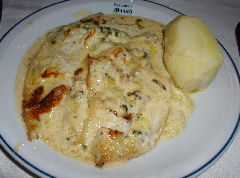 Michael dug into a well cooked and well seasoned bife de chorizo, a good size for lunch, but I'm getting used to the oversize portions in most parrillas here, and this was probably no more than an 8-10 ounce steak – plenty to eat, but at 20-some pesos, expensive for the city. I wanted to go a bit lighter and opted for one of the specialties of the house, the lenguado al roquefort, flounder in blue cheese sauce, which our waiter insisted was the best fish on the menu. It was indeed quite good, and the roquefort (local Argentine I'm sure) was not overwhelming for a relatively delicate fish like flounder.
We ended up splitting a panqueque de manzana, one of the better ones I've had here – with crispy, caramelized bits along the edges, and cooked perfectly through to the center. Overall, a lovely, elegant dining experience, but at a price – especially for a shared appetizer, 2 main courses, shared dessert, a bottle of wine, and a couple of coffees. Not that 90 pesos ($30) apiece is out of line for the particular neighborhood and style of service (friendly but elegantly proper), however, it's a bit pricey for lunch in Buenos Aires. It's a bit pricey for dinner in Buenos Aires.