Buenos Aires – In the midst of Recoleta's Santa Fé shopping district, sitting squarely on a corner amongst the shops offering designer shoes, clothing, mp3 players, and overpriced housewares, sits Cartoon, Riobamba 1112. I've bypassed it for ten months now, glancing in and thinking, cafeteria, coffee shop, overpriced. I let myself get talked into going the other day, and what can I say, I'm a reasonably good judge of character, it's a cafeteria, coffee shop, overpriced. Okay, cafeteria isn't really correct, as there's not a line to have your food slopped on a tray as you pass by the hairnetted server, but it's not all that far off. While not all that out of range for the neighborhood, especially on a touristy strip like Santa Fé, the pricetag of 100 pesos for three appetizers and three main courses is way high for lunch in this town. [Closed]
We started off with a couple of plates each bearing two empanadas, a bit on the small side, and definitely on the bland side. The humita versions may have had three kernels of corn apiece inside a doughy mass, the roquefort looked like someone just sort of shmeared a thin layer of the cheese inside. Essentially, nothing but breading. A couple of chorizos, which took forever to arrive (easily half an hour after ordering, and the two of us with empanadas had finished and had our plates cleared before our third's chorizos arrived), were still undercooked, and upon cutting into them, turned out to be full of large globs of uncooked fat – not marbled into the chorizo, but literally globs the size of large marbles. Basically inedible.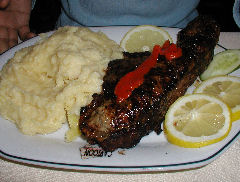 Thankfully, the main courses were far better, once they arrived. After the wait for the chorizos, we waited nearly 40 minutes for the main plates, it had reached the point where we'd already given a "5 minutes or we leave" ultimatum before they finally were brought out of the kitchen. And the place wasn't particularly busy, maybe a third of the seats occupied, and many folks just having coffee or drinks. The one place where at least I felt better about the high price we were about to pay for this food was in the size of the main courses. Here, Cartoon earns its name, with cartoonishly large portions – this bife de chorizo, which was nearly raw, so we just had them pack it up to take with us and recook later, was well over a pound of meat, with a mound of mashed potatoes that had to consist of 2-3 large baking spuds.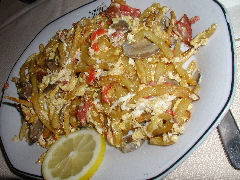 While Cartoon offers a traditional revuelto gramajo, they also offer their own version of this scramble, a revuelto cartoon. What arrived was a huge platter of scrambled eggs, potatoes, green and red bell peppers, mushrooms, and onions. (It might help to think about the plate size in these pictures – these are not standard dinner plates, but somewhere between 12-14″ plates.) In fact, in the end, the three of us just shared this platter for our lunch, packing away the steak above, and the pasta below, for later eating. Decently seasoned, and all together not bad, the revuelto cartoon isn't a match for the classic gramajo, but still pretty good.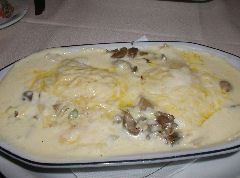 Our third main course was the crêpes pavarotti. Once again, a massive serving, two crêpes, individually enough for a meal, packed with sliced turkey breast and asparagus, and topped with a creamy mushroom sauce. Definitely the best of the three dishes, if a bit on the heavy side, and still quite good reheated later. When our waiter offered dessert, we figured having spent more than two hours already for lunch, not to mention the 100 pesos (okay, I mentioned it, twice), that probably wasn't a good idea, and headed out into what was left of the afternoon. All around, okay, but not a place I'd bother to go back to.