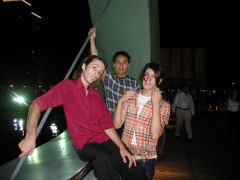 Buenos Aires – We have friends in visiting for the weekend (this is happening more and more, and depending on whom, can be a blessing or a curse – we're having fun this weekend, so it must be the former). They haven't come from far away, they're in from Azul, which is a small city, about which I know virtually nothing, located about 165 miles southwest of the capitol, still in the province of Buenos Aires. They arrived Friday morning and have spent most of the daytimes sleeping, as their primary purpose this weekend is to get in a little nightlife – which means going out to meetup with friends at a local snack bar around 12:30/1:00 in the morning, then heading for a dance club around 2…and getting back here around 7 a.m. They've been very quiet coming and going, and we've managed to get in some wandering or going out to dinner with them in the evenings before they have to "get ready."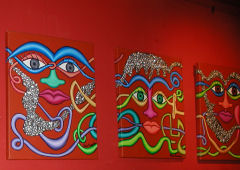 Last night we started off in San Telmo at La Farmacia, Bolívar 898, which is the first restaurant I ever went to in Buenos Aires. [Closed in 2008, and as of late 2011 still empty.] I was staying at a small guest house, and probably looking a trifle exhausted and overwhelmed on my first day here, and a very nice man from Finland (who has become a good long distance friend, and is due back here for a visit in a few weeks) invited me to join him and some local friends for dinner. La Farmacia is a nice way to ease your way into the local scene – casual, laid back, friendly staff, non-pretentious food, regularly changing artwork on the walls. The menu is a small ring binder of index cards hand lettered on one side in Spanish and the other in English – and the English translations actually make sense! There's a loungy area on the first floor, a dining area on the second, and a very nice open air terrace on the roof. There's also an attached store that sells souvenier-ish sorts of things related to the restaurant and to the San Telmo neighborhood. Last night the air conditioning in the main dining room was out, and the terrace was still steaming from a particularly hot day, so we took a table in the lounge where the AC was still limping along. The waitstaff were a trifle grim from the heat, but doing their best to maintain composure (the 40 people in their 60s and 70s from a tour bus parked outside, sitting in the main dining room complaining about the heat and doing "special orders" probably weren't helping things).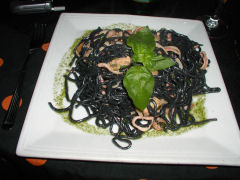 Appetizers are mostly a variety of salads, and simple vegetable dishes, or salmon or beef carpaccio, things that don't require a lot of cooking. Main courses lean towards interesting pastas – nothing wildly creative, but well made and fresh. A few simple chicken and beef dishes are also offered. Desserts are of the slice 'em and plate 'em variety – ice cream, pies, tortes, and cakes, with no adornment. We went straight to main courses and passed them around, sampling – squid ink spaghetti with mixed seafood in a basil and lemon sauce, salmon filled ravioli in a lemon cream sauce, spinach gnocchi in herbed cream, and a chicken breast with green onion sauce.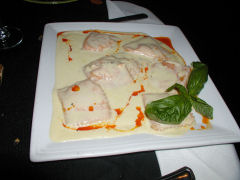 From there it was straight on to dessert – tiramisu, chocolate torte, lemon pie, and warm apple pie with vanilla gelato.
Ordered a bottle of what was listed as Nieto Senetiner "Novel" – a white wine made from Torrontés and Sauvignon Blanc. Recieved a bottle of Novel which only identified itself as Santa Isabel "Novel" Torrontés and Chardonnay blend. It was quite good, very citrusy, aromatic, and a nice choice with our pastas. A look at Nieto Senetiner's website shows that Santa Isabel is an export only line, and the only white blend listed for the line is Chardonnay and Viognier. Que extraño, as the phrase here goes.