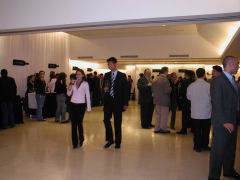 Buenos Aires – For four days this week in Buenos Aires, and then four days the first week of November in San Miguel de Tucumán, members of the trade, press, and public have the opportunity to sample the wares of seventeen top producers of Malbec. Experiencia Malbec is just that, a chance to experience Argentina's primary red grape, Malbec, at the hands of some of the country's top winemakers. My understanding is that if these events are successful, which if last night is any indication, they will be, this roadshow may continue on tour to other places. (Córdoba in March of 2006 is in the planning stages.)
The seventeen producers were showcasing a total of 38 Malbec wines (a few of them blends with Malbec as the primary component). Two of the wines, an "ultra-premium" wine from Navarro-Correas, and a dessert wine from another producer had not been opened in the early hours of the tasting. I admit to not being willing to stay around another hour and a half just to taste those two. Besides, 36 wines at a stretch was quite sufficient, thank you very much. My brief tasting notes follow:
Bodegas Viniterra, Mendoza – Nicanor Nieto and Adriano Senetiner created their eponymous winery, Nieto-Senetiner, out of an existing 19th century facility, in 1969. They were bought out by a large industrial company, Perez Companc, in 1998, and moved on to found their own artisanal winery, Viniterra.
2003 Malbec – Viniterra's unoaked Malbec, this wine shows lots of bright red fruit, white pepper, and milk chocolate. It's a relatively simple wine, but quite good. Recommended.
2004 "Terra" Roble – The oaked version of the same wine, though from the next vintage. A bit high in acidity, plenty of vanilla from the oak, good red fruit, leaning a bit towards the "international style." Recommended.
2005 "Omnium" – Continuing on to the next vintage (a little odd that the more premium the wine, the younger they were showing), this wine is much too young to drink and at the moment quite out of balance. Still it shows promise with plenty of red fruit and spice and a decent dollop of oak. Time will tell if it knits together well. Recommended, but give it time.
Darwine, Mendoza – I admit to not being entirely clear what Darwine is. It seems to be a combination of educational foundation, wine club, tasting society, and apparently either produces, or has produced in their name, wine. They are also one of the main sponsors of the Experiencia Malbec event.
2003 Malbec – This was one of my least favorite wines at the tasting. It was quite high in acidity, very alcoholic, and tasted of little more than sweet blackberry jam. I don't get the sense that it has enough structure to turn into something much more. Not recommended.
Enrique Foster Bodega, Mendoza – Although the vineyards were originally planted in 1919, this incarnation of the winery came into existence fairly recently. It is a well-equipped, modern, technological winery with much thought and care into all aspects of the operation.
2004 "Ique" – Young and fresh, but by no means light, this wine shows raspberry fruit, white pepper, and bittersweet chocolate notes. Unoaked. Recommended.
2003 Reserve – Big and bold, filled with black fruit and lots of bitter chocolate. There's a fair amount of oak on this wine (12 months in a mix of French and American barriques), and it leans very strongly to the international style of winemaking. Recommended.
2002 Limited Edition – Very closed at the moment, but still showing lots of structure. Dark fruit and bitter chocolate dominate. Although it spent 15 months in French oak, the oak flavors are very well integrated. Recommended, but give it time.
ReNacer, Mendoza – Self-described as a family owned, modern, trendy sort of winery, these folks offer up very modern, fruity styled wines that they call "Punto Final," or Endpoint. Bold graphics on the packaging fit the image.
2003 "Punto Final" – Bright raspberry fruit, cloves, and a fair amount of tannin show in this wine. Roughly 20% is aged in new French barriques, the balance in stainless steel. Okay.
2004 "Punto Final" Reserva – Sixteen months of aging in new French barrique shows in this wine, which is completely dominated by the oak flavors. The same bright raspberry and clove is there, but well hidden underneath. Okay.
Bodegas Nieto-Senetiner, Mendoza – As I mentioned above, this winery was founded in the 19th century, 1888 to be specific. It was acquired by Nicanor Nieto and Adriano Senetiner in 1969 and renamed to its current name, and then sold in 1998 to industrial conglomerate Perez Companc.
2004 Benjamin Nieto – Bright, sweet raspberry fruit with plenty of white pepper. A relatively simple, easy drinking wine. Recommended.
2003 Malbec – A much bigger wine, showing blackberries, black pepper, and a fair amount of depth. The finish is slightly short, but I think that's just a matter of time to develop. Recommended.
More to follow in my next post…