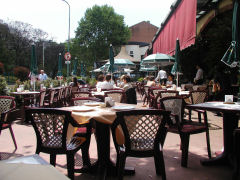 Buenos Aires – Tuesday was one of those glorious spring days with glowing blue sky, bright sunshine, and air that almost seemed clear (not an easy feat in a heavily trafficked city like this). We didn't feel like working on the apartment anymore, and left a round of painting the garden walls for later in the day. There's a small plaza nearby with a strip of restaurants that range from Middle Eastern to Classic Parrilla to McDonald's, if the latter can truly be considered a restaurant. We settled in at one that looked relatively charming and offered a mix of Argentine and Italian cuisine, Campechano, Larrea 1541. [Closed]
We were among the first to arrive for lunch, but within short order a mix of locals and tourists arrived. I was kept mildly busy by our waiter who divined that I spoke both English and Spanish and kept asking me for translations. Several tables of tourists seem to be avidly consulting phrasebooks and dictionaries to no avail. Thank goodness for the time I've spend in the last couple of weeks putting together my little food dictionary as it has helped immensely with vocabulary in restaurants!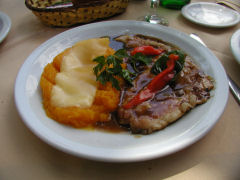 Lunch started with a little amuse from the kitchen, a sort of fried mashed potato ball in tomato sauce that was tasty, if slightly odd. We moved on to rather large salads, slightly disappointing only in that the tomatoes used were rather hard and underripe – rather surprising, as we haven't encountered that anywhere else recently – yes, it's early spring, but much produce is shipped in from warmer climes a bit north of here. Henry opted for a classic asado, or steak right off the grill – properly cooked, and served with both an onion relish and chimichurri. I decided to venture into the special of the day, a chicken saltimboca. One of my favorite Italian dishes, though usually made with veal – a pounded thin cutlet topped with a thin slice of prosciutto, and a simple vinegar based brown sauce. Campechano had tried to balance the vinegar with a little sugar, a shame, since the idea behind "saltimboca," or "jumps in the mouth," is to have that lively brightness of the vinegar. The sauce here was a little cloying. They also topped my puree of squash with a slice of some sort of cheese – unexpected, but not unwelcome. Overall, a comfortable place for lunch, and quite reasonable in price.
—————
Yesterday we were out doing a little more furniture shopping on Av. Belgrano, looking for some outdoor furniture for the garden. A lot of tramping about finally yielded a nice small table and chairs which should arrive next week (pictures forthcoming). But, of course, we were hungry. We noticed a casual looking "cantina" sort of place,
Don Roque
, at Belgrano 2501
[closed as of June 2006, the building appears to be being torn down]
, and though it looked a little divey, decided it was worth a shot. Sometimes appearances can be decieving, and in the end, we were really pretty thrilled. It's a small, family-run restaurant, primarily Italian in style, though offering some basic Argentine parrilla dishes as well. The biggest plus? All the pastas are homemade!
[This place closed in 2007.]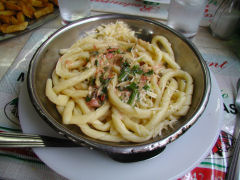 Henry stuck with a basic salad and a grilled chicken with french fries. Some days he's not very adventurous. On the other hand, the chicken was juicy and just lightly crisp on the outside, the fries were cooked perfectly, and even the salad was dead-on (and with ripe tomatoes). I decided on two daily specials. The first, an appetizer of zapallitos rellenos, stuffed round zucchini, was quite good, needing only a touch of salt to brighten it up. One full zucchini, cut in half, and filled with a stuffing of breadcrumbs, onion, diced ham, and a mix of herbs – pretty classic. For my main course I ordered the housemade fucili de fiorrette, with a creamy sauce recommended by the owner. It was chock-ful of basil, green onion, and red bell pepper. (A little hard to tell in the photo, but the pasta are actually twists, not just thick spaghetti like bucatini.) Sometimes something really simple is best, and this was no exception. It was truly outstanding, and one of the best pastas I've had since coming to Buenos Aires. If they do all their food as well as this, it will become a place I pop over to relatively often in the future.
—————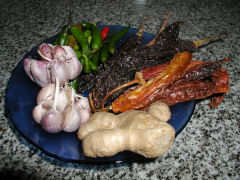 We happened on a street vendor, a young woman selling various vegetables and herbs from the north. Henry wanted a few things to play with, so we picked up some
ají panca
, both yellow and red (dried chilies from Peru), fresh green chilies, garlic, ginger, fresh beans, and some various spices. I decided on a basic food-porn shot, just because they looked pretty on a plate. I ended up making a veal stew with a mix of the peppers, the beans, and a basic white wine sauce, all served on top of a sort of thick porridge of quinoa and amaranth, just because we had some in the pantry. Had to feed the boys who were over finishing up painting the garden wall something! Yum!