Buenos Aires – Just some random notes on recent dining spots, not full reviews, but I'd hate to have you think I've been slacking in the eating department.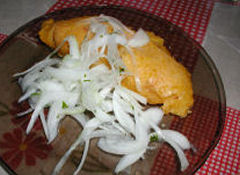 Rico Chimbote II – a little hole in the wall somewhere along Azcuénaga enroute to the Belgrano furniture district, and you don't need the address because you truly don't want to bother. Serving Peruvian food that horrified Henry's sensibilities – possibly the most god-awful excuse for a tamal that has ever been produced (mushy and tasting of nothing but uncooked flour), a flavorless caldo de gallina (chicken soup), and greasy, overcooked chicharrones (fried fish and shellfish plate). Tuck the name in the back of your mind and if you see it, go anywhere else…
La Querencia – have returned several times to this little "regional" cuisine spot at the corner of Junin and Juncal that I gave a full review to in the past. It kind of grows on you – more of a neighborhood hangout than anything else. It's also a place that tourists seem to get sent to regularly to try food of the northwest – I've found myself being called on by the waitresses, as they've gotten to know me, to translate for tables of English speakers, and even had a few solo diners just ask if they could join me/us for a chat. Why not? Recently tried both their carbonada, a meat and vegetable stew with peaches added that's really quite good, and the revuelto gramajo that I mentioned a couple of days ago that I was likewise happy with.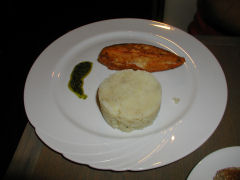 Scetta – French 2301 at the corner of Azcuénaga. Hmmm… very hip, trendy looking spot with lots of whitewashed wood and cream colored leather. We stopped in for lunch the other day. It was just the two of us and two telenovella (soap opera) stars at another table. None of us got paid much attention to. The waitress seemed far more interested in web-surfing than seeing if customers needed anything (why there's a computer in the wait-station with a high-speed internet connection I'll never understand). At lunch only a menu ejecutivo is offered. Green salads took the "chef" 25 minutes to produce out of the kitchen – turned out he was the scruffy guy sitting at the counter reading the newspaper and drinking espresso. Ravioli were overcooked and basically flavorless. The "roast chicken" was a dried out wedge of chicken breast with a little cylinder of mashed potatoes sitting next to it. [Nov. 2009 – Thankfully, this blight in the neighborhood has closed and been replaced by a quite good pizzeria, Quentino.]
El Establo – corner of Paraguay and San Martin. A parrilla that I wouldn't have given a second glance to given their glowing signs advertising Quilmes and Pepsi all over the front, but my friend Michael recommended as quite good and reliable. We met up for dinner with visiting friends from New York, Alan and Anne. The place has two sides – right off the corner is a very cafeteria-ish looking dining area that is a bit on the touristy side. Off to the side on Paraguay is a second dining room that's a little more reserved and "clubby" feeling. But the food comes from the same menu and kitchen. All the usual suspects and quite well done. Had a great grilled chivito (baby goat) and some great sausages, "chantimpolo," that I wasn't familiar with, but reminded me of more traditional style Spanish chorizos – sliced thin and warmed (would have been even better hot off the grill….). After dinner they offer a fantastic homemade limoncello!
We also tried a couple bottles of wine there – one off the menu and one that Alan brought with him from their visit to Mendoza last week.
Viña el Cerno Malbec 1997 – it's not often that you see older Argentine wines, and obviously 1997 is not all that old. Still, most are drunk young, and other than some higher end products, it's a rarity to even see one with more than a couple of years of age on it. This is a spicy, bright wine with lots of nice structure and good fruit. It clearly ages well, and was a great match with our various meats.
Luigi Bosca Malbec Reserva 2002 – Noticeably oaky, but still with a fair amount of fruit to it. I'd have to say it leans towards without totally embracing the "international style" that is, of course, the darling of much of the wine media. Not by any means a bad wine, and I wouldn't hesitate to have it again, but I definitely preferred the other wine we had.