Usually when I do an all meat special it's burgers or shawarma or tacos or some combination. I'm not a big steak eater, but, now and then I get in a temporary mood, and, what the heck, let's go for it.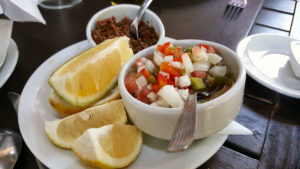 First up was the group outing, #14 for the Roving Ravenous Horde, and a visit to the less than a year old La Braseria, Quesada 1701, Nuñez. Why here? It came to my attention recently in an article published a month or so ago about this steakhouse where they were breaking the "rules" of the macho culture of Argentine steakhouses, and training young women to be full on asaderas, or steakhouse grill cooks. I can't for the life of me find the article anymore, but I'd made a note about it, so unless it was a really vivid, lucid dream, it's out there somewhere. They also have a reputation for some creativity in the dishes they present, so away we went. Five of us were scheduled for the outing, but two cancelled at last minute. Such is life. Fewer things tried.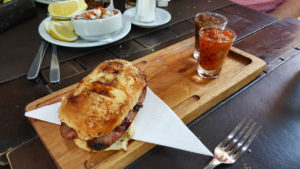 We started off with sharing their widely touted chori-chipa, a classic choripan, or sausage sandwich, but served on chipa bread – a yuca (tapioca) flour and cheese bread. The chorizo – excellent, and perfectly grilled. The chipa, a good idea, but the bread seemed like maybe it hadn't quite been cooked through, and sort of collapsed – usually chipas are light and airy, this was kind of compact and dense. Really good salsa criolla and chimichurri on the side – interestingly, the former, quite different from the one further above on the table. 80 pesos.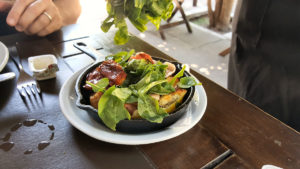 The house provoleta, with arugula, sun-dried tomatoes, and bacon. A bit of a miss for us, as the provoleta itself was barely warm – you want that gooey interior with browned exterior – this was just a vaguely warm block of cheese – we did like the toppings! Still, for 160 pesos, that's a pass, unless they heat that thing up!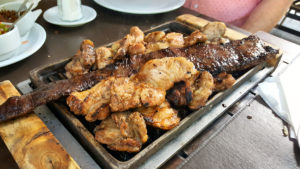 On to the main courses and splitting a whole order of mollejas, or sweetbreads, and what was billed as a whole entraña. The former, a big quantity of beautifully grilled sweetbreads, seasoned well, and absolutely delicious. In terms of quality, the hanger steak was equally good, but that's got to be the smallest portion of the cut I've ever seen, anywhere – amounting to maybe what would be considered a half portion at most parrillas here in town. I actually asked the waiter if he'd brought us the half order by mistake, but no. The sweetbreads, at 320 pesos, great choice, the steak, maybe not so much at 310 pesos.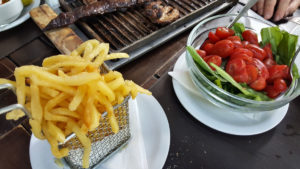 A side order of a salad and their much touted "truffled potatoes", which I swear the waiter said were truffled mashed potatoes, but were reasonably good fries tossed with a little truffle oil.
So, overall, we ate reasonably well. I didn't really see the room, as we sat outside and I never went in, but through the windows it looked pretty. Service was attentive and friendly. The food was good, though no more than that. It's the sort of place that were it here in our neighborhood, I might take visiting friends to, and even go to now and again, but not worth the trip to where it is, unless you live out that way.
---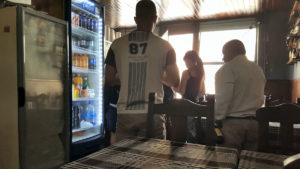 Awhile back I mentioned this little hole-in-the-wall place that had started me thinking about my Steaks with Bald Charlie idea – it's still percolating in my mind, but hey, I may as well get a few places, and steaks, under my belt. This is Parrilla Bar Polo, Carlos Calvo 287, San Telmo. It's sort of evenly split between takeout and stay-in, with maybe twenty four seats crammed into a space that shouldn't have more than a dozen. You order at the counter, then sit, and they bring you what you ordered. It's brisk, a bit gruff, there's no service to speak of – someone will drop a basket of bread and a small tub of salsa criolla on your table, but that's about it. You want anything else, go back to the counter and get it. Oh, and serve yourself your beverages from the coolers.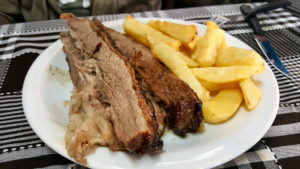 The specialty of the house seems to be vacio, or flank steak, or brisket, depending on how you want to think about it. You can get it on a plate, two thick slabs of it, with a fair amount of fat and silverskin, for 120 pesos. Comes with fries, mash, or salad. This was what we got for salad…. I said that service wasn't a selling point here, right? The meat is decent, slow cooked and tender – it's all precooked over a low fire for hours, so the choice is well done. The fries are soft and barely golden.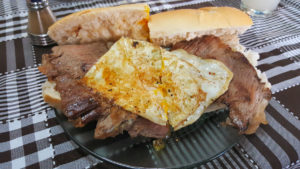 Better, I think, order the same as a sandwich – they remove the fat and skin, they slice it thin, and you can get it topped with a properly soft fried egg if you want. Slather it with the salsa criolla and that's one happy sandwich. 80 pesos, plus 5 for the egg, that's a steal.
---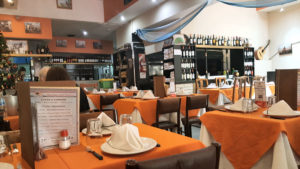 I'm not approaching the Carlos Calvo steakhouses in any particular order, I've got them mapped out, it's more, what am I close to when I'm in the mood. This week it was El Correntino, Carlos Calvo 3629, in Boedo (the space was formerly a different steakhouse called Pinin). The general theme is the province of Corrientes, with various trinkets and prints around the room, and the waiters dressed in traditional garb. There's also a lot of orange.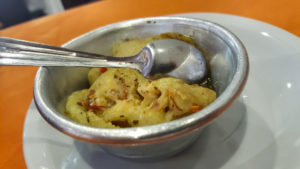 Fantastic eggplant in escabeche on the table to accompany the bread – tangy, salty, and really garlicky.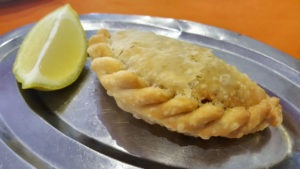 I don't think I've ever had an empanada served with a wedge of lemon, but apparently that's a thing in northeastern Argentina. Strangely, I don't recall that up in Iguazu, which is the only place we've been up that direction – then again, I think we never had any empanadas up there. Fried, delicious, packed with ground beef, egg, green onion, and red bell pepper, something I've not seen a lot of here. And the lemon? It works.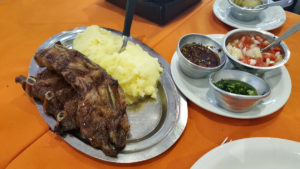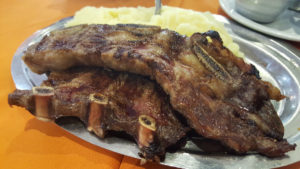 The specialty of the house is the asado de tira, cross-cut ribs, and a half-portion, yes, half-portion, of a dozen, with fries or mash, will only set you back 185 pesos. It's excellent quality meat, it was cooked to order, so came out perfectly rare as requested, it's seasoned well, the mashed potatoes were silky smooth and buttery…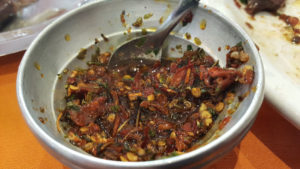 …and they offer up what has to be the best chimichurri I've had in town. It's completely packed with chilies, which is so out of the ordinary for Buenos Aires, it shocked me. Not only that, but I spooned the lovely green parsley and garlic oil provencal sauce over the mash and couldn't have asked for better.
All told, with a bottle of water and a cubierto charge (25 pesos), plus tip, 310 pesos, and easily one of my favorite casual steak lunches I've had in town.