It's becoming harder and harder to find places to try – I mean, there are plenty of takeout/delivery only Chinese places in town, and the same for sushi on the Japanese side of things, but there aren't that many "real" restaurants we haven't tried yet. More to come, but more slowly I imagine. These first two finish off the only spots I hadn't visited yet in Barrio Chino other than a couple more "skewer stands" that have recently opened.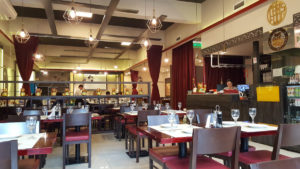 Tan's Food, Olazábal 1735, Belgrano (Barrio Chino) – Twice, I tried to put this one into the rounds for the Roving Ravenous Horde. One time was the one week that no one was able to make it, the other, we showed up and the place was closed up, with no indication of why. Was in Barrio Chino for some shopping and spotted it open, and figured, let's give it a try.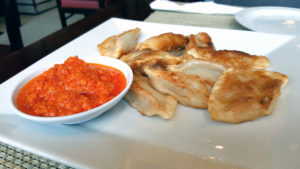 Potstickers – The menu offers two types of dumplings – kuo tie, these, either steamed or pan-fried, or steamed dumplings that look to be soup dumplings. The latter, they didn't have any made, so I went with potsticker style. The hot sauce came on the side, I just moved it into the picture. Okay filling, could have been a bit better seasoned. Problem with these, they were so oily they were just dripping with it – another minute or so past this photo and the whole plate had a puddle of oil surrounding them. They needed to both be cooked longer, and hey, here's an idea, drain the oil off them for a minute before putting them on a plate. 100 pesos for 8 (I got 9 on the plate, but that was probably just a mistake).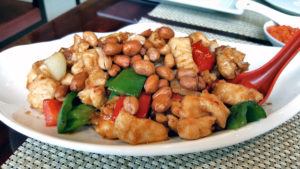 Kung Pao Chicken – A generous serving of this dish, and I think there was almost as much volume of peanuts as chicken. Unfortunately, the latter was so overcooked it was chewy, and again, just bathed in oil, and fairly salty – I'd guess an overuse of MSG. Despite asking for it to be made muy picante, there wasn't a hint of heat in this. More unfortunately, that lovely, glowing red hot sauce above, no heat either, as bland as it could be – it was almost like they'd just pureed red bell peppers. 180 pesos, plus 30 for rice.
Service, friendly and reasonably attentive. The space is nice, though I could do without 13 good luck kitties lined up in a row waving their arms up and down constantly. Food, at least based on two dishes, not so good – it's rare that I can't finish two dishes like this, there was just too much oil on both.
---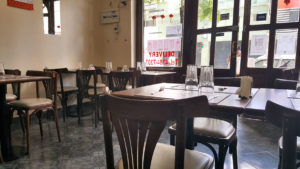 El Cisne Blanco, Montañeses 2231, Belgrano (Barrio Chino) – A second branch of this restaurant, located just about two blocks away from the original. We'd had quite good food there, and I popped in on another shopping day to give this spot a try. It's much smaller, and has more of a takeout/delivery feel to it, despite there being seating for about 25 people. Part of that was the steady stream of customers coming in and ordering and standing around or hanging at empty tables waiting for takeout orders – I think there might have been more of them than the few of us eating there. Service was friendly but not very attentive, the two young waitresses seemed more interested in hanging out chatting than paying attention to the customers.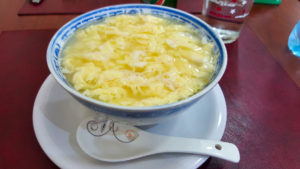 Egg Drop Soup – Like the original spot, they didn't have the soup dumplings available (apparently you need to order them in advance, like a day ahead), and I wasn't in the mood for potstickers, so I thought I'd try a simple favorite. And, not a bad version of this – the eggs were a bit more clumpy than thready, but good broth, spiked with shavings of ginger. 80 pesos.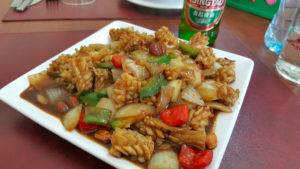 Kung Pao Calamari – And a really good version of this dish – with a ton of calamari in it, and, to their credit, a decent amount of heat. I didn't even need to add in the proffered hot sauce (which has one hell of a kick to it as well). 210 pesos, plus 30 for rice.
Overall, pretty darned good. I'd go back again, though I'd say given that they're two blocks apart, I like the original location better for ambiance. Maybe this is the spot to come when that one's packed, though, then again, the service here isn't any faster than there.
---
Some of you may remember my burger write-up at Kyopo, Dr. J.A. Aranguren 3053, in Floresta, a little over a year ago (and follow-up comment at the bottom on a revisit). An Asian-influenced gastropub, that until recently just offered, essentially, bar food with some Asian touches – mostly in the form of kimchi and sriracha sauce. However, at some point in recent months they expanded their kitchen offerings and now have a pretty extensive menu of different sandwiches, burgers, tacos, salads, and, pan-Asian dishes. A revisit was in order!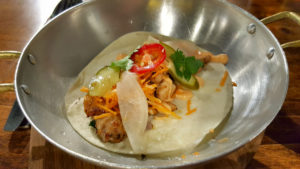 A banh-mi taco, inexplicably served open in a large bowl – with chicken rather than pork (and no pâte), pickled vegetables, sriracha mayo, and a single slice of jalapeño. The mayo had little to no kick to it, but a bottle of sriracha brought to the table fixed that right up. Then again, on previous visits, the purportedly spicier dishes were actually spicy. Tacos have gone from 100 pesos for 3 a year ago to 50 pesos apiece, a 50% price increase – that's a bit stiff.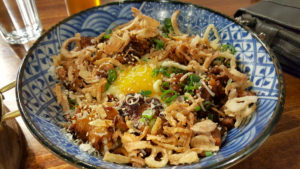 A favorite Korean dish, jeyuk, traditionally, it's a fairly spicy stir-fry of pork with vegetables, rice cakes, onions, scallions, shiso leaves, and either rice or little pancakes served on the side. At Kyopo it comes as a sort of lunch rice bowl, with about a cup of rice in the bowl, topped with a fried egg, very sweet, cloying pork (no spice at all, despite the promise of it on the menu), a grating of parmesan, shredded shiso, scallions, and crispy fried onions reminiscent of canned onion rings. 190 pesos is again, a bit steep for a dish of this size – after both the taco and this I was still hungry.
Now, I only tried two dishes on this visit, but both purported to be picante, and based on the previous visits, dishes tended to be. Not so much anymore, which probably means they've been "discovered" more by locals than the expats and Koreans who used to populate the place (and indeed, pretty much everyone there seemed to be neighborhood locals on this visit, having a quick lunch out of the office), and they've dumbed down the spice level. A shame, because that's part of what made this place attractive. I hope it's not the case with that amazing burger they offer (and now they have several other burgers), which was pretty much my favorite in the city over the last year, but it's been several months since I've had one.
Prices seem to have crept up by close on 50% over the last year. Service has gone from friendly and welcoming to a strange hipster-ish style that's neither of those. I don't begrudge them success, but its a shame the success has come at such a cost and price.