There have, historically, been very few places in Buenos Aires that could be considered wine bars. Part of it seems to be the definition – this is the only city I've ever spent any length of time in where simply having a long wine list and offering to open a bottle at your table seems to qualify a place as a wine bar. But isn't that what every restaurant does? No, for me, a true wine bar needs to have a selection of wines by the glass – and by selection, I don't mean a white and red house wine followed by a white and red premium wine. I mean a real selection.
In fact, until recently, I'd have said that the only real one was Bar du Marche, with fifty or so selections by the glass. Gran Bar Danzon generally has around eight to ten selections available, but their focus is really on cocktails. There have been past attempts at others – Martiño in San Telmo offered a dozen by the glass, on a weekly rotating basis, plus had a wine cellar bigger than its kitchen. It lasted all of six months.  There was a short-lived place called the Gurda Hotel off of Parque Lezama that claimed to have one in their lobby, but only offered wines by the bottle at a half dozen tables in their lobby – they didn't even offer a house wine by the glass! And there was a spot in Palermo, La Finca, that was basically a wine shop with around a hundred selections, and they would open virtually any wine and serve it by the glass, or bottle – it lasted maybe a year.
There are others that lay claim to being so – Algodon Mansion's bar, except as I've pointed out, the only wines by the glass they offer are those from their own winery. Same with Bodega 52. And a few others. So when I read a recent article about a bunch of new wine bars opening up, I thought it was time to start checking them out.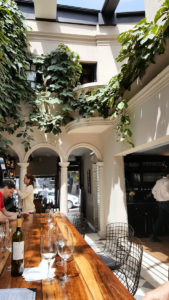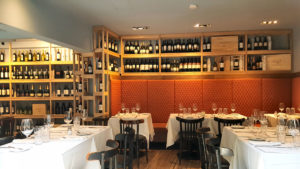 Let's start with my weekly lunch group, and outing #10, at La Malbequeria, Gurruchaga 1418, Palermo. Now, I knew going into it that the place was connected financially, or proprietarily, with neighboring Lo de Jesús, a parrilla that I went to back in July, but didn't feel like I got a real sense of the place, other than that it was really pricey. What I didn't know is that it's literally connected – it's actually the same place – a neighboring space, yes, but the two are open to each other, share a kitchen, share a menu, share a winelist, share waiters, share bathrooms, in fact, La Malbequeria is nothing more than a fancy new bar for the restaurant. And, while a decent winelist – that's pretty much what the "wine bar" consists of – ordering a bottle of wine off the menu for the table. Wines by the glass? They have a half dozen selections in a little dispenser up at the front of the bar, and they're charging far too high of prices for the wines being offered. We opted for a bottle… well, two (Bodega del Desierto 25/5 Cabernet Franc at 255 pesos/bottle, which is a great price given that it retails for around 210-225 pesos in most shops).
Service is friendly when it exists – the problem being that the one waiter attending to the bar also has a whole section of tables inside the restaurant, and 90% of the time simply wasn't present. I think it's also an issue for a place that claims to be a wine bar to not have anyone knowledgeable about the wines present in the bar or offering suggestions at the tables.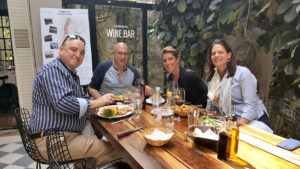 Four of us set sail here for lunch last week. Say hi to Fred, Jill, and Frances.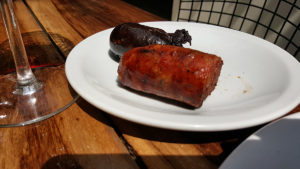 They all opted for the menú ejecutivo (300 pesos/person!) which started with a choice of either a half chorizo and a half morcilla, side by side and really very good ones, though the halves just seem odd.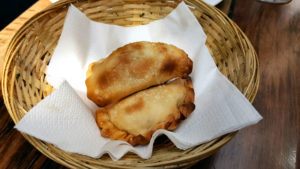 Or, a trio of fried beef empanadas, a little salty, but very good.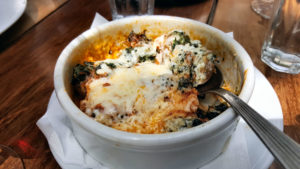 I went to the a la carte menu and ordered up their stuffed mushrooms, which were filled with spinach and provolone cheese – also quite good. We were off to a good start here, far better than…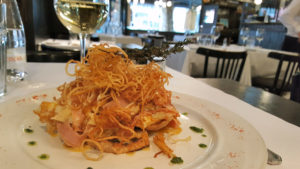 …my last visit, to the restaurant side of the equation in July, and a revuelto gramajo burnt, unseasoned eggs, some chopped pieces of lunchmeat ham, and a tangle of shoestring potatoes cooked in rancid oil. (I don't recall the price, but most of the appetizers, now, at least run between 150-200 pesos.)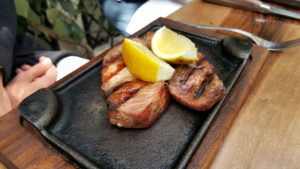 But unfortunately, the main courses kind of went downhill – a couple of very overcooked pieces of pork shoulder off the grill, accompanied by stodgy, unseasoned mashed sweet potatoes.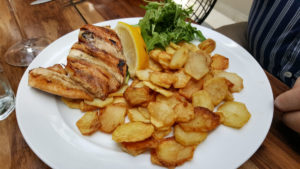 A dried out chicken breast, also off the grill, though with excellent potatoes.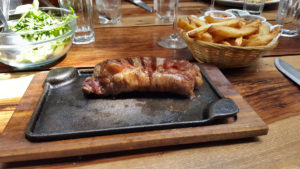 And a not quite as overcooked steak with decent french fries.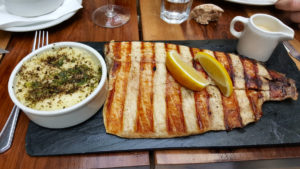 I decided to order the fish, a grilled pacú, one of my favorite river fish, and one that's not common on menus here (and the same thing I'd ordered on the previous visit). Mine was actually properly cooked, nice and juicy, and well flavored. The weird mashed potatoes on the side, however, were not that great – as best I can tell, like the sweet potatoes above, there's nothing in them (you know, butter, milk, cream, salt, something….), they're just plain mash, and then topped with a handful of chopped mixed fresh herbs (On that previous visit to the restaurant, the topping was dry rosemary and thyme leaves, not fresh ones). 350 pesos.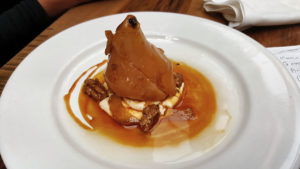 Dessert for the prix fixe menu was a choice of a couple of scoops of ice cream, or a quite good poached pear with ginger and walnuts – go with that. No coffee available in the place, which is weird, and, disappointing.
So hmmm…. love the new space – there's even a backyard patio if you want to sit al fresco and have some wine. You can have an overpriced glass from their small selection, or order a bottle from the wine list, a much more reasonably priced option. I'm not that impressed with the food. Personally, I don't think the prix fixe option is a good deal given the quality of what they're serving – I think this is one of those places you have to be really selective about what you eat. I could go back and have the pacú again, I'd just ask for a substitute on those potatoes – maybe a salad.