This one was slated to be part of yesterday's post, but it became clear that both were destined to be too long to combine into one, and this place is worthy of its own standalone review anyway! Behind an unassuming facade with little more than a round sign above the door stating the name of the place, Xiao Long Bao, Anchorena 429, in a neighborhood, a half block from the Abasto shopping mall, mostly known for hole-in-the-wall dives…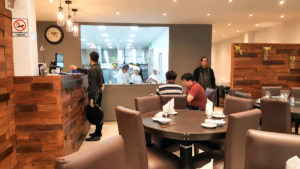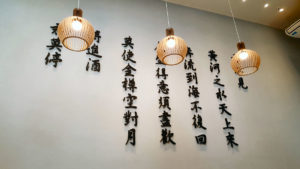 …we certainly never expected to encounter a beautiful, gleaming, duplex restaurant, with stunning open kitchen, multi-toned wood paneling, and comfortable, spacious, chairs and tables. Friendly, attentive waiters circulate the room, the woman who I gather owns the place does as well, and stopped by to chat with us in mid-meal, as well as at the end of the meal when leaving.
The menu is a several page affair, listing dozens of classic Chinese dishes, and almost as an afterthought, a selection of four types of dim sum dumplings. We were also given a small sheet of paper with roughly 2/3 of the items from the menu listed on it, and a pen to mark off the ones we wanted to order… a slightly odd approach in a place of this type. Our waiter explained that the sheet had the items from the menu that were actually available that day.
So we marked off the four types of dumplings (100 pesos apiece), because, dumplings, and he quickly informed us that only two of them were actually available… umm, what? You just said…. Yes, yes, but the other two they're still making and they won't be ready until later. Okay, bring us the two that are ready, and let us know when the others are.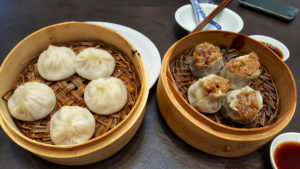 And in swift order we received the namesake xiao long bao, or soup dumplings – really quite good ones – not the best I've ever had, but more than up to par. And let's face it, no one else in town makes the things, so they win right there. The shao mai, less successful, mostly because the filling was just weird – it seemed to be little more than rice and some caramelized onion. Our waiter thought that maybe there might be some meat in there too, but wasn't sure.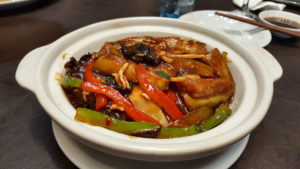 An order of eggplant yu xiang, a favorite of both of ours, and one of the better versions I've had in town. Really, perfectly cooked, and for that I can forgive the 280 peso price tag, though we found the portion a bit small for that price. Now, neither this, nor the following dish, were on the little paper sheet, which was disappointing. When we pointed that out to our waiter, his response was, "just write in the dish numbers in the notes at the bottom, they'll make them – really, they'll make anything on the menu." Okay… now I really don't understand the purpose of those sheets. Just take orders from the menu like one would do in any normal restaurant, if you're out of something, say so.
Somewhere in here the owner came by to chat. In the course of the chat, she explained that while yes, all the regular menu items were always available, some of them require some advance preparation (don't most dishes in restaurants?) and are only available with advance notice – and that includes the four dumplings, because they make them to order. So why not make the two other dumplings that we wanted to order? Because it's not worth getting everything out and making them just to make four dumplings. So what they do is wait until enough people have asked for something to make it worth it, like making 20 or so of something. This probably explains some of the complaints I've been seeing about this place during the month it's been open, of people saying that they ordered a bunch of things, but one or more types of dumpling took an hour to get to their table, or similar comments.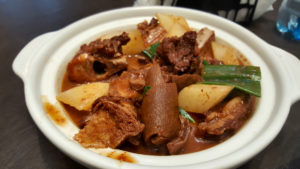 And, a cazuela de cordero, or lamb stew, which turned out to be a dreamy, rich lamb broth packed with daikon and green onions, and not a whole lot of lamb meat – mostly just bones with a little meat clinging to them, and a couple of pieces of lamb skin. A little disappointing, and again, given how little lamb there was, and the portion size, 318 pesos seemed a bit excessive. But I could drink that broth any day of the week and be thrilled.
Most of the main courses on the menu run in the 200-400 peso range, though there are two crab dishes which, while I understand crab is expensive here, the respective prices of 880 and 2380 pesos were too steep for us – given the descriptions, the former is a crab stir fried with ginger and green onions, the latter may be a whole steamed crab, which might justify that $140 price tag.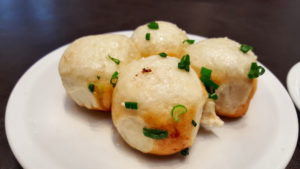 There was a birthday party going on up on the second level, and we suddenly saw a couple of platters of these babies pass by – shen jian bao – I'll be honest, I've never had these, I've only read about them. They're another version of soup dumplings, but instead of the typical wrapper, they're like a bun that's first fried to give it a golden color, and then steamed to finish them off. We asked, given that we'd seen them now pass by, and the waiter went to check and came back to tell us that there were just enough for us to have one portion and another table to have one portion. I loved these, in some ways I almost like them more than regular soup dumplings, though I'd happily eat either again. My lunch companion didn't like them at all. Ah well.
Still no potstickers… which the owner had assured us would be ready "in about half an hour". Our waiter went back to ask again… it was actually approaching closing time, we'd been there for about an hour and a half. An argument between the chef and owner ensued, loud enough to be heard in the dining room, though all in Chinese, so all I can say is that the kitchen then started to make the dumplings, for us, and, it turned out, two other tables, at last minute before closing up. Sorry guys.
But, we got to watch them making the
kuo tie
….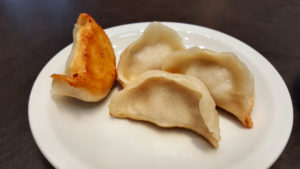 And, after that cast iron pan went atop a flame to brown the undersides, and then water was poured in and a lid thrown on to steam them in the pan, we received our order of lovely little potstickers. Delicious, but perhaps disappointing simply again because of portion size – 100 pesos for four kuo tie is expensive. Most places, even the high end ones, for the same price you'd get 6 or 8 of them. I mean, these are $1.45 per dumpling – high in BA – and I'd rather have the 5 soup dumplings or 4 fried bun soup dumplings for the same price.
So, the verdict? Love the space and ambiance and overall service. I think they should lose the order sheets and just let the waiters take the orders. The food was overall delicious, and other than maybe the shao mai I'd happily eat any of the dishes again. I do find it pricey – not so much in the actual prices, as they're no more expensive than a fancier place like Beijing or Central, but that the portion sizes are noticeably smaller. That said, I will happily return to this place over and over, and am looking forward to trying more of their dishes!