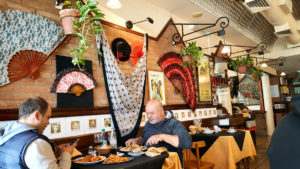 Rincón Hispano, Alvarez Jonte 2597, Villa General Mitre – Spotted this place while headed to try a nearby Peruvian restaurant. The latter turned out to be closed that particular day, as were the two other spots I had earmarked in the 'hood. So I went back here. Old school. Really old school. Plenty of colorful decor, mostly fans and shawls and dresses from Spanish flamenco tradition, festooning the walls. Doesn't carry over to the waitstaff, who border on dour, and are dressed in black and grey to match their mood. The place was filled with mostly local business folk, the majority just having the daily lunch menu special – which wasn't even Spanish cooking, just local Argentine fare.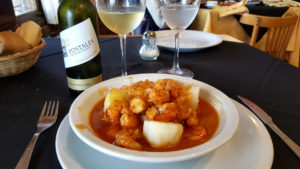 Started off with an order of gambas al pil-pil, which consisted of a bowl of about two dozen small shrimp, all so overcooked I could have played handball with them, a couple of falling apart boiled potato chunks, and a sauce that barely hinted at the garlic and chili that ought to be in this classic Andalucian dish. Basically tasted like plain tomato sauce. Come to think of it, classic pil-pil shouldn't even have tomato in it. It's olive oil, garlic, chili or hot paprika, parsley, salt. A wasted 240 pesos.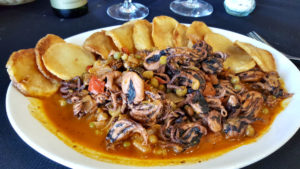 Faring slightly better, the main course of pulpitos y patatas – baby octopuses and potatoes. I was envisioning something a bit more stew like, which again, would be the classic Galician dish. At least the pulpitos weren't overcooked, they were tender. But the sauce was bland, despite the onions and garlic in it, and the use of canned, grey, mushy peas, just killed it. Fried potato slices on the side were nice, though not the classic way of including them in this dish. If it had been decently flavored, the 352 pesos might have been acceptable, especially given that it was a pretty large portion, probably about 300 gm/10 oz of octopus, but as it was, it was expensive.
Overall, kind of like the room. Service needs an infusion of energy, and hospitality (I saw a definition a couple of days ago that hospitality is treating guests like they're at home, when you wish they were – unfortunately, this place felt like they really did wish you were). And they charge a 40 pesos cubierto. The food, at least based on two dishes from their Spanish specialties of the house part of the menu, which ought to be their top of the game dishes, is just mediocre.
---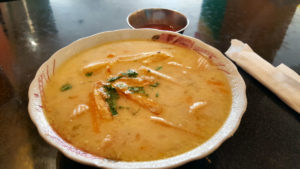 Chicheño, Av. Carabobo 1679, Flores – Who knew that all of Flores' Koreatown was closed on Mondays at lunchtime? The only Korean spot open was Casa Feliz, and there wasn't a person inside – looked more like they were just doing delivery orders. Decided to give a shot at one of the Bolivian restaurants along the strip. Unfortunately, they had virtually nothing to offer (despite having a lengthy menu). For main courses, they had milanesas, which aren't even Bolivian, and the guy thought he could find a piece or two of pollo broaster, or rotisserie chicken. Decided just to have a quick bowl of sopa de maní, peanut soup, a favorite. This one, a bit light on flavor, and fairly greasy – some overcooked pasta, a couple of pieces of potato, some floating french fries, and two chicken bones with some scraggly meat remaining on them. Even at 35 pesos it just wasn't worth it. I don't know if it was a Monday thing or that's just the way the place is.
---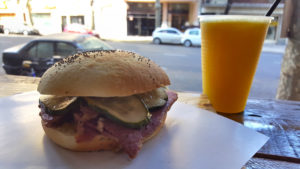 Bajo Boedo, Av. Boedo 1729, Boedo – So I headed a little distance away to a spot that has come highly recommended by several local foodies for, and paraphrasing here, "an extensive menu of really creative sandwiches". The place, bare bones, industrial chic, hipster-y. The menu, fewer than a dozen sandwiches, basically pastrami, steak, pulled pork, a couple of different milanesas, a burger, and a veggie burger. Now, the pastrami sandwich is quite good – and some really smoky pastrami on it. But beyond that, it's got a few slices of pickles and some mustard. 110 pesos. If I lived near there, I'd certainly grab a sandwich there, probably regularly, but I'm not quite getting either the "extensive menu" nor the "really creative" part of the equation. Maybe for the neighborhood?
---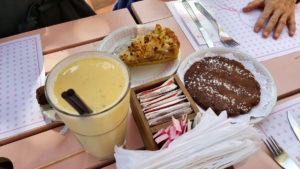 La Panera Rosa, Av. Pres. Manuel Quintana 595, Recoleta – Relatively recently opened spot specializing in all things baked. Was out wandering with some visiting friends, showing them around the area, and we stopped in so they could get a coffee fix. I'd had enough by that point, so went with a mango and sesame smoothie, a combo that I wasn't sure would work in drink form, but it does, it really does. They supplemented the caffeine fix with an excellent apple pie and a crunchy chocolate cookie (I'm more a fan of soft, chewy cookies, but to each his or her own).
---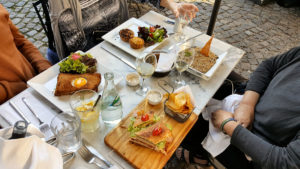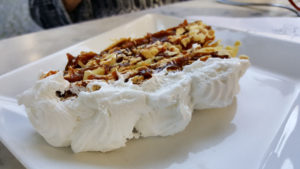 Croque Madame, Av. del Libertador 1902, Palermo Chico. Later in our wander we spent a little time in the Museo Nacional de Arte Decorativo, one of my favorite spots to relax and wander through the old mansion. For some reason I've never written it up – it's an old palacio, a huge mansion that was at one time, a single family home. Commissioned in 1911 and completed in 1916, it's long been a museum dedicated to the home furnishings of the era, after being bequeathed to the state by the owner in 1937. It's also a spot where there are often concerts and lectures held. On the grounds, outside the museum, is a branch of the ubiquitous chain of Croque Madame sandwich-y cafes. We decided to grab lunch there, with a selection of little quiches, a smoked salmon croque madame, a mushroom risotto, and a club sandwich. All good, none of them wow, but just sitting out in the garden of the museum is worth the price of admission (all priced somewhere in the 150-200 peso range). And, we finished off by sharing a portion of a classic local torta rogel, thin layers of crispy puff pastry interleaved with dulce de leche and topped with a marshmallow fluff.
A little view of the main salon of the museum:
---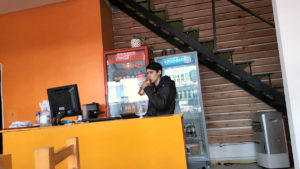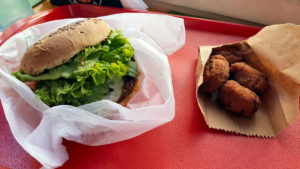 Pumpkin, Cabrera 3517, Palermo – It's been a long time since I checked out anyone's veggie burgers, but passing by (for the umpteenth time), this spot advertising vegan burgers, I decided to give it a shot. Delivery boy is kind of cute too, albeit very young. Selection of half a dozen burgers – basically tofu, lentil, or falafel, with various toppings, I went with the falafel and pickle burger – a somewhat dense and dry falafel patty as it turned out, though well seasoned, topped with tangy pickles, too much lettuce, a sliver or two of raw onion, and a slathering of pumpkin puree (apparently a thing on all of their dishes, going with the name of the place) on a whole wheat bun (85 pesos). Accompanied by tofu fries that were basically nuggets of tofu surrounded by more pumpkin puree, then coated in breadcrumbs and deep fried (65 pesos). Supposed to be five in an order, but only four were there, I didn't realize it until later. All reasonably tasty, just a bit too dry. I also find it amusing that given the healthy bent of having a dedicated vegan restaurant that the only things available to drink are water, sugary flavored water, Coke and Sprite, and a single cheap beer offering. How about some juices? Smoothies? Something reasonably healthy to go with those burgers? (Then again, nothing says a vegan diet is necessarily a healthy one, it all depends how you approach it.)