Quechua, also known as runa simi ("people's language"), is an indigenous language family, with variations spoken by the Quechua peoples, primarily living in the Andes and highlands of South America. Derived from a common ancestral language, it is the most widely spoken language family of indigenous peoples of the Americas, with a total of probably some 8–10 million speakers. Approximately 13% of Peruvians speak Quechua. It is perhaps most widely known for being the main language of the Inca Empire, and was disseminated by the colonizers throughout their reign. – Wikipedia
Quechua, Pasaje Carlos Gardel 3163, Once – Recently opened (and just a couple of doors down from the likewise recently opened Larco-Mar), this spot aims a little bit more than the other at the nikkei style of cooking. Or at least ostensibly. In truth, they've just sort of fancied up some of the Peruvian homestyle dishes and then offer a separate sushi menu. Literally separate, they bring you two different menus, one of Peruvian food and one of sushi rolls. Went there on a first visit with a new friend who's thinking about moving to BA and made it a sort of "getting to know you" lunch.
The room is very cafeteria-esque – gleaming white with touches of color but very plastic feeling. Service was friendly, but a touch condescending – inquiring about what made a "causa arequipeña" particular to that region, the response was, "it uses a special sauce that you wouldn't know about, but it's good". An attempt for more info yielded nothing. Turned out to be ocopa, about as ubiquitous a sauce on local Peruvian menus as huancaina. Then again, maybe the waiter simply didn't know what it was.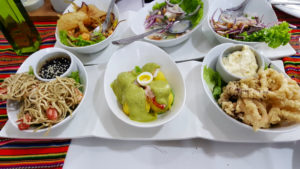 We decided to sample a bunch of small stuff on this visit – a tasting of three ceviches – clasico, mixto, salmón – the first two good, highlighting the fresh fish and the citrus, though with nary a hint of chili, the latter a sort of slog of over-cured salmon in a soy and citrus muddle. The rocoto puree on the table wasn't bad and added a bit of a kick to them.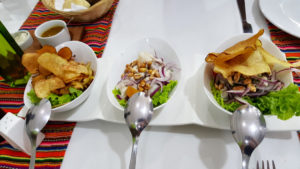 An option is offered to pick from six appetizers, any three in small portions as a tasting as well, we went with the aforementioned causa (the best of the three, actually, the best thing on the table), some fried calamari – fine on their own, though the basically plain mayo dip was uninteresting, they were better with the hot sauce, and the "sorpresa de langostinos"  – another one with no advance info, it turns out the "prawn surprise" is that they're wrapped in rice noodles, fried, and served with a sort of hoisin sauce.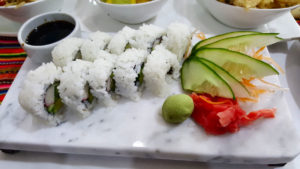 The sushi rolls consist of a dozen selections, ten of which feature cream cheese, of course for BA. The two that don't, one was vegetables, the other fake crab, we tried the latter – a loosely rolled amalgam of crab stick and avocado served with an overly salty soy sauce.
Overall on the first visit, a bit of a yawn. It's all fresh and decently made, just not very interesting. Though, I suppose for the area around the Abasto, it provides an alternative to the low end chifa model of Peruvian homestyle spots offering up daily menu specials. All told, with two bottles of water and a half liter of chicha morada (way too sweet), it came in at 800 pesos, or around $50.
Now, we continued to hear about the place over the following weeks, so Henry and I decided on a followup lunch, as well as, it turned out, a followup dinner, in that there was a folklore music show being held there one night that he wanted to go to. First off, totally didn't attitude from the staff, and even the same waiter – did they get their groove on finally, did he remember I'd been there before, was it that I was with someone Peruvian? Not only friendly, but talking about the food and the restaurant.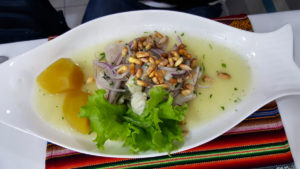 Henry went for the ceviche clasico alone and found much what we'd found on the first visit – all the citrus and salt and other flavors are there and ready, but virtually no chili. The rocoto puree was once again brought to the table for a bit of correction. (230 pesos)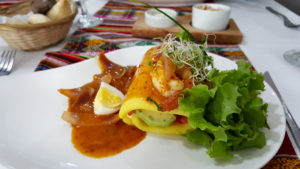 I decided to try one of the causas, the one they attach their name to, the causa quechua. Love the unusual presentation, with the potato layer rolled out almost like a crepe, and then wrapped around fresh avocado and tomato. The prawns in a mild onion sauce were interesting, though I admit, I didn't expect them to be hot, given that the causa part is cold, and most causas are served either cold or room temp. So a slightly weird temperature contrast, but flavor-wise, it worked, though also benefited from a hit of the hot sauce. (220 pesos)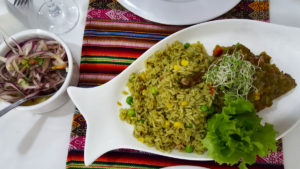 And we decided to split an arroz con pato, a traditional slow cooked duck dish with herbed rice. Delicious! Actually, favorite dish to that point on the menu. Well flavored, well cooked, and a reasonable portion. Again – a hit of hot sauce, but clearly they've toned down the spiciness for local palates. (260 pesos)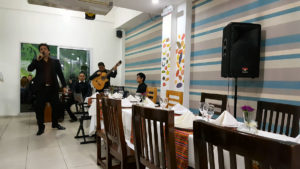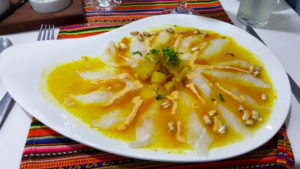 On to a third visit, for a live show with some local Peruvian musicos that henry knows. Dinner this time around. Henry went for another ceviche clasico, I decided to try their tiradito a las cumbres. In theory, the only real difference between a ceviche and a tiradito is the cut of the fish – the former is generally in small cubes or rough cuts similar in size, and the latter in tiras, or strips – basically, sashimi cut. But generally, there's more of a difference than just that – most tiraditos give more of a nod to modern presentations and fancier sauces. In this case, lenguado, or sole, in a very lemony broth spiked, I'd guess with something like turmeric to give it the glowing yellow color – it wasn't ají amarillo, Peruvian yellow chili, as I'd hoped, and a mild rocoto chili cream drizzled in lines along each slice of fish. Glazed sweet potatoes rounded it out. Quite good, if lacking a bit in heat, but a bit of their house hot sauce made up for that. (200 pesos)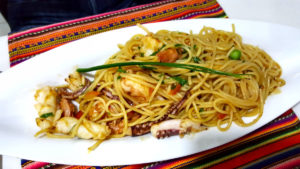 For main courses Henry went with spaghettis con mariscos – properly cooked al dente spaghetti with a mix of shellfish and herbs. Nicely flavored, it didn't scream Peruvian, almost more Italian in style, but rather tasty. (210 pesos)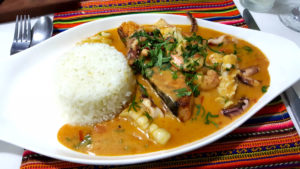 And I went with salmón a lo macho – a nice salmon steak, unfortunately overcooked – not quite to the point of being dry, but past where I'd have preferred it – but that's the way fish tends to be cooked her in BA – I should have asked for it to be left rare to medium rare. Decent a lo macho sauce – a classic Peruvian tomato, cream, wine, and shellfish sauce. Again, a little spiking with some hot sauce to bring it more to where I like it, but happy all around. (270 pesos)
Overall, we like the place, service is generally pretty good and definitely friendly. Prices are higher than most of the Peruvian spots in the Abasto neighborhood, but the quality is significantly higher as well. Personally, I wasn't impressed with the sushi roll, but I also only tried one out of the list. There's no question that the spiciness of the dishes is toned down, probably for local palates more than anything – but then, the majority of guests on three visits were Peruvian – I doubt they really have to. Then again, I didn't see anyone but us asking for hot sauce on the table, so maybe…. I'd say, stick with the real Peruvian dishes, which they do really well, and skip the Japanese attempts, which at least based on a small number of dishes, they don't. Big plus for taking credit and debit cards, nearly unheard of in most more casual Peruvian restaurants (despite it being federally mandated that restaurants here accept cards, the vast majority still don't). This place goes onto our list of favorites.